Cups or mugs are probably the most important item for multipurpose uses that you can ever find. Just consider what your coffee mug or teacup does for you.
It soothes your nerves when needed, it warms you up when cold and nothing comes even close to the amount of gifting purposes you can meet with coffee cups or tea mugs. Choose a unique design or one, which can have something special imprinted on it, and it is probably the best gift you can give to someone special.
Coffee mugs or tea cups are of course one of the best-selling items on any occasions throughout the year, be it Valentine's Day, Mother's Day or even Christmas. In fact, a set of either cups or mugs make a great gift for birthdays and housewarming presents as well.
Seeing the importance and trends in such beautiful mugs and cups, here is a compilation for your next purchase.
2 Carat Cup, Gold Diamond Ring Coffee Mug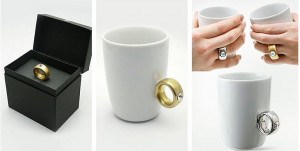 Yes folks, why does it always have to be rings in champagne glasses as your proposal for engagement? Do something unique by taking your fiancée out for coffee or make coffee at home and serve it in this. The mug comes in gold glaze and Swarovski crystal, all in a jewelry box.
Truly unique, what say?
Curvaceous Cups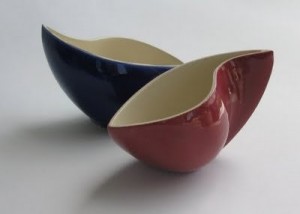 To go with the flow of the proverbial warm up, you can always buy this cup and simply feel sated by wrapping your hands around the interesting shaped cup. Available in both singles and a set, every piece is unique in design and ideal for personal use or as a gift.
Zero Gravity Mug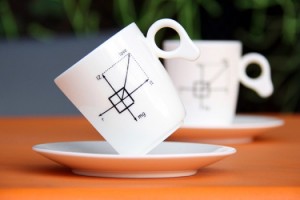 Looks like the days of spilling hot liquids might actually just be over. After all, with such a mug, you can just carelessly place your full cup and still not get worried about the balance since it balances itself and can be placed at one side.
Face Mug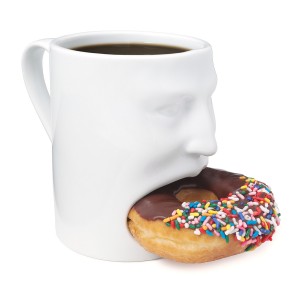 Ideal choice for them who love to snack and stuff their faces with some wonderful hot beverage and snacks of their choice. Just stack up the empty space shaped like a mouth with the snack of your choice and keep drinking.
Ctrl-Alt-Delete Cup Set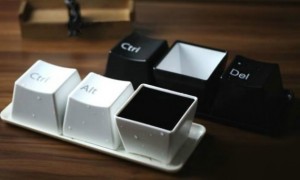 Like computers? Well here is your chance to get something similar even in your set of coffee mugs. The cups, when placed upside down are shaped like the keys of your computer, in black and spell the words clearly. Together with the unique tray, the thing looks like your keyboard as well!