Well, there are generally two reasons why we like something. First, the thing has great utility.  Second, the thing looks so strange that it immediately catches our attention. However, sometimes, in the case of something as monotonous as urinal designs, most of us get tired of functionality. In fact, it becomes so obvious that we rarely notice it. Therefore, to bring it back to our consciousness we have to make its design a little whacky. Something that makes the thing unforgettable.
It might be obvious to you now that we are not here to discuss the common use of urinals. We are here to let you know about some "never seen and never heard before" urinal designs. In fact, there are some bizarre designs in urinals which will leave you amazed.
10 – Urinal designs that will leave you awestruck
1. Thermodynamic urinals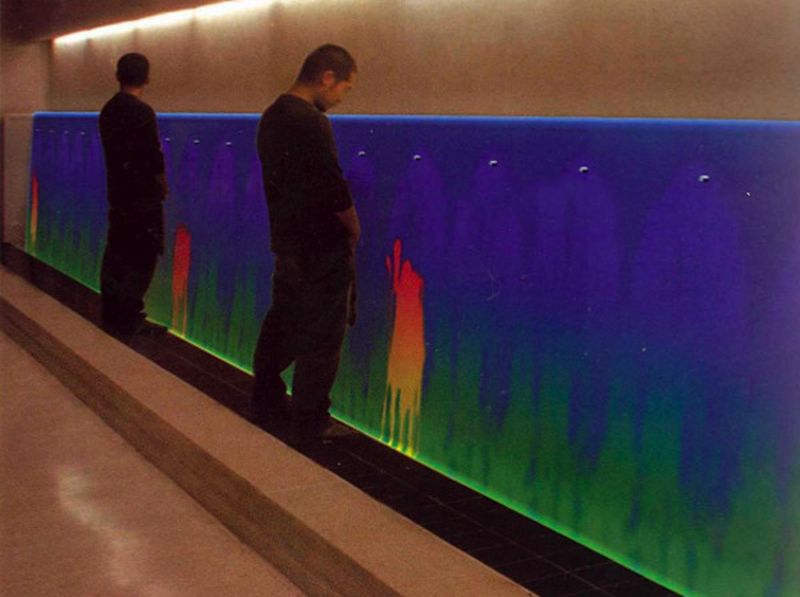 This is one colourful urinal. This is a thermodynamic urinal wherein there is a wall which changes colours when you pee on the wall. It actually makes use of the warmth in the pee and changes the colour accordingly.
2. The Urinals of Madonna Inn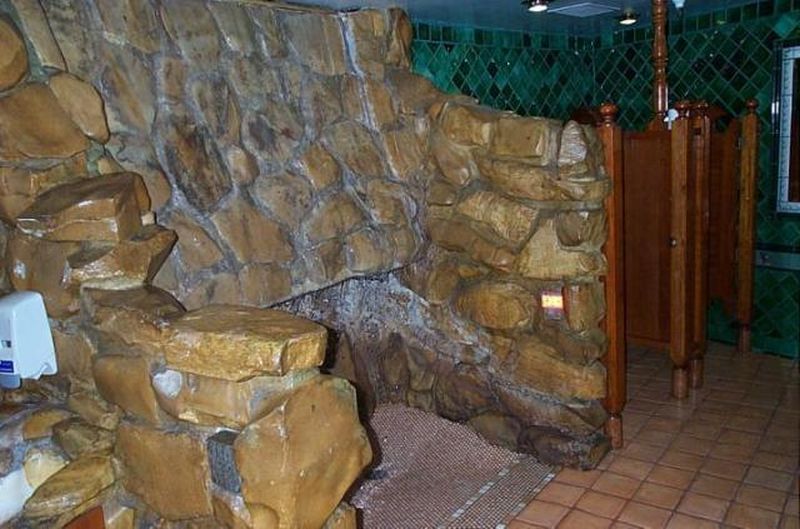 Located in San Luis Obispo CA is a motel called Madonna Inn. This inn is famous for its highly structured urinals. In fact, these urinals are a tourist attraction. There are light sensors which help in activating a waterfall as soon as a person stands in front of the urinal.So you break the ray of light and be ready for the waterfall. Tourists take pictures of these Urinals of Madonna.
3. Moving Urinal Designs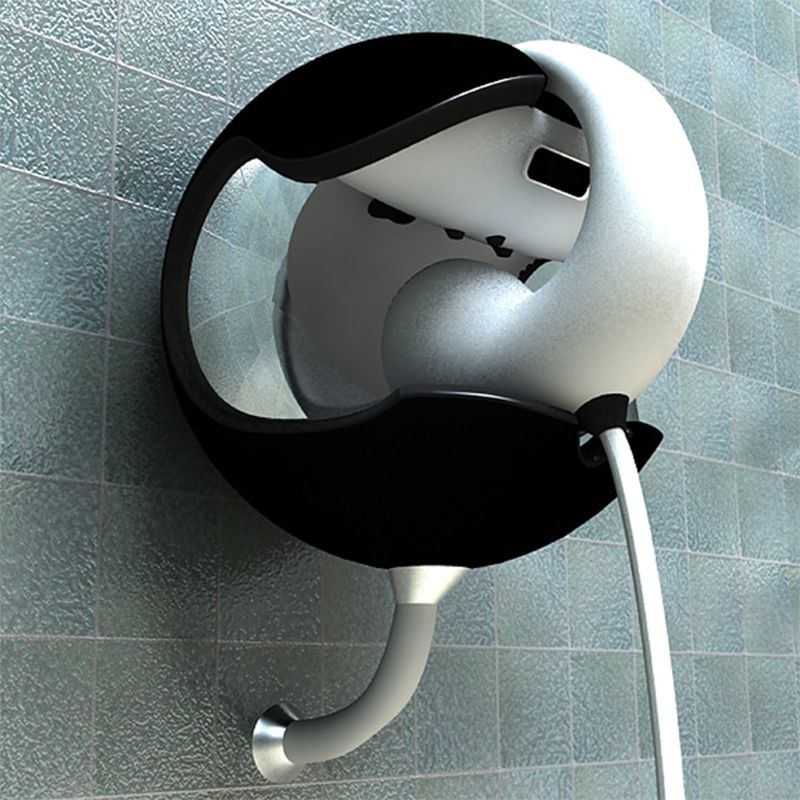 Movable urinal has been designed by Fuming Wu. It has a detachable unit. The plumbing work has been done intelligently. This makes waste disposal and rinsing very easy. This urinal can be unhinged. This is a useful urinal for the disabled people. Instead of moving the wheelchair,the disabled can comfortably use this type of urinal.
4. e-Urinal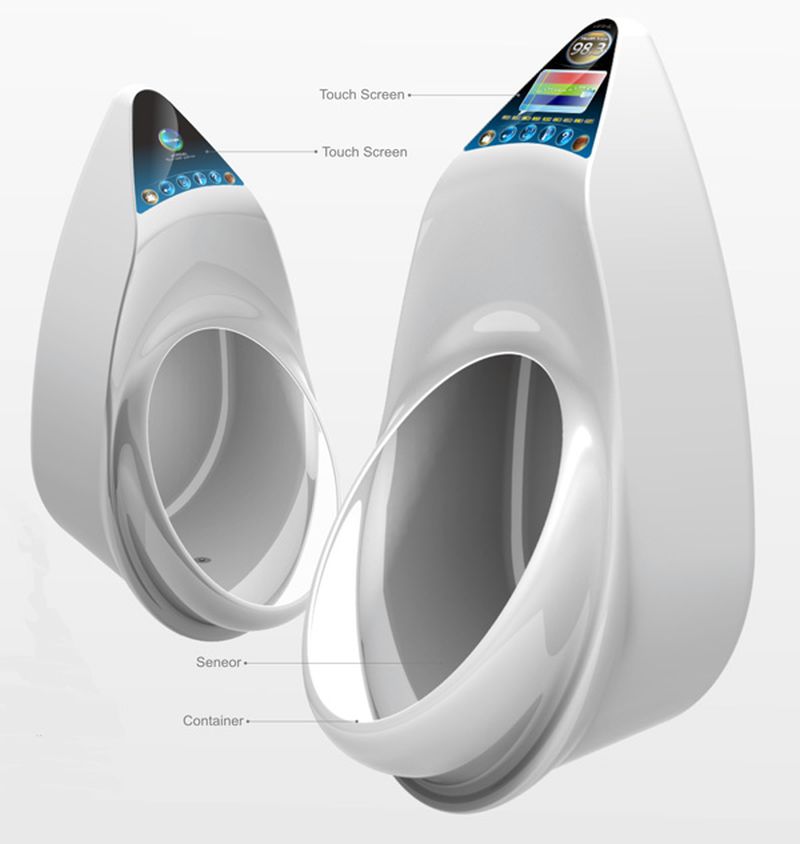 This is the electronic age and urinals also follow this concept. E-Urinals can actually tell the user his health status. This urinal gives the person his health score. It measures PH/SG/URO/BLO/WBC/PRO/GLI/BLI/KET etc from your urine. There is a tab which gives you the past data. The e-urinal is a handy thing to give you your health data.
5. Flower urinal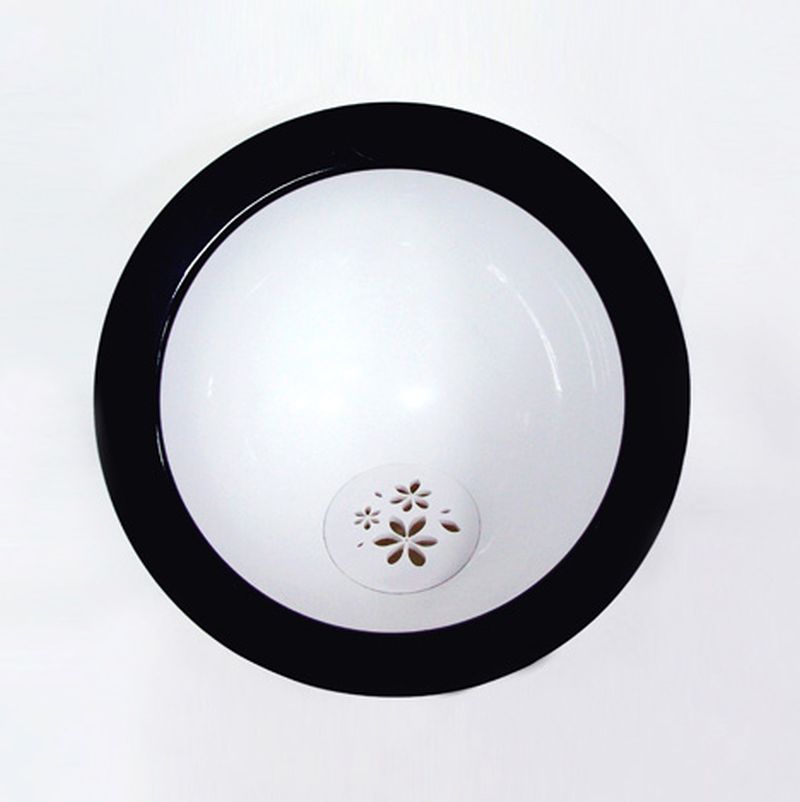 This unique urinal which draws its inspiration from beauty has been designed by Sun Young Jung. This urinal has a flower in it. The flower is not real but the basic idea is that it should make one feel beautiful while pissing. Soaking the flower petals in urine may sound a little awful but it is a better way of thinking about things like poetry and nature while answering nature's call.
6. Waterless urinal designs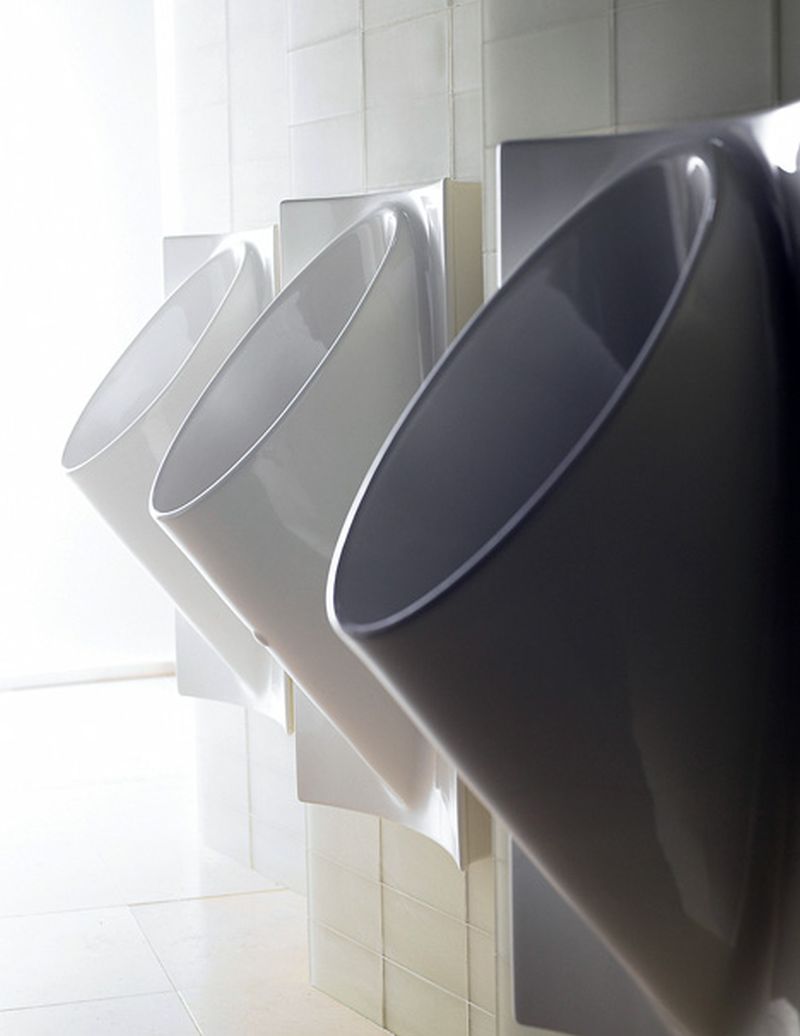 These waterless urinals help in saving water.These urinals are designed by Nicholas Paterson and they are manufactured by Kohler. In these urinals, the urine passes through a sealing liquid. The bad odours get trapped in the impermeable barrier. This helps in giving a fresh feeling and the designing is such that there is no splashing. It has a touch-free operation and there is absence of flush valves. This urinal is available in two models (Steward S and Steward waterless). Steward S is good for new buildings and Steward waterless is useful for retrofitting.
7. L'uritonnoir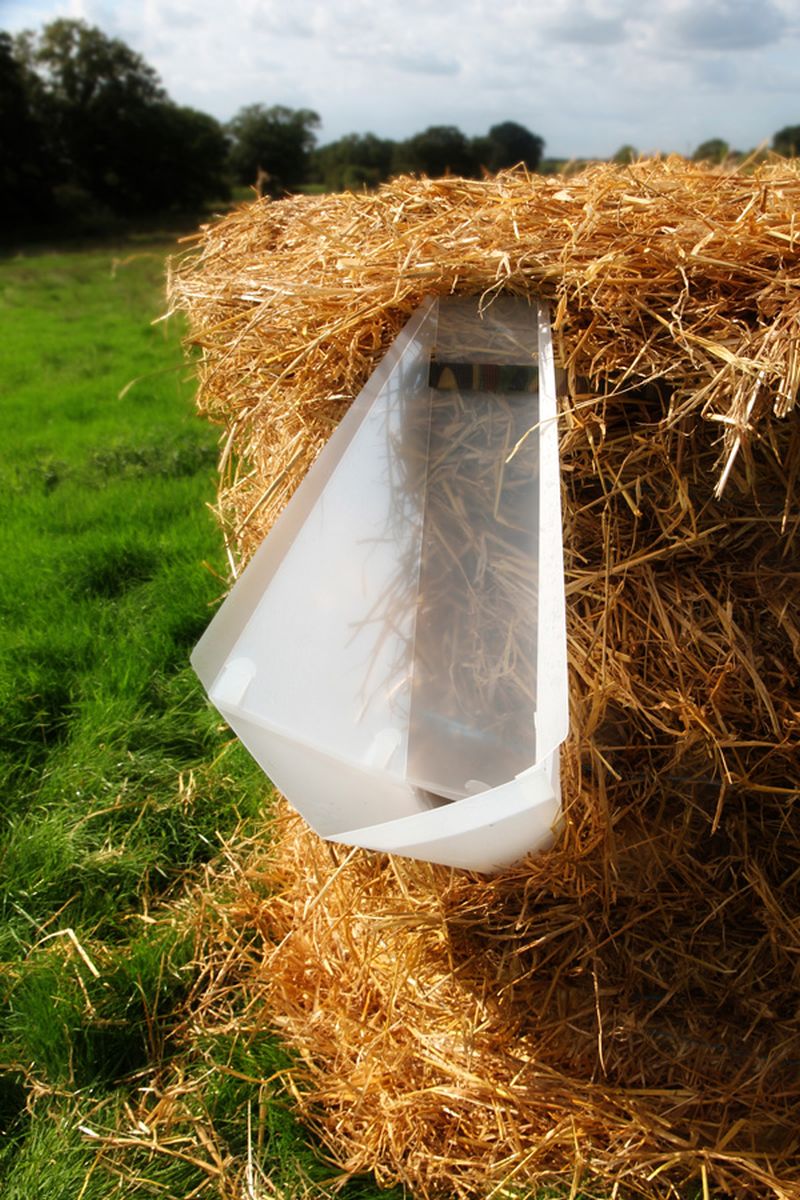 This has been designed by Faltazi. This is an amalgamation of urinal and funnel. This type of urinal is useful in a public place. This urinal can be placed around stacks of straws. This urinal is ideal for places like music and dance festivals where there is a huge crowd. The urine is collected in bales. This urine is converted into compost.
It takes 6 to 8 months for the chemical reaction between the carbon in the straw and the nitrogen in the urine to get completed and for the compost to be ready. This is one of the best ways to keep the environment clean and at the same time, it also helps in using waste in a smart way.
8. Exhibitionist public urinal designs for women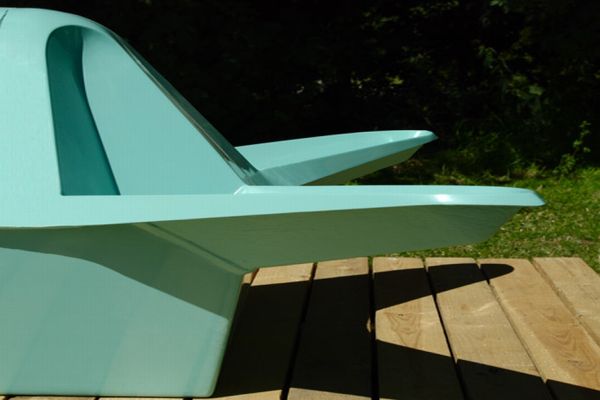 Ladies, you might really want to check out this outrageous new loo design because the next time you're at a public festival, this bizarre new public toilet might leave your bladder struggling. PeeBetter and Pollee are two female urinal concepts conceived by Copenhagen culture design studio UiWE that seek to make the experience of peeing at public event "simpler" for women.
Presented at the Roskilde Festival 2011, the open-air, touch-free loos are housed around a shared center with four urinals in each module. The design seems to stem from a distorted belief that women actually envy men's ability to pee standing up and that urinating in front of an audience somehow empowers them.
The design aims to replace the much more private port-a-potties that are otherwise found at festivals with a more fun, open and "social" design that allows women to pee in a semi-squat position while holding onto specially created platforms built into the walls of the module. We're guessing the makers of this loo expect all female users to not consume too much liquid before using this thing because to be honest, getting a few tall colas out of your bladder in this position would surely get you a slipped disc or two for sure!
This is one of the public urinals that lure you to use it. It is available in three privacy variants: Pollee Shy, Pollee Topless and Pollee Naked. The designs aim to meet the needs of every kind of female festival goer, barring the ones on their period, of course!
9. King of Urinals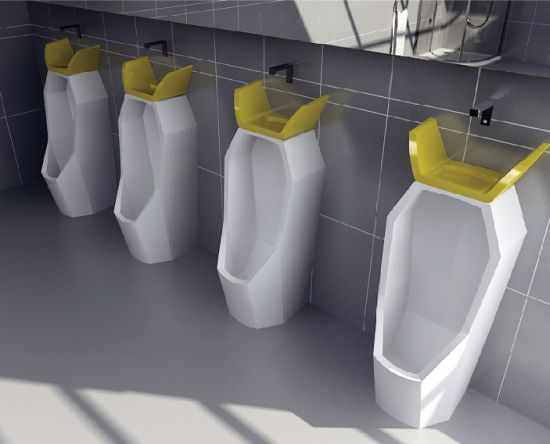 Jang WooSeok has already revealed his green credentials when we covered his Eco Bath System last year. Upsurge his eco intent, the South Korean designer has now popped up a urinal system that not only helps in preserving or reusing water but also ensures complete hygiene. Hailed as the "King of Urinal," the sustainable urinal as suggested by its name looks like the crown of a king. Integrating a washbasin on top of the urinal, the new public toilet reprocesses the water used to wash your hands, to clean the lavatory, so the users can have a clean or hygienic urinal without wasting extra water each time they step in for urination in public toilets.
10. Video game urinal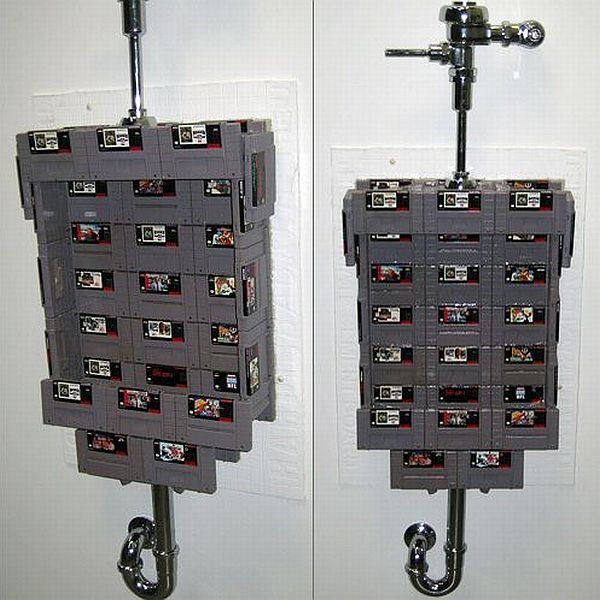 Urinals, in a busy men's washroom, are more practical and efficient than a regular toilet. They are made from ceramics, stainless steel and even glass. But how about one crafted from SNES cartridges? We know, all you video game freaks must have jumped up from your seat after reading this and would like to know how it can be possible. Edwin Kee has designed one, which has been named the Video Game Urinal.
To make the unusual urinal the artist used 40 cartridges in total. While playing video games, we would have never thought that they can be fitted in the bathroom area as well. To make it functional, he used waterproof sealant, urinal flush valve and plumbing tools like screw driver and sand paper were used. The best part being, anyone can make one of their own in just 8 hours and at a cost of USD 200-250. Wow!
The urinal is best suited for commercial than residential areas since, water pressure needs to appropriate for operating it. Video Game Urinal has been made in an amusing manner, which will remind you of Mario jumping from one wall to the other. If video games always excited you, then this urinal is bound to leave your mouth open in awe.
These urinals are really creative. They take the concept of waste disposal to the next level. They are done intelligently and definitely seem to be the way future urinals will be.