Just like every other innovation out there, toilets too have a history behind them. Right now the type of toilets that we mostly see represents what's feasible and comfortable for our generation. However, these by no means show perfection. In fact, there are many concept toilet ideas in the market that might soon replace them. As of present, these are most popular among people with specific demands like those who prefer sustainability. Nevertheless, if you too want to look for something specific, check this list, you might find what you are looking for.
Concept Toilet

People usually see public restroom as unsanitary and uncomfortable. However, this innovative toilet design by designer Nelson Ayala, in collaboration with Ana Maria Gordillo, looks to change the negative perceptions associated with public restrooms. It would try to do so by eliminating the need for intimate physical contact with the toilet. Due to the ergonomic design of the toilet, the user mounts the toilet with knees facing forward. Furthermore, this would help in avoiding contact between the user's skin and the toilet.
The contact surface between the knee and the toilet is cushioned with foam for extreme comfort. Although the toilet is intended for all users, it may be particularly beneficial for physically challenged users. It's because they are able to easily glide into the toilet for use. The toilet is made of white enforced ceramic and features a built-in automatic self-cleaning toilet system. It provides a hygienic, comfortable and modern solution for human waste disposal processes.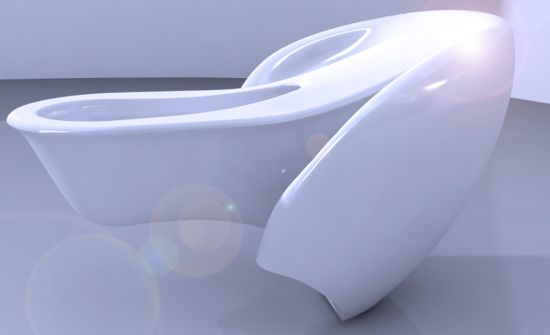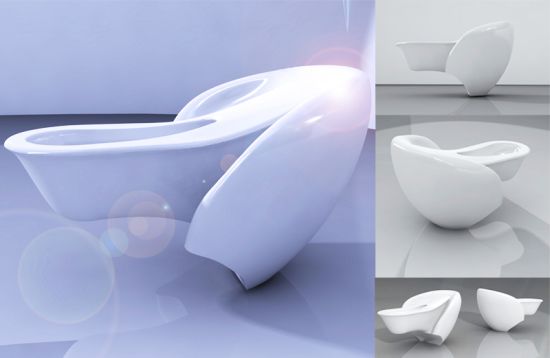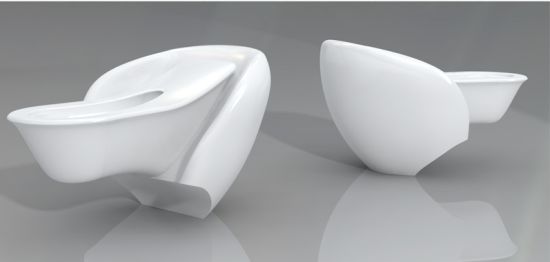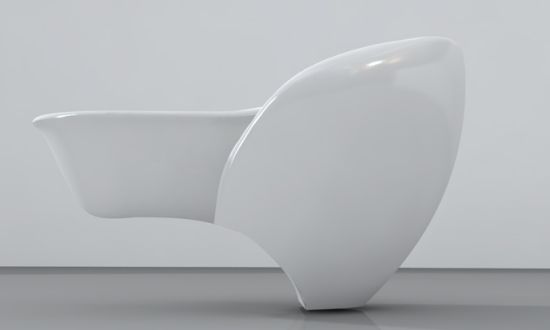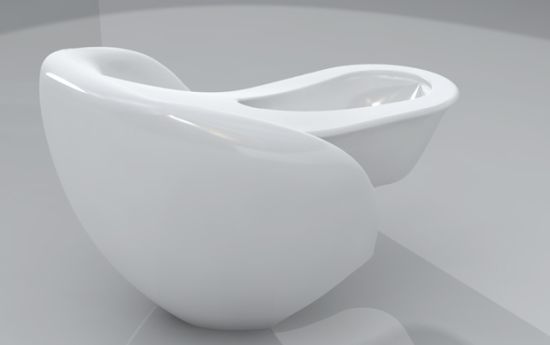 [Cheers Nelson]
Some more ideas like concept toilet
1. HT4 modular toilet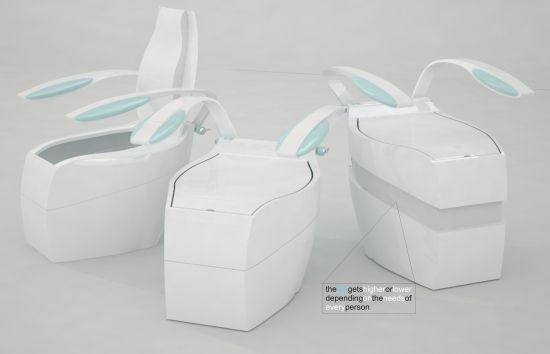 This type of toilet is very similar to the normal toilet. However, it has one exception. It has handles which could be taken up or down, depending on the need of the disabled person. Such a facility helps a disabled person for support and the cost of installation is very much on the same levels as that of a normal toilet. This HT4 concept is gaining more and more prominence today owing to its simple and versatile approach.
Going beyond of what we have these days, Mexican designer Cesar Estrada has designed an innovative toilet called the "HT4". This accommodates all, from kids to handicapped and elderly people, with equal ease. Featuring moving arms that you can adjust in different positions for balance and comfort that also help people to stand and sit, the HT4 also includes an adjustable seat that goes higher for people without strength in their knees and legs and bends to the needs of different users. In addition, the HT4 has an ergonomic back for resting and comfort.
And all its lines are based on ergonomics for the best comfort and balance, which can be very useful for handicapped people or just for having a good rest.
2. Cell Tankless Toilet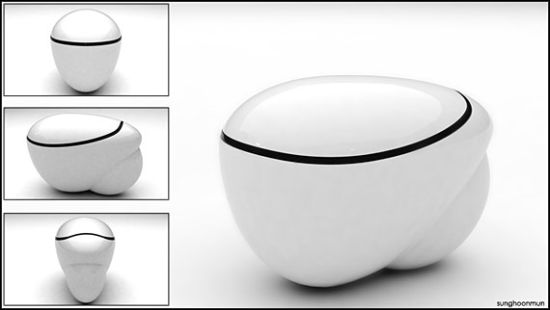 With bathrooms turning into one of the most important spaces in modern residential as well as commercial apartments, there is no reason that your washroom should remain dull and old fashioned. Embarking on the new era of toilet design, designer Sung Hoon Mun is out with a unique toilet design that doesn't require a high back, holding the tank. Presenting an egg shaped design; the Cell Tankless Toilet comes with the back to wall style. The new toilet design not just boasts glossy looks, but it will possibly also help in preserving water as well, removing the water tank from the lavatory. Though, there isn't much info available on the design, but it definitely will redefine bathroom designing in the days to come.
3. The fish and flush Toilet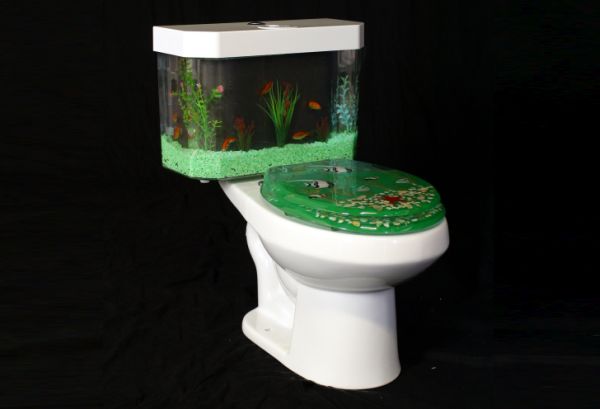 This toilet design consists of an aquarium designed as flush tank. The fish and flush toilet parts are made of high quality materials that are chosen according to the needs of this unique design. It uses very low voltage and hence, saves your electric bills from getting high. The tank can hold up to 2.2 gallons of water and is safe for children as it has two-filter system.
4. Musical Toilet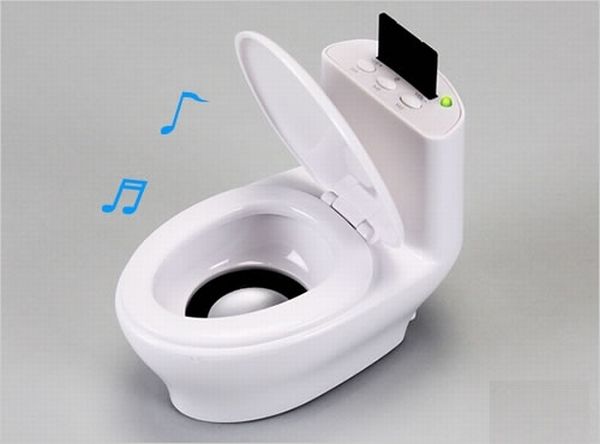 For music lovers, who wish to have music even in their toilet, here comes a unique toilet with an MP3 player. This toilet has a SD card slot with a control panel attached to the wall. The SD card contains 16 classic tunes by default and can randomly playback. It conserves power by learning the time when you're most likely to do your business.
5. UFO Toilet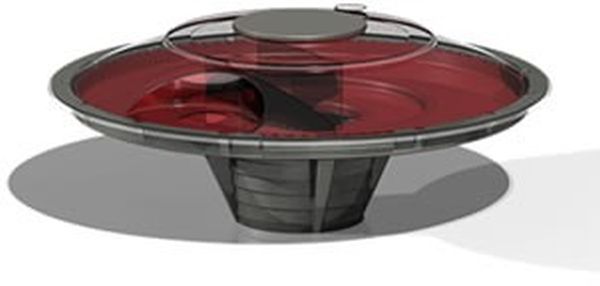 A creative invention, also known as waterless toilet, provides full functioning with hygienic conditions. This toilet container is designed in the shape of an UFO and sterilizes all the bacteria without any use of toxic chemicals or water. It is portable and compact and does not require any running water connection.
6. Space station Toilet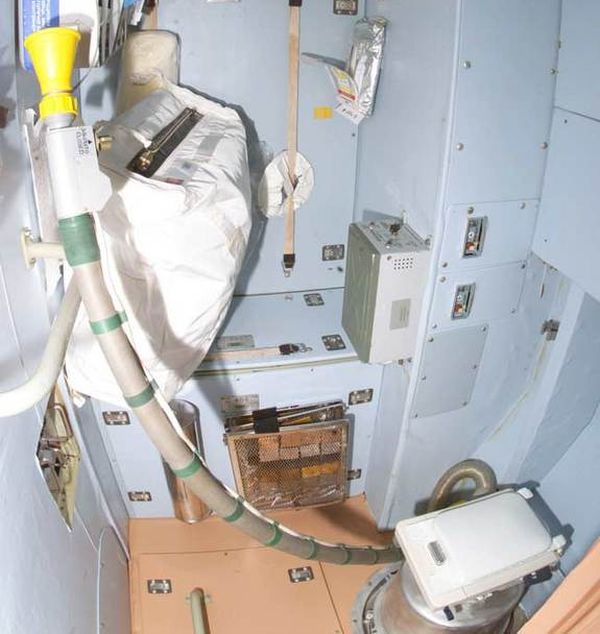 It was built by Russia especially for use in space and was launched into space in November 2008. It is the most expensive toilet ever built with various features. Furthermore, it consists of leg braces to keep the person in place in a zero gravity environment and has special fans installed to throw out the waste into the septic system.
7. Toto Neorest 600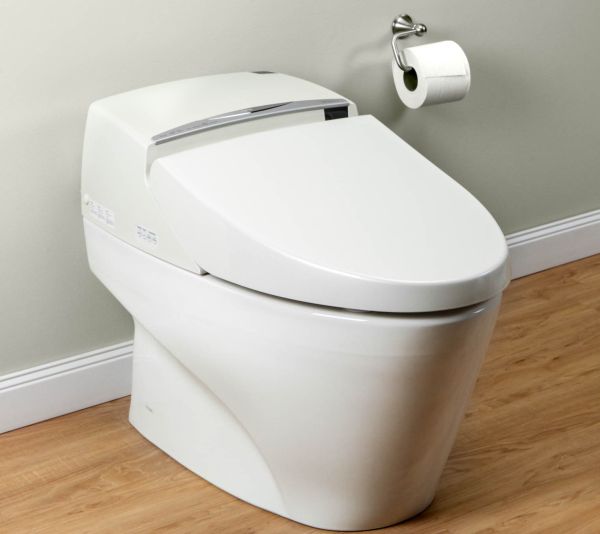 The Toto Neorest 600 is one of the cleanest toilets designed by the popular brand. The main features of this toilet are its odorless and tankless operation and the ability to reduce water consumption considerably. The seat cover of the toilet is designed to lift up automatically, thereby adding to its hygienic operation.
8. The universal toilet concept
Developed by Korean designers, this toilet design helps the disabled people to easily use the toilet and then dismantle it into a normal toilet structure. Thus, it can be used by normal in addition to those who are handicapped. In addition to that, handicapped people can use the same set of facilities as that of normal people, which removes the notion of being specially treated from the minds of disabled people.
The design for the concept is available in two different formats as per the requirement. This toilet idea serves excellently in public toilets. Not only does it save the space and money, it can be easily used simultaneously by normal as well as disabled users.
9. Terrorist-proof toilet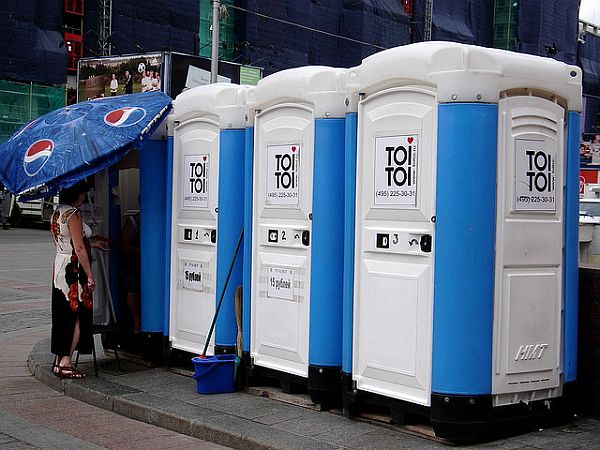 With Moscow city officials breaking ground with the innovative idea of terrorist proof toilets, you might at last free your body of the toxins and ease yourself in a peaceful and secure environment. This design was unveiled by the Moscow officials at the Clean City Expo held in second week of June 2011.
The usual blue cabin toilets are replaced with terrorist proof, solar panel fitted, nanotechnology-equipped and self-maintaining toilets. Designed with fibrous concrete, the toilet has the capacity to withstand a bomb blast. It offers design flexibility with the option of molding the design so that it looks apt for the architectural surroundings. At the same time, solar panel fitting is also not mandatory for a toilet structure.
Nevertheless, solar panel fittings render the toilets energy efficient, the likes of which we have seen in Dubai. These self-maintaining toilets excellently address the usual complaint of dirty Porto-potties. Security has been incorporated as the key feature of the toilet design. This becomes evident with the inset alarm feature. The alarm goes off to call for emergency needs in case a user takes more than 30 minutes. Additionally, comfortable temperature would be maintained within the toilet.
The ideology of the terror proof toilet springs from the terror attacks that Russia has been through in the recent months. At present, the number of stationary toilets stands at 262, supplemented with several mobile blue cabins. Though it is in a nascent stage with no clarity of installations and price, the terrorist proof toilets indeed cater to the need of the hour.