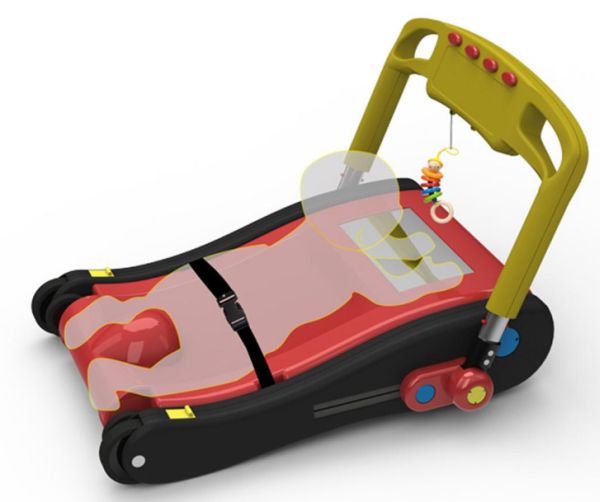 VICDA aka Vision Impaired Children's Development Aid came into being as a response to the dire lack of a product that would help visually impaired children learn key motor skills that they aren't able to pick up due to lack of vision. Such children often suffer from low muscle definition and poor posture, since there aren't any aids in the market that offer these benefits. Research conducted during the development of the VICDA revealed that infants with visual disabilities have no motivation to pick up their heads when laid in a prone position, and this results in lack of sufficient muscle development in the upper body. The aim of the development aid was to provide children with enough stimulation and encourage children to enjoy lying prone.
Primarily aimed for use by babies from birth right up to four years of age, the device adapts to a child's growth. The Sit and Play position motivates children to sit with their heads and spine in a correct manner, which also helps in toning their legs for learning walking skills in the future. Playing with the stimulation bar refines a child's motor skills and helps familiarize him/her with the process of walking and having the feet on the ground. As the child grows, VICDA can be made into a walker and the in-built sensors can, then, provide the child with necessary feedback to learn how to walk and pick up navigational skills as well.
The design of the VICDA can also be used by children with regular vision who have problems like delayed physical development or even as a therapeutic aid to children with muscle and spine disorders. Created with ABS, the VICDA is also easy to clean and can be quickly disinfected to prevent the spread of germs and dirt when used by children.
VICDA was created for the international student design competition, the James Dyson Award, which is spread over 18 countries and encourages designers and engineers to come up with technological innovations for the future.
Via: James Dyson Award