Outdoor kitchens are now more popular than ever before. You can transform your backyard or patio into a beautiful outdoor kitchen and enjoy get-togethers with family and friends. From late-night cocktail parties to barbequing sessions in winters, it is the perfect entertainment spot. You can set up an outdoor kitchen if you do not have one.
Here is a list of some key necessities for outdoor kitchens you must know before investing in it, though. 
1. Analyzing the Area of the Kitchen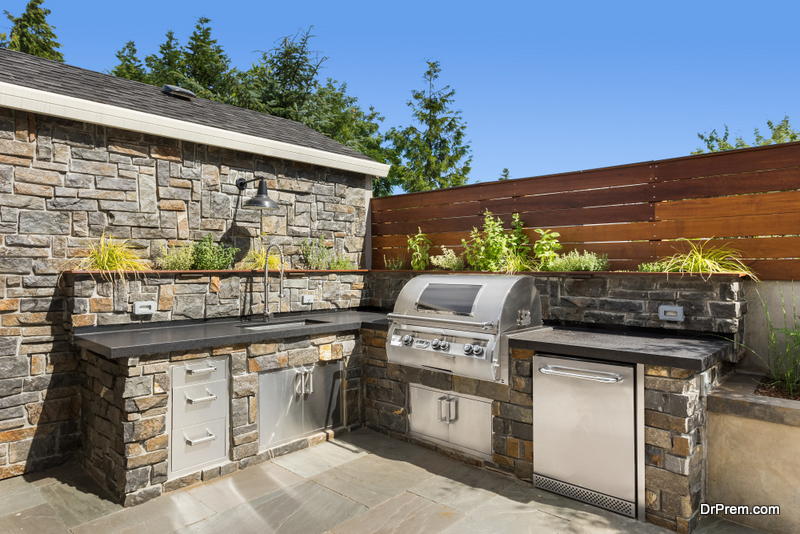 Ask yourself a few questions before you set up an outdoor kitchen. Does it have access to water and gas? Is it close to your indoor kitchen? Is it a level surface or has an open ground? Is it sheltered from the outdoor elements? Ensure you keep a note of the fire safety regulations and local codes, height limitations, and water regulations.
2. Designating the Work Areas
Try to have separate work areas for different tasks in the kitchen. Use the dry areas for setting up the grill, pizza oven, side burner, or surrounding dry areas and the wet areas for counters, cabinets, and other storage. The sink and washing area should also be somewhere near it. There should be a separate space for freezers, refrigeration, and cold storage. Make sure you have an adequate worktop space for food preparation. Design up a kitchen that is convenient for cooking and is also ideal as an entertainment space.
3. Selecting the Grill
A grill is also one of the necessities for outdoor kitchens. A decent charcoal grill will be perfect to grill vegetables, meat, or fish and have a fun cocktail party at home. A barbeque grill that is portable to move anywhere is easy to store when the weather changes. You would not use your outdoor kitchen much when it gets too hot or cold outside.
Nowadays, you can also find some gas counters that can fit into the counter as well as can be removed with ease. While electric grills are also an option, they are a problem if you don't have any power supply for the kitchen. However, the choice is yours as you need to choose a grill you will love working with.
4. Other Appliances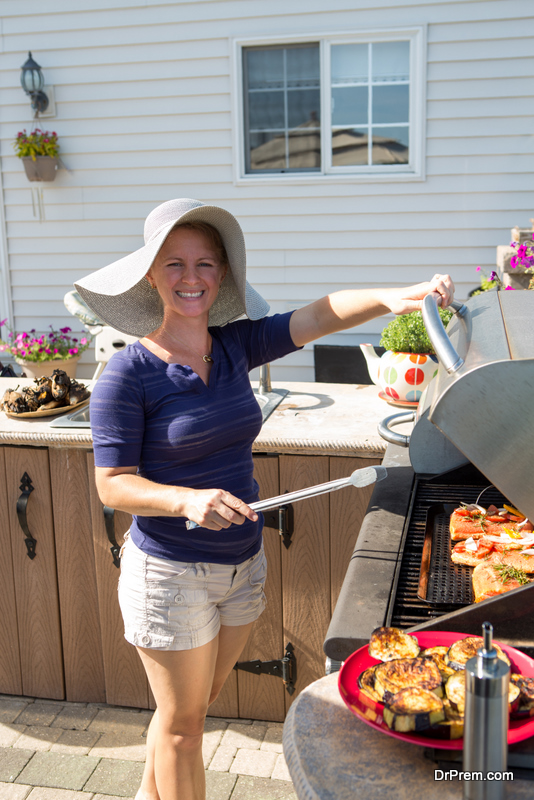 You may take your outdoor kitchen to the next level by adding a pizza oven to it. A wood-fired oven is unmatchable due to the smokey flavor it gives to the food. However, many chose a gas-fired oven due to its convenience. You can choose a built-in or with the framing of stone or stucco.
Countertop ovens are the most cost-effective and convenient options.  Refrigeration or freezer drawers are best to serve your guests with cold beverages and drinks. Be versatile in your choice of appliances and choose from a range of options from a smoker patio bar, ice maker, soda fountain, or beer tap.
5. Storage Components
Having lots of storage options in the kitchen makes it easier to work with ease, especially when you are grilling. Make sure you keep all the things you need near your cooking area. Have some dishes and equipment separately for use in the outdoor kitchen. You will save a lot of time when you use and store the dishes there. A trash bin in the kitchen will help keep the kitchen area clean.
6. Sink and Faucets
Having a constant water supply in your kitchen is essential. Install a sink to wash the utensils or any vegetables you have to grill or cook. Keep the wet area separate from the cooking area and near the preparation area. Make a choice considering all types of sinks such as pull-down faucets, drop-in sinks, and under-mount sinks.
7. Safety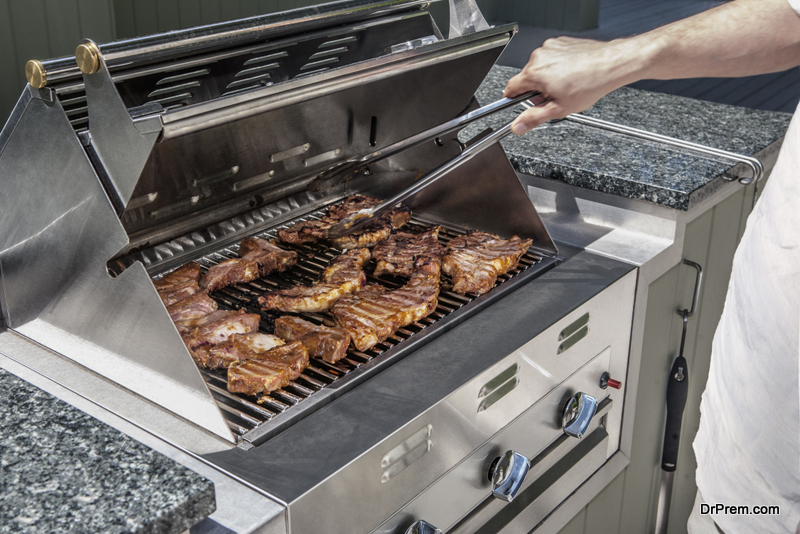 Make your kitchen a safe place. Use Insulated jackets when you install cooking equipment into a combustible island. A vent hood is compulsory no matter you have your kitchen in an open space or under a covered patio. A vent hood will keep the smoke and gases out and maintain a pleasant atmosphere to be in. A well-lit kitchen creates a good mood for the guests as well as lightens up your cooking mood.
When you set up your outdoor kitchen, think about the seating and knee room as one of the key necessities for outdoor kitchens. Also, ask yourself what kind of seating you want and for how many people? What would be the height of the bar counter or table? The seating should be accessible and away from the cooking area. Plan a proper clearance for people to come in and leave.
Article Submitted By Community Writer