The game of basketball is a team sport that is played between two teams each made up of five players. Each of these two teams tries to score by putting the ball through their opponent's goal which is an elevated hoop. The hoop is 10 feet above the floor and the net is referred to as a "basket".
The game is usually played on a rectangular court. The court is divided into two sections with a hoop at each end. This court can be made of different materials depending on whether it is located indoors or outdoors. Most indoor courts are made of wood while outdoor courts may be constructed with concrete or asphalt.
A basketball match is divided into 4 quarters of 10 -12 minutes per quarter depending on the kind of competition. The way it is, the two teams take turns attacking and defending their goals respectively. The attacking team tries to put the ball into their opponent's goal while the defending team tries to prevent this.
A team that successfully puts the ball through their opponent's goal score points based on how the ball gets into the net. The average points per basket are 2 points but teams can earn 3 points and 1 point too. A team earns 3 points when the ball is put into the net beyond the 3-point arc
A team however earns a point via a free throw. This is from each throw into the net when a foul has been given in their favor. The team with the highest cumulative points at the end of the 4th quarter wins the match. You may learn more about the game here.
Basketball Equipment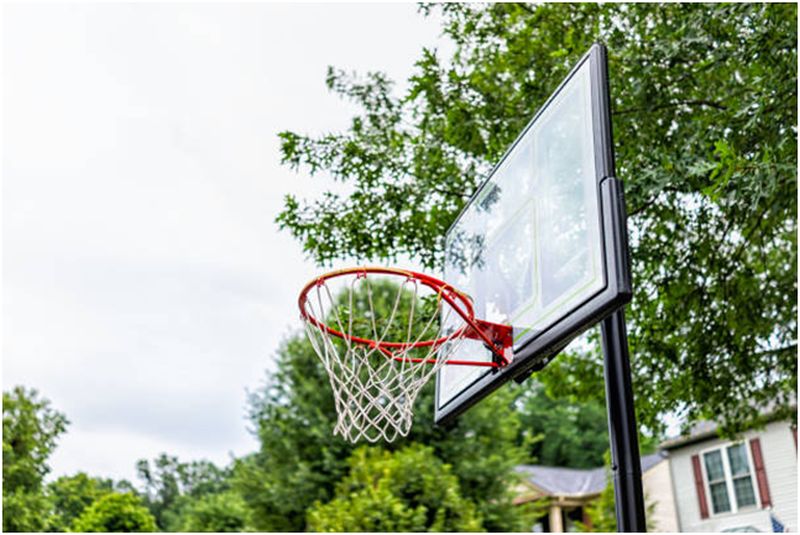 One of the most important parts of the game of basketball is the different equipment required to play the game. Some of the most important of this equipment are the court, the ball and the hoop. The court is 91.86ft in length and 49.21ft wide.
The ball comes in a variety of sizes depending on the age range and gender of the players. The biggest is size 7 which is 29.5" and is often used by adult men in association and regulation games.
The hoop is also very important because, without it, there will be no way to score points. In technical terms, the hoop is actually a rim that has a net attached to it. In broad terms, it is the basketball goal.
A complete goal system consists of a backboard that is rectangular and is available in a variety of sizes and materials. These can be tempered glass, acrylic, steel, polycarbonate, fiberglass, etc. It also contains a rim that is typically orange in color. This rim is around 18 inches in diameter and must be 10 feet (3.048m) from the floor.
Attached to the rim is a white net often referred to as the "basket". The net is made either from nylon or in recreational settings, metal chains.
The rim also has an extension arm which helps to project it forward from the backboard. This helps to create an overhang for safe play. Finally, there is the post or support structure that holds all of these together. You can learn more about the equipment used in basketball here https://www.rookieroad.com/basketball/equipment-list/.
The Best Basketball Hoop to Buy
There are different types of hoops. These include portable ones, wall-mounted ones, in-ground hoops, roof-mounted and ceiling mounted. While portable hoops are moveable, in-ground and mounted ones are fixed.
The type to buy will depend on your current situation that is what you need it for and where you require it. That is, is it meant for recreation or competitive purposes? Another consideration is the space that you have available and if the hoop and players need to be adaptable. This means that will a moveable hoop be more advantageous considering your space.
The advantage of a portable hoop is that you can move it around – driveway, street, or even to a friend's house. However, they are less steady and less secured, unlike a fixed hoop which is cemented or bolted and does not move.
Furthermore, you need to consider the parts of the hoop as they add to its weight. Therefore, if you were going for a portable one, would you prefer one with a fixed backboard or one that can be dismantled for easy movement? Beyond these attributes above, other factors you need to consider include things such as:
1. Build Material
The material the hoop is made from is crucial. If you want a durable and strong steel or fiberglass material, it may not be easily moveable. If you are going for a plastic composite or cheap steal, then it may be easier to move from place to place.
2. Move Frequency
A good place to start is asking yourself how often you need to move from one place to another. If you have a permanent location or residence, you might do better with a fixed hoop. However, if you need to move ever so often, then a portable one may be more advantageous.
3. Who is Playing?
The best type of hoop for kids and adolescents is a portable one. It provides them with much more freedom as they can move around and even play and interact with other kids in the neighborhood. A fixed hoop on the other hand means that they are limited to playing at only a location.
A fixed hoop may be preferable for adults. They are bigger and also like to slam dunk and you cannot achieve this with a portable hoop.
4. Cost
Another important factor you need to consider is your budget. Portable basketball hoops are often less expensive than fixed ones. You can therefore reach a decision quickly based on your budget and the other factors above. 
Conclusion
At the end of the day, the best type of hoop to buy is dependent on your personal situation. You have to consider your circumstances and decide which type will be of more value to you. This is based on your budget, material, playability, structure and style.
Article Submitted By Community Writer