Interior decoration is a critical part of making our homes look glamorous and be well-functioning. Hexagonal tiles are gaining popularity as they convincingly match the modern interior design aspects, like spectacular color shades, magnificent finish, and a visual appeal that creates a memorable first impression.
View from some of the industry experts about hexagon tiles:
Lily Gahagan from Houzz says "Mosaic hex tiles might be worth a try if you're looking for a more contemporary style. They can provide a subtle hint of color…"
Juile from JuileBanner.com says"Hexagon tile tends to mirror its environment, so it blends with every design style – classic, farmhouse, modern, traditional, bohemian, minimalist, etc."
Now, let's discuss why hexagon tiles are the designers' choice today to renovate our homes.
Installing Hexagon Tiles Enhances Your Home Decor
Hexagon tiles are available in wide-ranging colors, finishes, and materials. This intricate geometric tile pattern adds glamour to various parts of the home, as hexagon tiles are suitable for different tiling applications.
Features and Benefits of Hexagon Tiles
Mosaic tiles in hexagon pattern add spice to your home decor ideas due to the unique accent they create on any surface. Here are some significant features and benefits of hexagon tiles that we should know before renovating any part of our home:
Excellent Aesthetics
We can mix and match tile colors and materials to get a different and unique look using hexagon tiles. For instance, incorporating black hexagon tiles in a bathroom with contrasting white and gray tiles can add value to the bathroom.
The accent we achieve by installing hexagon tiles would be fascinating. The aesthetic appeal created by hexagon tiles is always charming. We may select a small size of 1" X 1" or a large size like 6" X 6". If we tile any surface, especially a wall within the normal human visual range with hexagon tiles, it outshines and adds value to the entire room or space.
We can select suitable hexagon tiles to install a kitchen backsplash, an accent wall in any part of the home, bathroom walls behind our mirrors, shower walls, the walls around our fireplace, swimming pools, spa, fountain installations, and flooring.
Wide-ranging Varieties
As mentioned above, we get hexagon tiles in different colors, materials, finishes, and styles, which we can implement for various applications. Marble tiles hexagon creates a classic style with a glimpse of modernity due to the rare combination of material and pattern.
Likewise, we can creatively restyle different parts of our home by choosing suitable hexagon tiles. Browse through an exclusive collection of hexagon tiles from a recognized mosaic tile manufacturer to get inspired!
Simple to Install
Though the hexagon pattern looks intricate with its six sides, the hexagon tiles are easy to install. The installation procedure is similar to other tiles. We need to:
Clean and prepare the surface to be tiled,
Create an outline as per the tile size,
Apply a thin-set with a notched trowel,
Place the tiles with pressure,
Clean the tiled surface and spread a suitable grout.
Remove excess grout using a sponge.
The grout we choose plays a vital role in the aesthetics and durability of the hexagon tiles. It is better to use grout of the same color. However, you can also choose contrasting grout for a glorious visual appeal. We can highlight the borders by using a grout of a contrasting color.
Peel and stick hexagon tiles set us free from this hustle and bustle. We need to remove the layer on the backside of the tile sheet to uncover the adhesive material and stick the tiles on the desired surface. Peel and stick hexagon tiles bring a touch of modernity to our tile installation.
Easy To Maintain
Tile maintenance depends mainly on the tile material. It is recommended to follow the tile manufacturer's guidelines to clean and maintain the tiles. However, hexagon tiles don't need any special tools, specialized skills, or unique cleaning material to be cleaned and maintained.
Regular soapy water or vinegar would be sufficient to clean and maintain the tiles. This feature helps us to take better care of the tile installation for years to come without involving any specialized service providers or tiling contractors.
Suit All Kinds of Styling
We may have our individual theme choices when it comes to home decor. Some of us may desire a vintage style, classic appeal, and some wish to showcase modernity through tiling installations. We can find hexagon tiles suitable for both kinds of styling requirements.
The upper images in the image collage shared at the beginning of this article are the best examples of modern style. Similarly, the lower two images help us visualize a classic style for home decor.
Creative Home Decor Ideas Using Hexagon Tiles
Let's talk about the ways to beautify various parts of our home wisely choosing hexagonal tiles. We need to think innovatively to implement some hilarious home decor ideas. Hexagon tiles help us to bring out the best visual appeal that would last for years to come.
Here are the home decor ideas using hexagon tiles, showcased through images:
Get that 'Wow' Factor for Accent Wall
Installing an accent wall of faceted, beveled, glossy brown-golden hexagon tiles makes the living room look fabulous! The top left image in the collage shows such an accent wall made of hexagon tiles.
Contrasting Shades to Make the Kitchen Glamorous
We can add a rare visual impact to the kitchen by installing black glass mosaic hexagon tiles (Refer to the top left image in the collage). The tiles look eye-catching as the other elements in the kitchen are white.
Making the Bathroom a Place Everyone would Love
By installing the hexagon X pattern stone tiles in white, blue, and gray colors on a bathroom wall, we can make the bathroom a lovable space altogether. (The lower left image in the collage).
Blending Hexagon with Subway and Linear Tile Patterns
The bottom right image in the collage shows a kitchen backsplash installed with hexagon, pencil, linear, and subway pattern tiles in glossy finish and gray color. The combination of tile patterns and slightly different shades of gray and blue make the backsplash look gorgeous. Isn't it?
Marble Tiles in Hexagon for a Mind Soothing Bathroom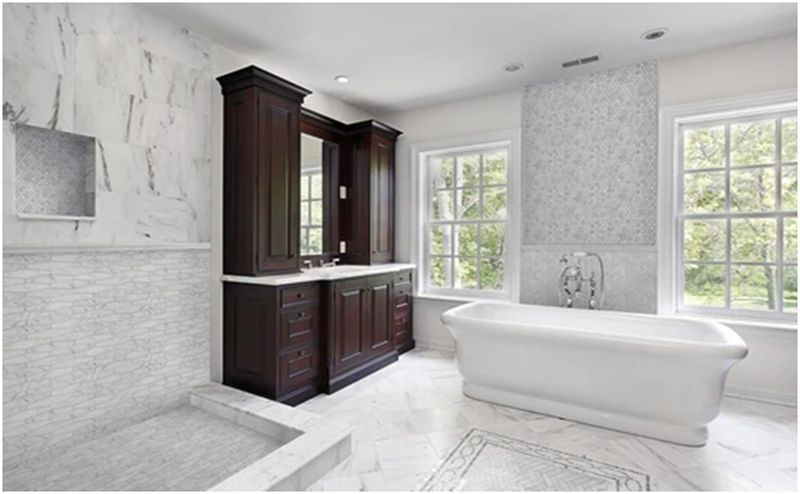 The below image shows a beautifully designed bathroom with a classic decor theme. The marble hexagon tiles in various sizes are used in multiple places on the bathroom walls. We can find marble mosaic tiles in the square, chevron, and diamond patterns to add variety. However, the hexagon marble tiles grab our attention.
Beautifully combined marble hexagon tiles to implement a classic style bathroom.
The Bottom Line
In this article, we have discussed the features and benefits of hexagon tiles and some fabulous design ideas including columns into modern interior design. We hope that the various aspects of hexagon tiles covered in the article will encourage homeowners to choose the best-suited hexagon tiles for their upcoming home renovation projects.
Article Submitted By Community Writer