Spring is one of the best seasons in the year to hold a wedding. It's bright and sunny, but not hot – spring is the season that treads the fine line between warm and breezy. So, it makes sense that when your wedding is scheduled in spring, you want everything to be bright – right from decor to flowers and most importantly, the bridesmaid dresses. The best part about bright bridesmaid dresses is that the colors form a perfect contrast with your white or ivory wedding dress.
But when it comes to bright beautiful colors for weddings in Spring 2020, confusion about choosing the right color palette can quickly overtake the excitement of your big day. Is there a color that goes with accessories, decor and the dresses? Maybe you love a particular color, but what's trending at the moment is entirely different! Should you follow your heart or should you follow the trend?
No matter the style or venue of your wedding, when it comes to spring weddings, nothing beats the citrus shades. Here are our top three citrus picks that make for a perfect wedding color palette. Also, some more amazing color palettes that are trending at the moment.
Tangerine – A classic spring color
You cannot deny what a right color can do to a wedding. It can speak for everyone present at the venue and express the vibe without a single utterance! Tangerine is just that color! It is a versatile citrus shade that turns any wedding lively and breezy! A bright touch of tangerine is enough to add warmth in your spring wedding. Pair up this bright shade of citrus with any light hued color like white, green or pink –  and witness the magic work on the minds of your guests. Maybe you can try a combination of tangerine and navy blue – it will always work its magic! Incorporate the citrus shade in your wedding invite – maybe tangerine in the background of words inked in black (or vice-versa). White on tangerine gives off a great effect as well. You can couple tangerine with light green or pure white everywhere – in your decor, in your wedding invites, in your bouquet, and even in your bridesmaids' dresses! Choose any style or pattern – tangerine is a great color bridesmaid dresses. Go for full length maxi dresses, cute short dresses, or midi dresses that reach the knees – tangerine goes with everything! Be it a sweetheart neckline, off shoulder dress, or a halter neck – bridesmaid dresses in tangerine are sure to make jaw drops everywhere.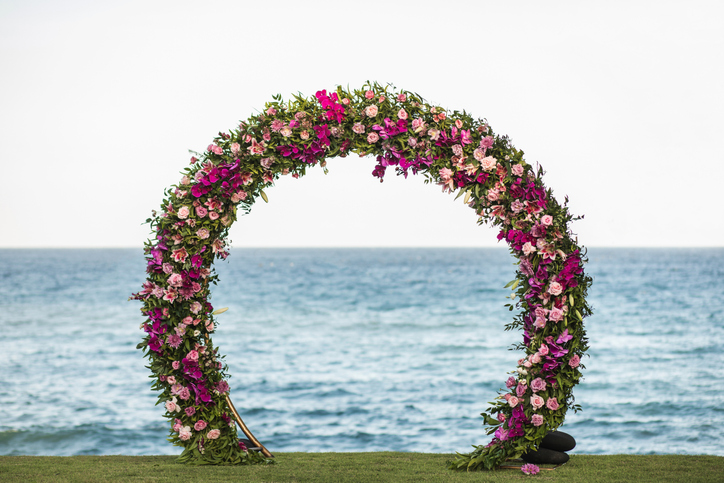 Coral Pink – More than just a citrus shade
Orange and pink come together to give birth to a unique citrus shade – coral pink. A color that instantly reminds one of warmth and brightness, coral pink adds life wherever it's used. No wonder coral pink is Pantone's Color of the Year 2019. For this reason, you can also try coral pink for wedding color palette.
Coral pink is a shade that's easily available in nature – the coral shells, the sunsets, and the flora. So, this is a shade you must go for if you want your wedding to look and feel natural.
The first thing that pops into the mind when coral is mentioned – the beaches. If your spring wedding venue is a beach, then coral is the perfect shade to breathe life into your wedding palette.
You can pair it with pristine white – so think about a bouquet of coral peonies in front of a white wedding dress – the imagery may be synonymous with the idea of what heaven looks like!
Give your wedding invitations and table cards a contemporary yet calming, soothing appeal by adding coral pink in the background. Then ink the words on top with gold, white, or black – the effect is surreal!
Coral pink is a color that pops when used in combination with turquoise as well. Maybe coral pink flowers resting on a table filled with white and turquoise cutlery? If your cocktails and sushi are peppered with coral pink, then your wedding palette is complete!
Let your bridesmaids drape coral pink and walk behind you at the altar – the visual will be undoubtedly stunning and serene at the same time. Who doesn't want this effect at their own wedding?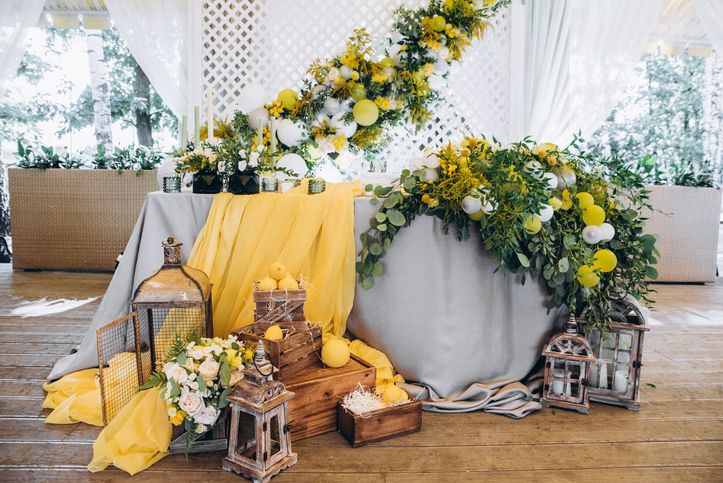 Lemon yellow – A bright pop of color amidst a sea of typical wedding shades
Lemon yellow – the name itself reminds one of the brightness and warmth that spring and summer brings with them. The citrus shade is so breezy and light that it will give an effervescent visual effect to the entire wedding decor.
It's zing, uplifting and vibrant to the core! Lemon yellow is a color that adds a dreamy charm to any wedding – be it traditional, countryside, or contemporary.
A combination of lemon yellow and white is a sky-inspired decor and dressing done right! After all, do you not want to radiate love and warmth on your big day – just like a sunny sky does?
Amp your wedding invitations by inking lemon yellow on pale grey craft paper. And on a dark grey background, the color looks like shining rays of the sun amidst the dark, wintry clouds. The effect is jaw-dropping!
How about going for lemon yellow amidst other bright shades when it comes to the flowers? Sunflowers fit the bill like none else!
A softer shade of the citrus color will look marvelous on your bridesmaids. Moreover, let them hold white flowers and marvel at the overall appearance. Since lemon yellow is great for spring and summer weddings, incorporating it into your wedding palette will just turn yours into a sunny one indeed!
Weddings in Spring 2020 are already embracing the citrus hues. These shades are all set to tug at the heartstrings of the hosts as well as the guests. Be it peppered with tangerine, lemon yellow or coral pink – a bright, sunny, warm wedding will be an unforgettable affair for everyone involved. Just go for it!