A home office is no longer a place where you work on weekends in your free time. Many people have now started working at their homes, because they can accomplish the same amount of work they do in corporate offices at their homes. Some home offices are spacious and some are tiny nook offices, but almost all are characterized by creating a work environment conducive to producing maximum work. The advantage of a home office is that it can be designed according to your personal taste – it can be a beautiful, inspiring, energetic, stylish and an interesting space reflecting your personality. Here are some trendy and stylish home office ideas for you:
 A tranquil office space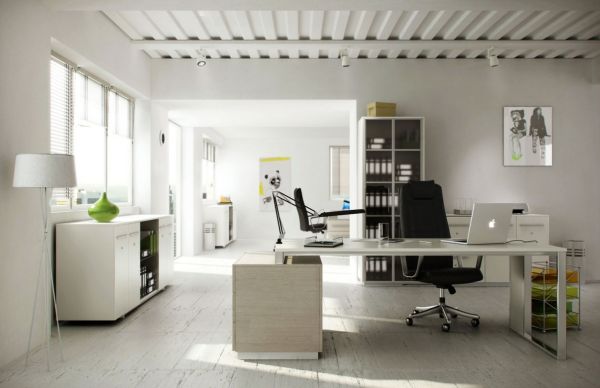 The large desk is perfect for you if you need a lot of space. Your computer can be on one side and on the other side you can have space to make any craft work. The white color is elegant and increases the space, and the blue desk adds color to invigorate the space. You can hang your favorite painting or if you are a designer, a print of one of your designs.
Color inspired
To keep yourself pepped up, a dash of color is just what is needed. Mounting your computer screen on the wall is a great idea, especially if you are space challenged.  This lets you use your desk to write or design. Shelves from floor to the ceiling in bright orange and of different sizes and styles, adds variety to the design. The simple B&W painting stands out in the bright color scheme.
Showcase your art
A painting in an otherwise austere office completely changes the aesthetic. You can display just one big painting or several small ones on an accent wall in your office.
Minimizing clutter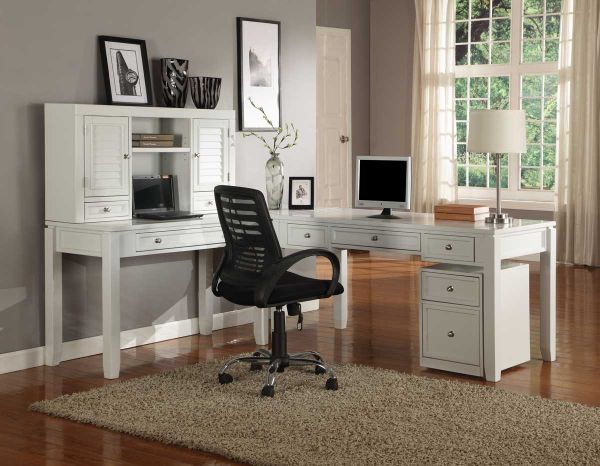 According to research, neat and tidy office which is free from clutter can increase your productivity. Shelves on one wall, gives you ample storage. You can store all your books and office supplies in a nook. If you want more storage, buy storage boxes which look good, and put them on your shelves, instead of your books.
Contrasting colors combined with natural details
For a more robust office space, make a composition of brilliant colors with wooden floors and brick walls, it will transform your home office into an eclectic office. Natural light is reflected from the metal surface of the desk, adding another dimension to the space.
Simple but effective use of space
You can design an elegant home office in a small home too. Just find some empty space, and add a desk, with matching storage. Your mezzanine space can be used effectively as your home office.
Connected to the outdoors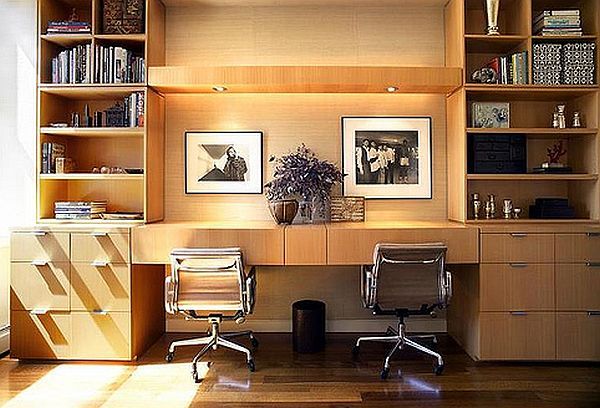 It's very relaxing to look at nature from time to time. It breaks the monotony and gives you the chance to take your mind off work, to take a break and just admire nature. Home offices which are connected to the outdoors, maybe through a glass wall or partition, have a calm and soothing atmosphere.
Green elegance
If you can't have an office which looks out on nature, bring the green into your office. Including potted plants is a wonderful way to add nature in your home office. Having stylish planters can add style to your office.
Wild whims
Your home office decoration should be such that it inspires you to work. You could choose bold colors, such as navy blue softened by white and gold accents, along with colorful accents. Devoting just one wall of your living area, but separating it from the other part of the room by the brilliant use of color could be a small but effective and inspiring home office design.
Attic office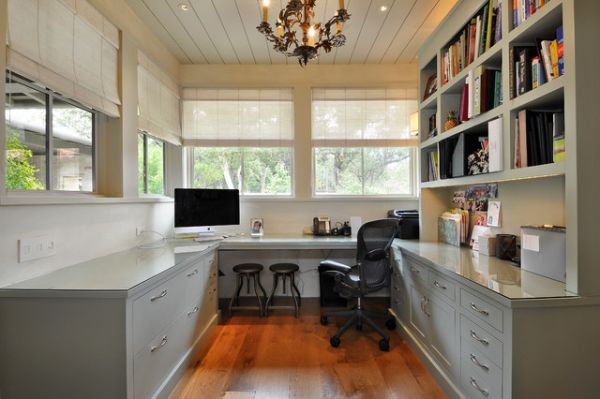 Attics make great home offices – they are naturally lit, are private and isolated, and have lots of space for storage. You can utilize Scandinavian design with modern office design which convey functionality and modernity.
Office for two
If two people in your family work from home, use the landing to create a unique office for two. Add a quirky rug on the floor, as the design element.
There are many different styles such as rustic, modern, traditional, Scandinavian etc which you can incorporate into your home office design, and make your space stylish as well as functional.