If you are a true DJ, you want music on your plate, in your pocket, on your table and everywhere. However, if you opt for just the conventional, your talents are restricted only to the club. Therefore, you need to think out of the box. With creative gadgets like 45 Audio Station and others mentioned in this article, you won't have restrictions anymore. You can practice, play and party no matter where you go. Let's check them out.
45 Audio Station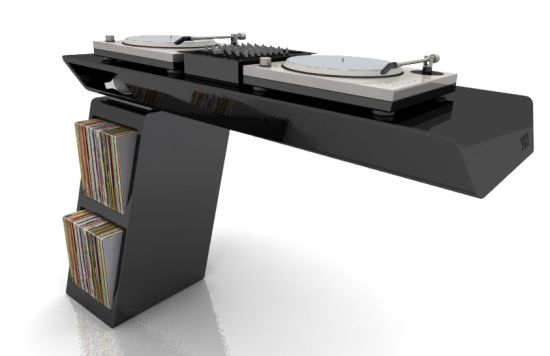 Designed for a club owner a while ago, the "45 Audio Station" by Chicago-based designer Christian Castro is a DJ table with an integrated vinyl case to rock the dance floor. The name "45" has a dual meaning derived from the 45 record speed and the design's resemblance to a handgun. The audio station is made of epoxy, concrete and steel, materials dictated by the design and a turntable's operational requirement of no movement or vibration. Furthermore, the vertical element of the design is cast concrete connected to the horizontal element, which is made of molded foam. Both the vertical and horizontal elements are coated in glossy resin. The horizontal element is ridged and light, while the vertical element is heavy and immobile. The entire unit is bolted through the club floor.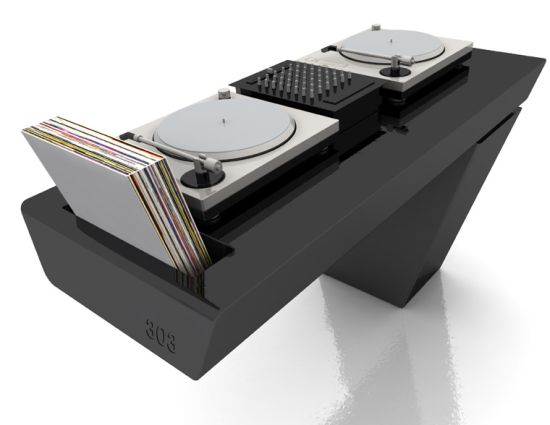 [Thanks Christian]
Some more DJ workstations and gadgets like 45 Audio Station
1. CLUB Deluxe DJ Table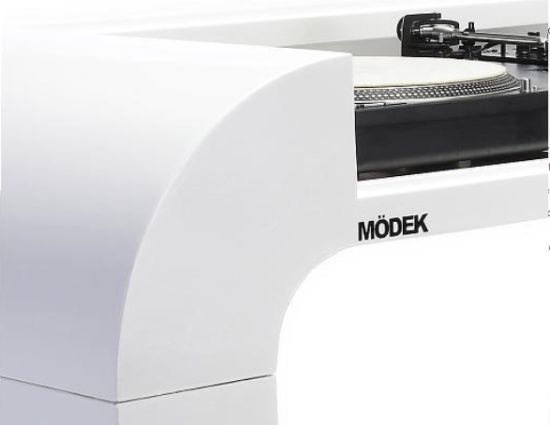 Making a loud statement in the glamorous world of DJing, Spanish firm Mödek has come up with a DJ table called the "Finish CLUB Deluxe" that apart from being stylish also includes some unique functions to rock the dance floor. Developed as a part of Mödek's DJ Furniture collection, the glossy table presents vinyl exclusive decorations. Made in wood and MDF with high gloss lacquer finish, the new DJ table wraps the team in a top cover of the same color to make it more attractive while avoiding the dust and passing all the connection cables through a connecting hole without being visible.
Designed by Spanish designer Jose Perez Manzanal, the Finish CLUB Deluxe comes with optional laptop support and LED RGB lighting in brackets with hole. In addition, you can have you logo in brackets with light.
2. Be your own DJ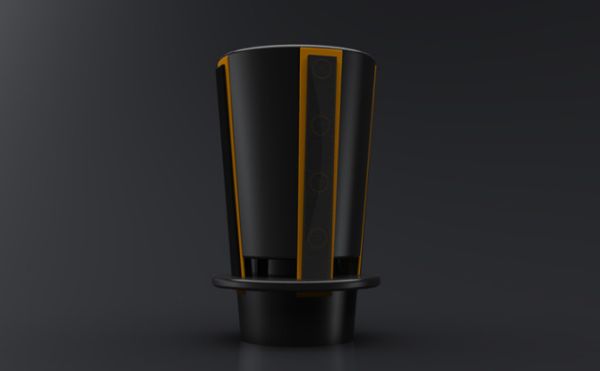 Imagine yourself in a party where the environment is so boring, with no happening songs being played and everyone is looking at each other's faces in boredom. Just the thought of it makes your shudder, right? Well, then fret no more, for designer Andrew Volpe has come up with an ingenious idea for being your own DJ. Dazed.
Make your own music right from your table, while competing with the songs played by the others. The speakers have been encompassed in the table itself, making you the king of your table. Have a battle of songs with the people seated at the other tables, and make your songs heard. That's how the game is played. Keeping in mind a competitive spirit, you can weave musical notes in and around yourself.
Keeping in mind how one tends to shy away from strangers, the idea was conceived. By the constant interaction with your peers, you can engross yourself in a musical cocoon, while at the same time meet new people and enjoy yourself to the fullest. Play the most recent song on the list and choose from a vast variety of music lists; there is absolutely everything for everyone.
3. Ion Discover DJ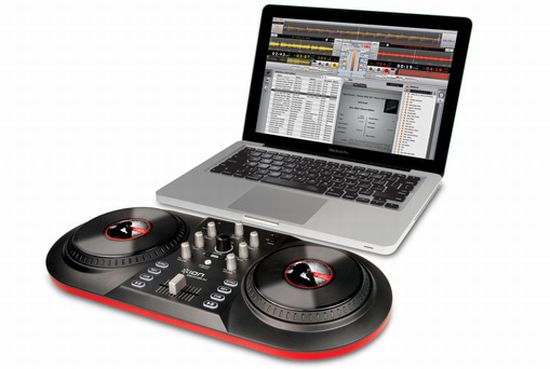 Fusing a physical turntable interface and digital software, Ion has popped up a simple yet creative turntable named the "Discover DJ" that lets you mix and scratch your digital music collection with minimum fuss, no matter if you are a professional or an amateur. Utilizing the processing power of your Mac or PC, the new device pulls music, including your iTunes music libraries, from your computer to mix and scratch your music. Comprising a hardware DJ control surface with a standard USB connection and powerful MixVibes CROSS LE performance DJ software, the Discover DJ employs two large performance platters and a central mixer section with a crossfader, allowing easy controls. Integrating an automatic beat-matching feature to create precise music beats, the system comes with recording capability, so you could record, play back and share your performances with your friends.
4. Metrofarm DJ Desks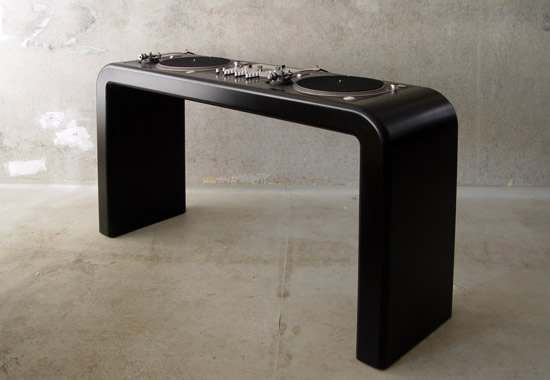 Though I am not qualified as a designer or as an artist from any art college, I am actually a design freak. Having an eye for fine, fresh designs, I am always on a hunt to locate some real beautiful stuff. And today I couldn't pass up an opportunity to show a master fusion of design and music into glorified DJ Desks. While these may not be the best of the genre, they certainly have an attitude to them. Metrofarm, a German based company, has designed and built several high end DJ desks over the years. They feature a range of desks that are built using a variety of materials and finishes, and are custom made to the technical specifications of their clients.
With loads of companies swearing by their high-tech furniture, this comprehensive line of active desks is designed to deliver both power and quality sound. I am wowed by the funky Neon orange painted wooden DJ desk attached directly to the wall. Also the black painted wooden desk is elegant to the core. Roll over to pour over more images of these desks.
Some may prefer the one legged wooden DJ desk or a classy veneered one, while others may fall in love with the shiny stainless steel DJ desk. Howeve the one with concrete legs and linoleum middlepart is a bit tough to admire.
5. Mono 365 backpack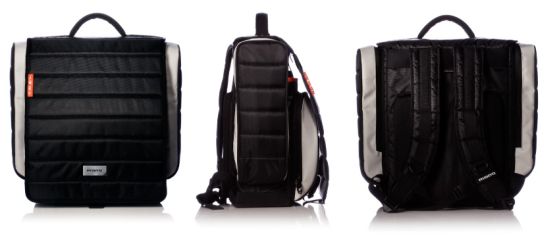 Nowadays, backpacks or side packs have been turning into a hot mate for modern gadgets that not just allows easy storage and transportation but also keeps your gadgets protected in trying conditions. Here is a DJ backpack called the "Mono 365 DJ Pack" that comes integrated with a bombproof and waterproof case, steel riveted handles and an extra-padded central sleeve to protect your system when not rocking in the clubs. Intended for laptop-based DJ setups, the Mono 365 DJ Pack can secure up to a 17" laptop, together with a small stack of vinyl, various controllers, portable mixer, cables and even a headphone. Finished with extreme resistance materials, including steel-riveted handles, high-density padding and a waterproof shell, the $189 DJ backpack devoid of the conditions ensures a safe and easy transportation to your DJ system.