To rug or not to rug? One usually encounters such a question while moving in, redecorating a house or even when they get bored of their existing bedroom setup. From colorful bedsheets to memory foam mattresses, night lamps, cute curtains, and so on, your bedroom is your personal sanctuary. Moreover, if you ever feel like your feet should touch a warm and comfortable floor, rather than a floor that feels like a frozen pond, a rug is your best investment. While it offers an aesthetic factor to your house primarily, your pet (if you own one), would benefit from it too. Think about it!
 If you're in a dilemma for laying the ideal rug(s) in your bedroom, then FEAR NOT! Here are some tips (and tricks) you could try to emphasize the beauty at your home: 
1. Examine your space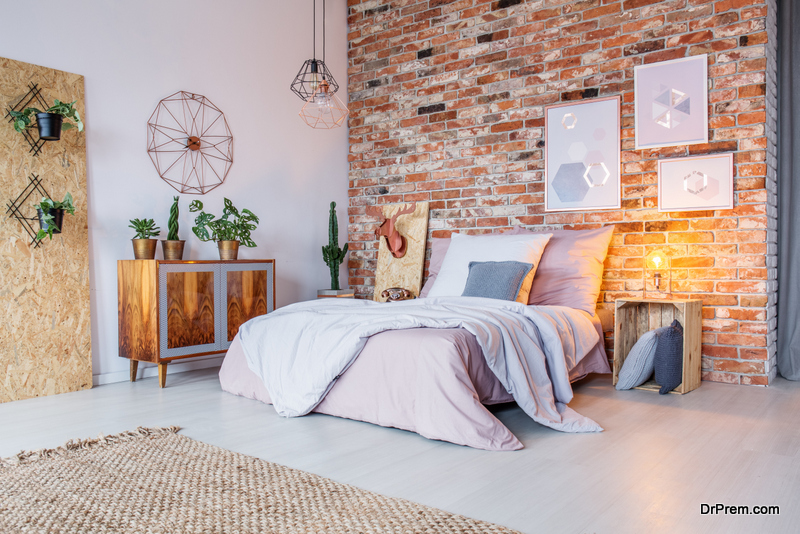 It's natural for a person to be impulsive. Especially when it comes to decorating or just making your space cozier and comfortable. Before buying the rug of your bedroom dreams, it's ideal that your bedroom's space in mind. A large rug would probably result in you changing apartments rather than exchanging the rug for a smaller one because, let's face it, it's hard to find the perfect rug. If you can't decide on buying a floor rug, you can consider other available options, such as area rugs, or go for the perfect rug size – the 6' x 9' rugs. These rugs never go out of style and it will inevitably give you the aesthetic element you really want.
2. Simplicity is priority
If your room seems extremely vibrant, a vibrant rug would do the trick in bringing out your room's personality. But, if it's the other way around, a simple room demands a simple rug or if you want to get creative, you could funk it up with an extremely out-of-the-box kind of rug. Whatever you decide, ensure that your rug complements your bedroom in such a way that you would never want to leave it.
A simple rug would highlight your room's space in such a way that it could appear to be more spacious, in case it isn't. But the trick to pulling something like this off has factors such as color, furniture, and so on. Moreover, in case your room isn't as spacious as it seems, try moving things around to accommodate your rug, be it big or small. 
3. Size matters (well, just here)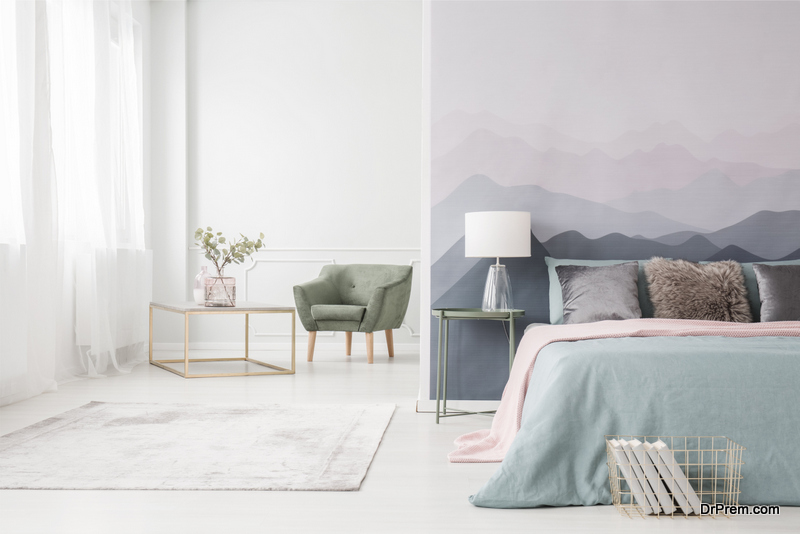 Say you have a queen-sized bed. Well, everyone's bed does feel like a queen-sized bed. But in this case, get your dimensions right. The size of your bed plays an important role in deciding what rug you should invest in. For a queen-sized bed, a large rug would do wonders for the entire room. By placing such a rug beneath your bed, you could enhance the theme of your bedroom and also create more room for organizing your bedroom space.
Place your rug(s) in visual harmony with your furniture and other bedroom accessories to keep it in perfect coordination. Depending on the size of your bed, you will be able to decide which rug goes perfectly well in your bedroom. Try to avoid buying a rug based on your spontaneity because it could not go as expected resulting in a poor investment decision.  Area rugs would do the trick, principally as it works for all kinds of spaces. Before you make your decision, go through a rug size buying guide, to make sure that you meet both your room space and rug size correctly.
4. Color your Sanctuary
Color goes a long way and it helps in keeping your room aesthetically neat and organized. The right use of color from its palette will allow you to sync your furniture and other bedroom accessories in the right way. Picking the right shade to beautify your bedroom would make it easier in finding the right rug to match your room's color theme. Don't make the absurd mistake of picking out a rug and then theming your room, because it's just double work and its way beyond the box. Try to avoid loud colors and settle for warm or cool colors, according to your convenience.
5. Minimalism – the right approach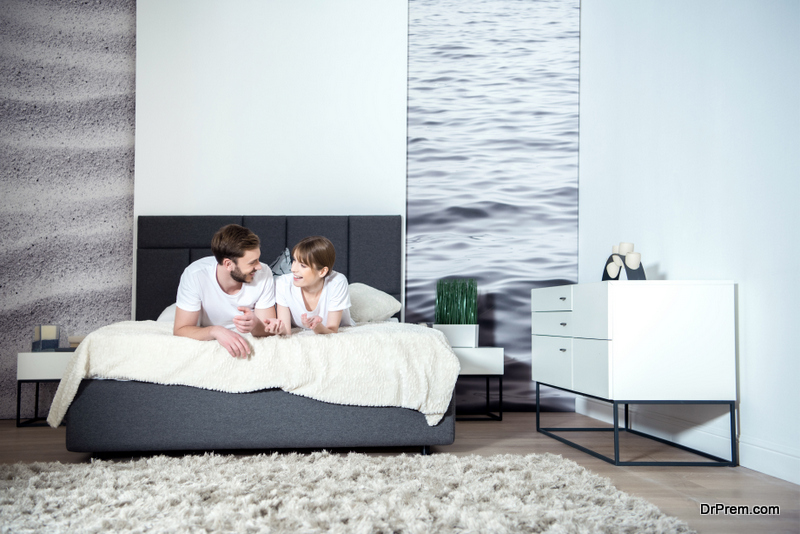 A minimal approach to setting your bedroom could be a wise decision. Minimally toned rugs could play the highlight of your room. Don't focus on buying the best rug in the shop; rather focus on buying the best rug for your room. Keeping it minimal enhances your room in such a way that it presents a visually spacious appeal with the right amount of balance between your bedroom accessories and your rug. Create the right space with cozy dimensions, primarily.
6. Choosing the right material
Durability is something we as consumers often look for in a purchase that we make. Polypropylene rugs are durable and easier to maintain in the long run. In case you want a visually appealing rug with shimmer, ensure that you don't have pets around when you purchase one of these rugs. You can increase the durability of your rug by ensuring less sunlight exposure to your rug, as it wears out the threading.
7. Lastly, Cleanliness is next to Godliness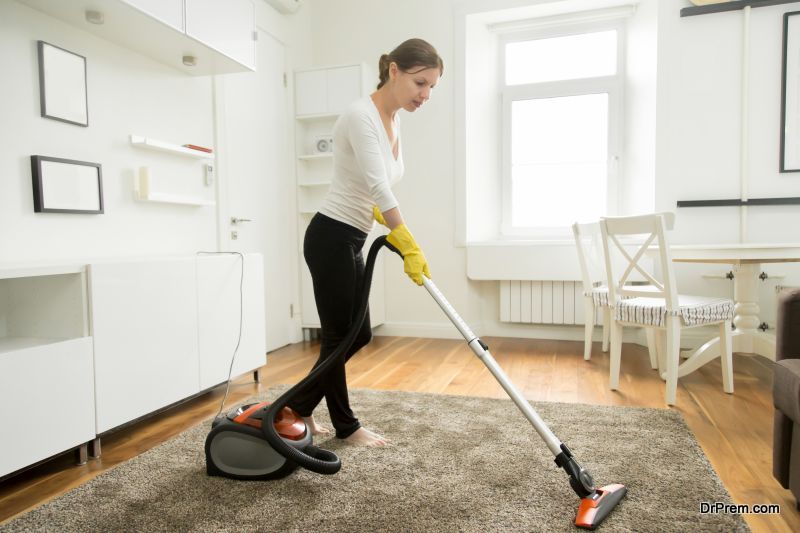 With great rugs come greater responsibilities. Buying your ideal rug is the first step, but keeping it clean can be a task. Rugs are more prone to getting dirty as it is exposed in such a way that cleaning becomes a despised chore. You can keep it clean by regular vacuuming, avoiding liquids around the rug (stains are a pain) and ensuring that you don't step on it with an unclean pair of feet. Make sure that your rug is dry and not moist as it could lead to fungal problems and that could result in you disposing of the rug of your dreams.
Final Words
A rug can be that one accessory that could make up your ideal apartment/house. The cozier you feel, the homelier it gets and that is very important – to feel like home. A rug is not supposed to just look like a part of your interiors; rather it should enhance it in such a way that you feel your home is completely balanced with the right amount of furniture and other accessories. Since most people prefer placing rugs in their bedrooms, it is important that you consider your point of placement for your rug(s). You could find your ideal furniture and other interior accessories through direct-to-consumer brands available online to meet your individual furnishing needs, as well. Keep it simple, coordinated, minimal and trendy as you go ahead to make your investment.
Article Submitted By Community Writer