With things like minimalism and sustainability coming in trend, it is becoming more and more important that we make our choices in accordance with them. Even when it comes to chairs and stools, we should make sure that not only they serve multiple purposes, but they are also easy to keep. You won't want your chair to eat up most of the space of your small living room. On the other hand, you won't even want to keep it empty, just because keeping a chair takes up space. However, there are plenty of innovative chairs out there that can serve the purpose of a chair when necessary. This chair that rolls like a carpet is one such chair.
The chair that rolls like a carpet
Now, this is something we can call an ingenious design. The MIESROLO, designed by Uros Vitas, is a rollable chair made of wood rests connected via synthetic bands. This Dinamic Cantilever Chair grabbed the first place at Wood Agency Design Contest Belgrade 2008. Roll the chair and take it anywhere with you. When you need to set it up, simply open it to make a chair-like structure, as shown in the image above. We doubt the ergonomics, but the designer definitely derserves a pat on his back for coming up with the nifty idea.
Some more innovative chairs like the rollable chair
1. Chair that swivels its back to become a coffee table
With modern homes getting smaller day by day, minimal has become a new big nowadays. This is especially the case when it comes to all-essential furniture in cramped urban dwellings. Now, with a desire to change the class of bulky and spacious furniture, Atlanta-based designer Joe Bonnoitt has come up with a minimal furniture unit. It switches between a chair and a coffee table without wasting any time and effort. The "Swivel" is essentially a chair that as suggested by its name swivels its back to become a coffee or a side table. The modular furniture just suits the flexible nature of small city apartments.
2. Fotel, armchair that becomes a rocking chair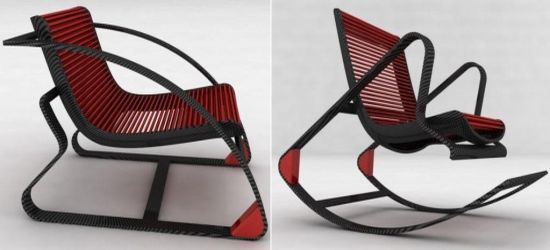 Designer Peter Vardai continues to impress with his futuristic designs. Some time back we covered his Customizable kitchen. Now it's time for a modular but functional chair by the Hungarian designer. The Fotel, as the designer calls this piece of furniture. It is basically an armchair that converts into a rocking chair. We can use it both indoors and outdoors. It features a frame finished with carbon. This makes it lightweight and easily movable. Furthermore, the modular chair accommodates the users without making them sweat, thanks to the ventilated sitting surface. The chair can be transformed from armchair to a rocking chair, without the need for remodeling. Its seat lies safely on the frame, supporting the elasticity of the furniture.
3. Exceptional lounge chair and ottoman by Jack Rogers Hopkins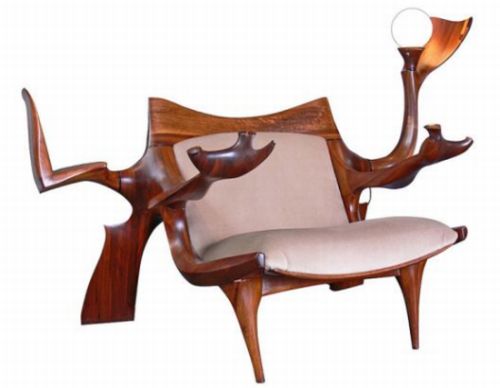 This is a one-of-a kind lounge chair and ottoman by Jack Rogers Hopkins. The chair portrays Hopkins exemplary artistic expression. It is a beautiful ensemble of wood and upholstery. The exceptional piece of furniture is very creatively functional. Furthermore, it also incorporates a reading lamp and a book shelf. Hopkin's furniture is known for creatively combining several useful functions into the furniture form. The laminated construction keeps the chair in an excellent original condition for a long long time!
4. Paper Chair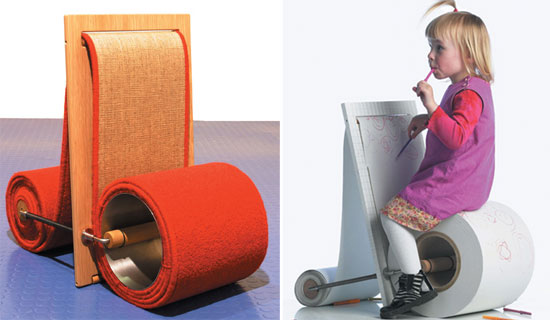 Furniture designing, offering infinite possibilities of experimentation, is one of the most adorned designing streaks among both conventional as well as contemporary designers. Taking a cue from (possibly) a toilet paper roll, designer Charlotte Friis has devised an innovative chair. It is famous as the "Childrens Paper Chair". It not just offers a playful design but also advocates the serious message of sustainability for day-to-day life.
Though the chair is specially designed for small kids, older children also use it. Of course, with a bigger paper roll. All you have to do is draw the paper on the front cylinder. It would then accommodate kids up to the age of 7 years. Apart from resting on the chair, kids may enhance their writing or drawing skills on the paper. Later, you may roll the dirty paper underneath clean paper by simply rolling the front cylinder backward. Other than paper, the chair is available in a carpet variation as well.
5. Camping Chair-Table concept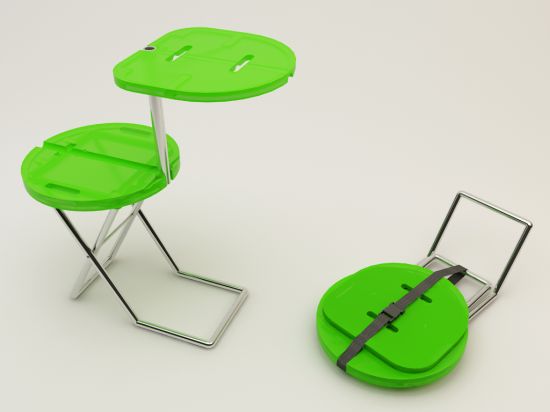 Even an ordinary piece of furniture on a camping site is no less than a luxury, if you have a proper chair and table or workstation at your dispose, you cannot ask for more than that. Conceived by Brazilian designers Paulo Henrique Storch and Rafael Calloni, here is a camping chair-table concept that provides a comfortable space to work and dine without slinging your ass on the muddy floor or bricks. Made in polypropylene, steel and aluminum, the portable furniture is not only lightweight and durable but when not in use also folds into a compact unit for easy storage and transportation. Measuring 72 x 77 x 40cm (WHD) in dimension, the camping furniture is just ideal for small or large groups of campers aging between 15 to 50 years.
6. Stealth Chair made entirely of cardboard!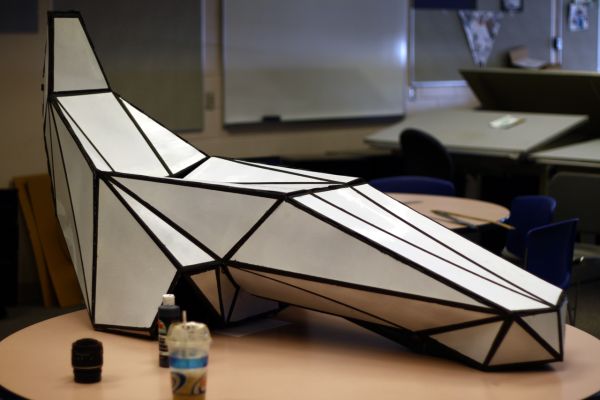 What you see above is a sturdy, astute yet ergonomically effectual chair conceived by designer Brennan Letkeman. Composed entirely of sheet cardboard, the uniquely adhering agents such as adhesives, glues or fasteners were not used at all in its creation.
The whole design is based on comprehensive ergonomics data, making sure that chair is comfortable in spite of its sharp form. The interior has a solid framework that has central spines and ribs fitted into it and all the shell components form into one large outer skin covering which wraps around the framework skeleton.
7. Folding Chair by Tove Adman och Hans Edblad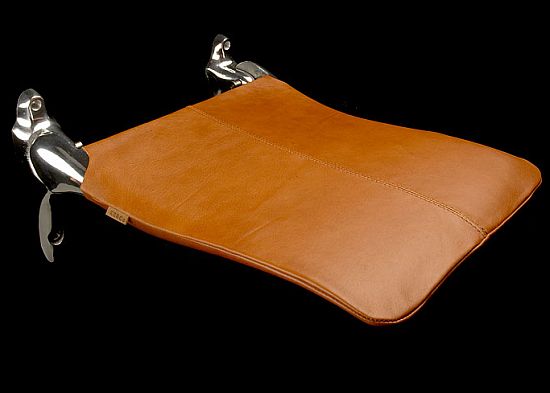 If your house is party-prone and a lot of visitors just drop in as if they are partners in home-ownership, it's time you make provisions for some extra seating around. Designer Tove Adman och Hans Edblad, as an empathetic gesture, brings to you this folding chair that can be mounted on the wall. Something different, isn't it? This very neat folding chair in polished or matt polished aluminium protruding out of your walls is quite an eye-piece. It can be covered with reindeer skin or leather (can be seen in the picture) to match the rest of the interiors.
Read More: 20 – Creative chair designs that will knock your socks off