Music aficionados, who were simply hanging onto their hats for a speaker that looks stylish yet 80s fads and could easily be schlepped along, are finally in for an interesting treat. The newly unleashed Beat Booster portable speakers are just a perfect eye-candy for users who love grooving to their favorite tunes while re-enjoying the cool beat of the boombox.
Designed specifically for the iOS devices, the intriguing speaker provides you a great retro feel to how you listen to your favorite music collection with oodles of style well intact. The lightweight yet sturdily built booster prances as a seamless next-fen boombox for the Grandmaster Flash – bringing you a gripping trip to the 80's with its conventional looks.
While it snoozes comfortably in its default setting, you can facilely use the boombox as a standard stereo or as an adjustable dock for your iPhone or iPad by sliding its two speakers apart. However, there's a purposive flip-down handle as well that enables users to piggyback the Beat Booster conveniently as they walk.
Crafted uniquely using chrome-plated metal and plastic, the easy to carry device also comes equipped with a cord and adapter to provide you with stationary power or charging purposes. However, you can even enjoy its Bluetooth compatibility for wireless connectivity at the same time. Well, while the integrated rechargeable battery allows for smooth music listening, users can further benefit from its 30-pin adapter and lightning dock for enhanced versatility.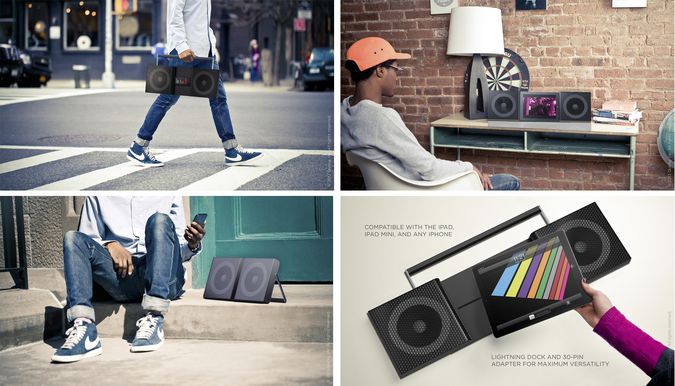 The new Beat Booster portable speakers, which are comfortably settled under the sleek dimensions of 380mm x 258mm x 37mm, are finally up for grabs through the official website of Quirky. However, the speakers walk in with a price tag of nowhere less than $28. After all, they bring you 80's fad with a performance that speaks a lot louder than its compact size.