With the traffic becoming uncertain day by day, portable vehicles are quickly becoming popular. Although there are some portable cars out there, it is still a daydream to carry your car on your back. However, you can easily do so with your bike. Bicycle designs like the bike pack help the commuters switch easily between a bicycle and public transportation, without making them go through the burden of carrying their bike awkwardly through public spaces. Portable bikes could prove to be the perfect vehicle for the future. Depending upon the traffic conditions, these would allow the users to choose whether they want to ride a bike, walk or if they just want to go by bus or metro. These are revolutionary ideas and we would surely see more of them in the future.
Bike pack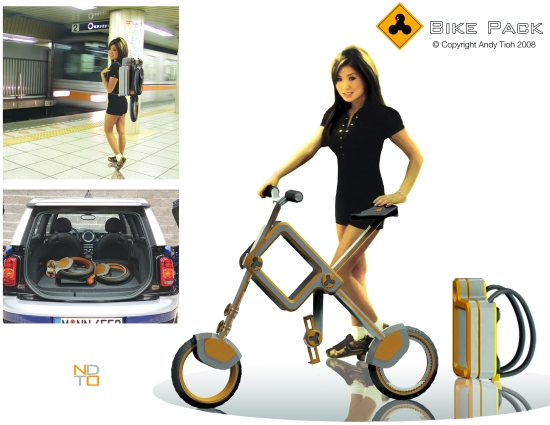 Insight
We have not even got over discussing the future of collapsible wheels, and are face to face with this full functional commuter that even betters the collapsible wheel. Dubbed the Bike Pack, this unique bike can be rolled up into a back pack, making it an ideal choice for youngsters who like portability.

Design Status
The concept is a part of the design thesis for the designer, and to say that it would make it to the factory in the near future isn't wrong for the sheer flexibility it brings to the bicycle.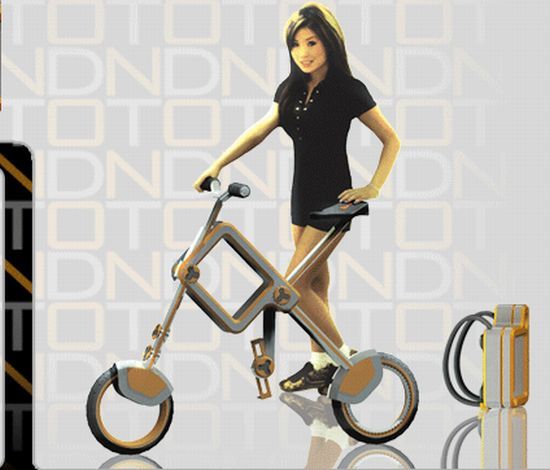 Usability
Bicycles are a popular medium of commuting across the globe. Keeping in mind its importance, designers need to think on the lines of a bike that makes cycling a pleasure. Such themed products could indeed change the way the world thinks and we do need a green contribution from everyone.
Designer
Andy Tioh, the designer of this bike pack is the man for the future. Sadly, this talented designer is yet to find a taker for his project but looking at his talent, we hope that he soon gets his due!
Source: Gizmo Watch
Some more portable bike ideas like Bike pack
1. Grasshopper concept bike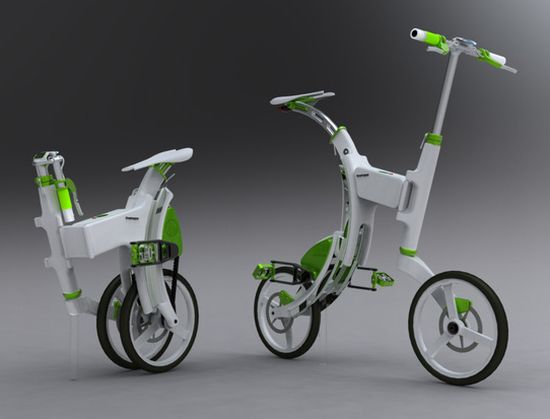 Riding an electric bike is often a thrilling but juvenile experience. However, if your passion for portable bikes remain prolific, the 'Grasshoper' by David Gonçalves is yet another good-looking electric bike that will make your passion real fun! Designed especially for urban commuters, the Grasshoper is a foldable electric bike that users can carry as a trolley when not in use. Inspired by nature, the city bike is compact as it may be effortlessly folded, parked or recharged inside your home.
The Grasshoper is a concept bike, displayed at the International Bicycle Design Competition.
Winner of the 'merit prize' in the 12th International Bicycle Design Competition – Taiwan 2008, the Grasshoper is the perfect bike for any city dweller. It is not just for adults, but its bendable seat and handle bar adjusts to accommodate the little riders as well. It'll help in countering traffic congestion on jam-packed streets and highways in an urban environment.
Designer:
David Gonçalves is an industrial designer based in Birmingham, United Kingdom. He is a Master of Science in Design and Transport with Distinction CAD and Modelling, Ergonomics and Packaging, Creative Studies, Design and technology, Professional Practice, Transport Design School of Art and Design from the Coventry University.
2. Velomini Folding electric bike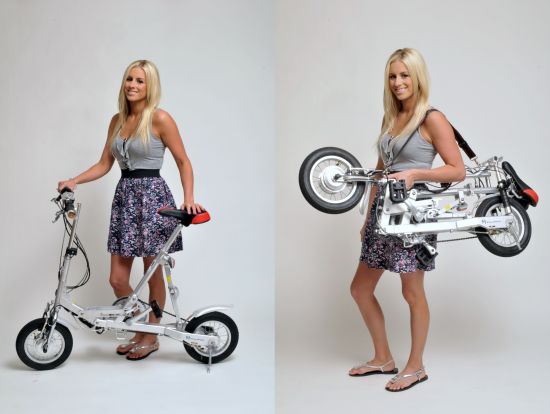 VeloMini is designed to pluck you out from several troubling scenarios. It makes commuting easier, cleaner and greener, saves you from many a parking hassles and facilitates a "multi-modal" commute in which you ride the bicycle to the station, carry it on-board, and at the other end ride to your destination. This sturdily built foldable electric bike weighs just 31 lbs.
The folding mechanism involves simply loosening a knob, breaking down the seat and steering tubes, and then retightening the knob. Once folded the VeloMini rises just by just 18". The controls are very straight forward. Equipped with 24v, 6AH Lithium-ion battery which charges under 3 hours, the VeloMini is powered by 180 watt brushless hub electric motor.
The bicycle is very easy to ride. You just have to hop on and start pedaling. While the default mode for the VeloMini is pedal assist you have freedom to choose your riding style between pedal assist, pedal and throttle, or throttle only. The range you achieve of course depends on how much you pedal. The bicycle can easily reach the speeds of 8-12 miles/hr. The wheels may be small but they help VeloMini ride like a normal bike. The bicycles brakes are a normal V-brake in the front and a drum brake in the rear. The VeloMini is already in the market and comes with a case, carry strap, charger, toolkit and a manual.
3. Mercedes Folding Bike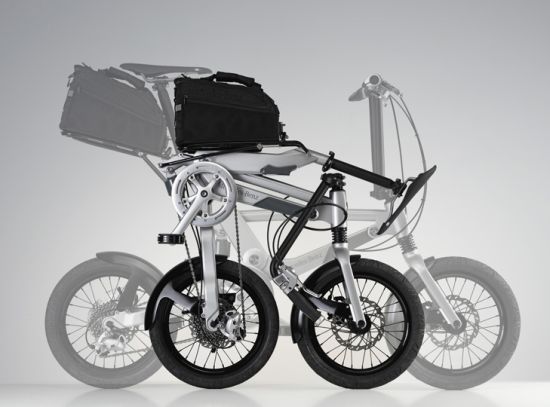 Displayed at the 2009 Mercedes-Benz Bike Collection, the folding bike from the celebrated German automaker, Mercedes Benz, is a portable bike that not only drops you to your doorstep, but also enters your place to park itself under your bed or storeroom. Making your way through the busy city roads, the folding bike allows clutchless commuting, resulting in no carbon emissions. As every brand has a value, of course a hefty one, the Mercedes Folding Bike too bears a whopping price tag.
4. MORI folding bike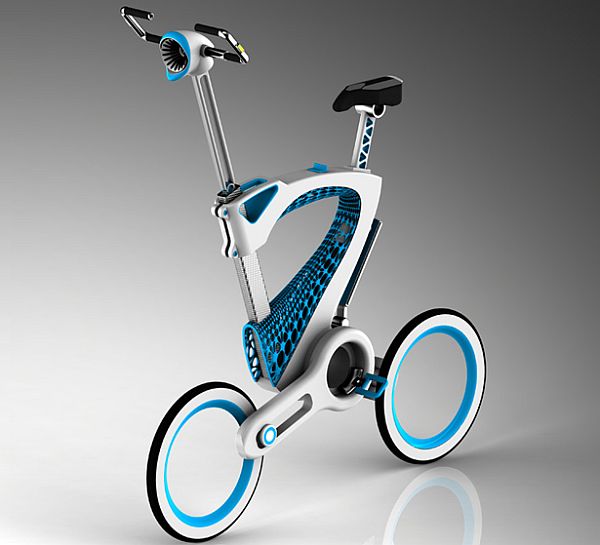 DesignerJanus Yuan took into consideration the fact that there is a dearth of female bike riders. To increase the female bike riders, the designer came up with this extra ordinary concept of MORI folding bike. To make it female friendly, the designer has given a small size and lower weight to MORI. The outer design makes use of a 3D printing technology and the buyers can design the battery case on their own as well. You can transform the bike into a scooter, trolley, or a simple folding pattern according to your need.
5. Sorena folding bike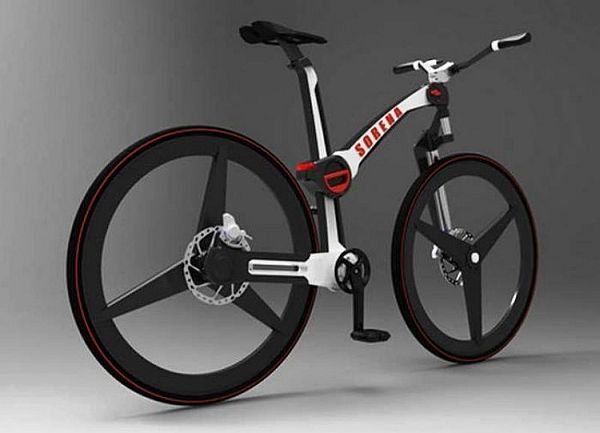 Mahdi Momeni has come up with an astounding concept of a folding bike that you can easily fold when you are not riding it, and you can adjust the height and width of the bike to suit your height and your seating posture. You can ride up to a metro station or a bus stop, fold your bike, and carry along on your further journey.
6. Folding bike concept by Kilo Estudio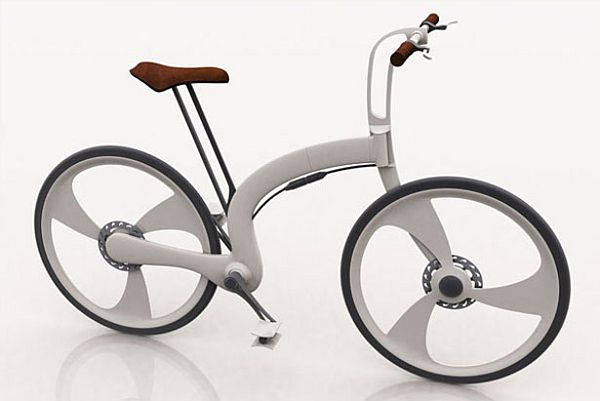 Kilo Estudio has come up with a folding bike concept wherein the bike is made of aluminum and folds in the middle. There is no concept of chain in this design, as the transmission is incorporated in the structure. When it is folded, the steering works well as a handle that lets you pick it easily from one destination to another.
7. nCycle concept bike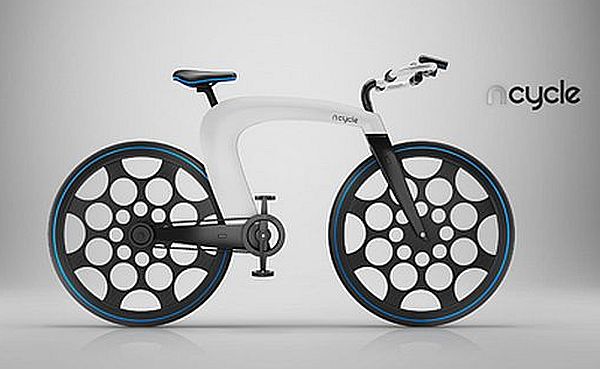 nCycle is a smart, secure, and a foldable bike concept that is the idea of designers Marin Myftiu and Skyrill . It features a battery-powered electric motor, Bluetooth speakers, integrated headlights, and a holographic display atop the handlebars. The display shows the directions, speed, and some other information that comes in handy while riding this bike. Folding of nCycle is a three-step procedure that you can perform in little time and with utmost ease.
8. Foldable bicycle design with pedal assist tech – One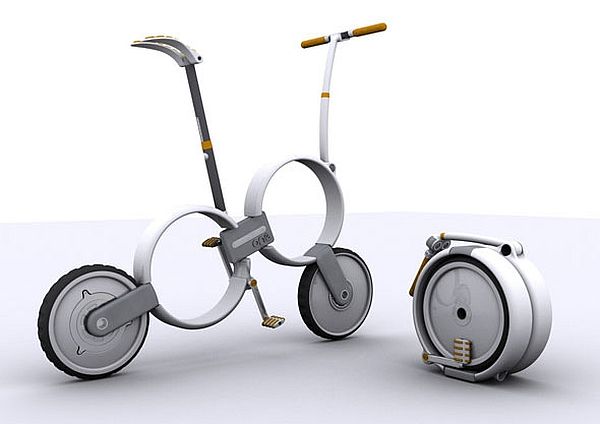 A brainchild of a British designer Thomas Owen, One is a portable bike concept that nicely folds to a round shape with an easy to carry handle. It is lightweight, easy to fold and unfold, and super easy to carry around.