It's the 21st Century and we have become hopelessly modern now. We are so used to seeing innovative furniture designs that things rarely strike us as amazing. Nevertheless, just like our sensibilities, our abilities have evolved as well. What was earlier thought of as artistic furniture is now considered as mainstream. Furthermore, it isn't just the looks, their utility too is taking extraordinary leaps. Multifunctional furniture like Da-Bloom and others mentioned in the article provide you with that unearthly furniture design, which most of us long for.
Da-Bloom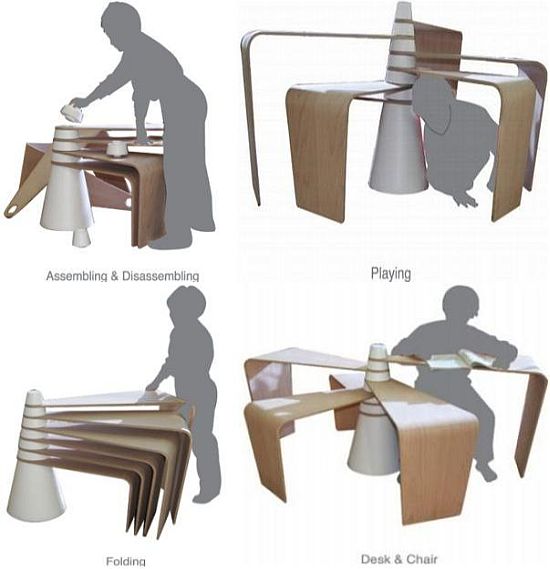 Flexible or multifunctional objects have always been appreciated and remain a hot favorite among customers. Da-Bloom, which resembles a blooming flower in motion, is similar utility furniture. Furthermore, it not just allows flexibility to room adjustments but also helps in sharpening the innovative skills of the users in adjusting the fixtures in different shapes. Moreover, you may change the color of fixtures according to your taste. The innovative furniture is finished with plywood and plastic, allowing more flexibility and sustainability.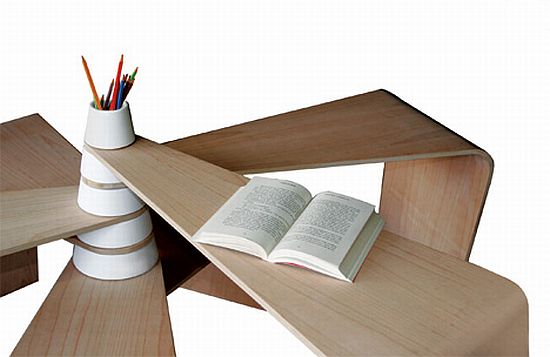 Usability:
Da-Bloom can be modified, from a chair and table to a fantasy hideout for kids. You can do so according to the need and availability of the room or living space. In addition, it requires just a few adjustments.
Via Yankodesign

Designer:
Jin-Young Lee is a Korean designer
More innovative furniture designs like Da-Bloom
1. Cars immortalized as furniture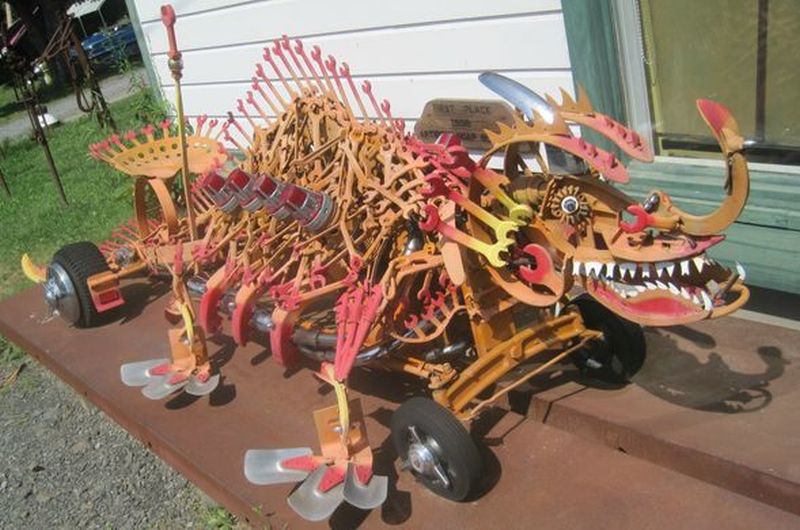 Image Source : assets.atlasobscura.com
Steve Heller is a self-confessed 'car freak' (something that he has inherited from his father). Furthermore, when that trait is combined with his dexterity with metal and wood, the results are bound to be remarkable. The Autoart section on his website Fabulous Furniture is full of amazing pieces of functional art. These draw inspiration form cars in one way or the other. Steve has built chests, tables, bars, entertainment units, beds and dressers that reflect his love for cars. All of his pieces are amazingly detailed and beautifully crafted.
Working from his studio in Boiceville, NY, Steve has churned out stunning pieces of wood and metal. These are without any doubt a treat for the eye. Therefore, for any and every car lover – who just cannot get enough of his/her ride – these pieces are a mandatory addition to the daily decor. Head to his site for ordering info and check out images of his brilliant creations in the gallery which follows after jump.
2. Spatz Brick Furniture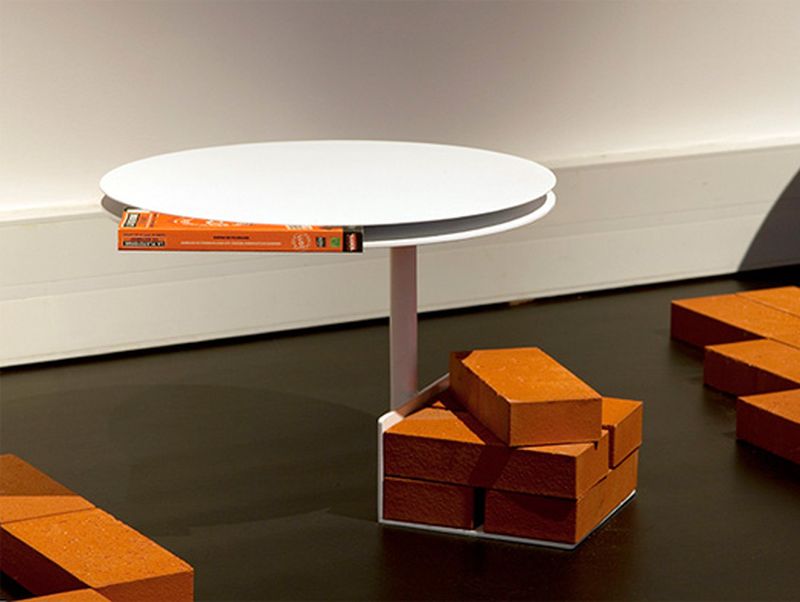 When it comes to furniture design, most regular home owners generally prefer their furniture to be functional and comfortable. But there are a few designers in the world who believe that furniture should be more than a comfortable and functional part of our homes. In fact, it should be a reflection of our hopes and dreams and desires and beliefs. However, as good and inspiring as it all sounds, this philosophy can sometime result in something utterly disastrous and just plain weird to look at. A prime example of this would be the collection of brick, steel and wood furniture called Spatz.
The brainchild of French furniture designer Fx Balléry, the collection comprises of a coat hanger and two tables which are made using wood and steel elements. They are supported via a stack of bricks! Furthermore, the bricks act as a counterweight and stabilize the furniture which would topple over without them. In true French fashion, the designer made the use of basic elements like steel rods, wooden blocks and plain old bricks look beautiful and interesting in the same way that gourmet chefs make plain old porridge look appealing to anorexic socialites.
3. Sophisticated Furniture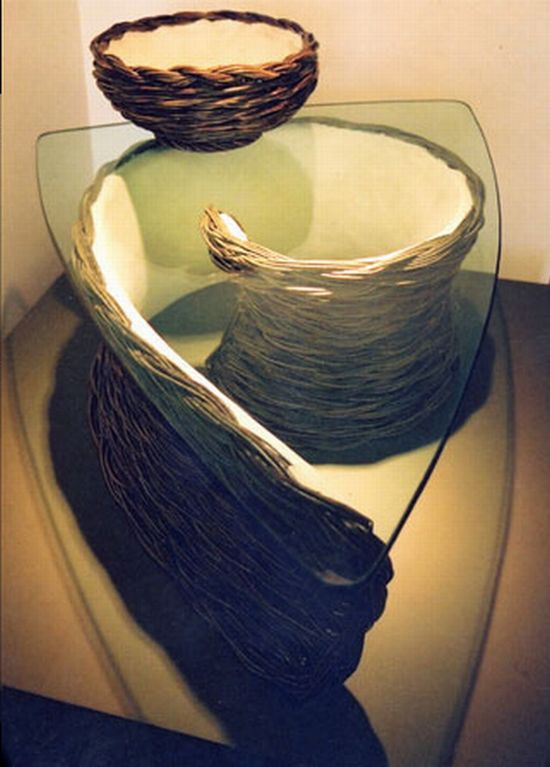 Are you looking for some solid and heavy furniture for your living room? Alastair Heseltine has come up with just the right product for you! Heseltine's furniture is created out of willow and stucco. Moreover, the stools have been created by Alastair out of top-quality firewood that were considered too good to be burnt. The bench, created of concrete and willow, are designed so as to lend it an artistic appearance.
Alastair modestly states that he is not a specialized furniture designer—but his creations have the appearance of a professional designer's work of art. Unlike some of the modern light furniture that are currently available, Alastair Heseltine's creations are heavy and sport a comfortable and solid appearance. The presence of this type of furniture in the living-room would definitely help to set a sophisticated and stylish tone to the overall décor of any house.
4. Giant Cat Couch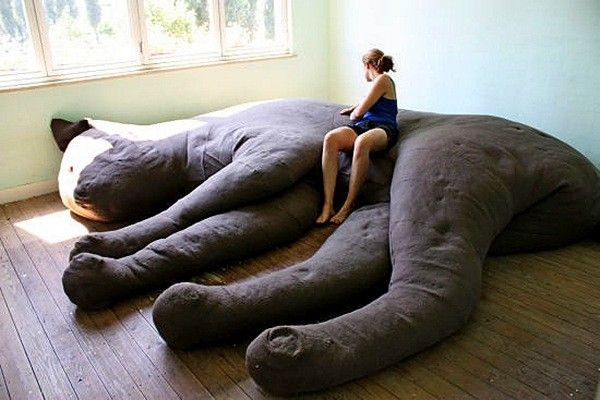 The Giant Cat Couch is sofa in the shape of a cat that has no arms, but is quite useful as furniture. In addition, it has a back to support your back like ordinary designed sofas. The couch measures 11.5-foot and allows you to sit in the cat's lap.
5. Octopus table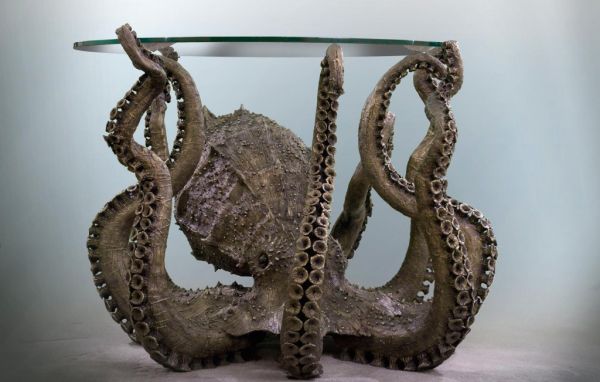 Unlike ordinary tables that have four legs, Octopus Table has eight legs designed in the shape of an octopus. This incredible table made by Isaac Krauss took two and a half years to complete. Moreover, the material used in the construction of the table is bronze and consists of about 1000 suction cups with an eye of the octopus made of blown glass to give it a real look. The table weighs around 500Ibs.
6. Horse lamp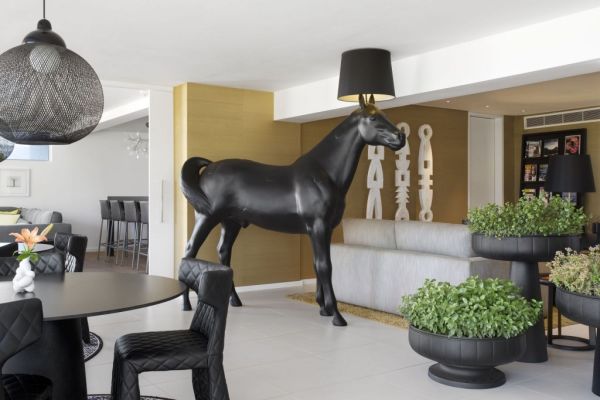 Horse lamp designed by Front is an exclusive piece of furniture that would form quiet the decoration element of your home. It is a 210 cm sculpture of a black colored horse perfect for horse lovers. This piece is a perfect decoration and can be used as a lamp. Furthermore, the piece has a touch of conceptual madness and has a lamp on top of the horse head.
7. Birds nest bed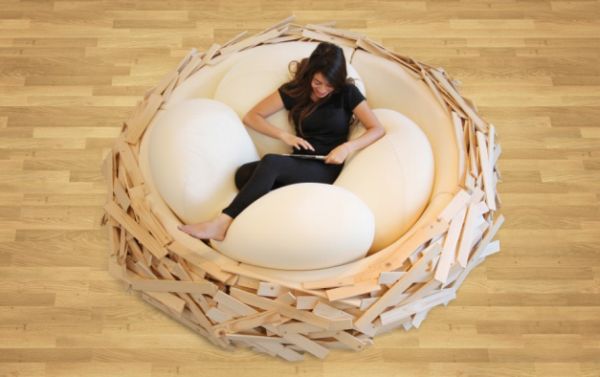 Birds Nest Bed is a bed in the form of a birds nest giving you a sensual soft feeling. In fact, the bed uses wood as its primary material and has comfortable egg-shaped sitting poofs that can be changed in various geometric forms and positions for various informal meetings. Furthermore, it represents a fusion of furniture and playground and is about fifteen feet in diameter and creates a cozy atmosphere.
8. Hippo table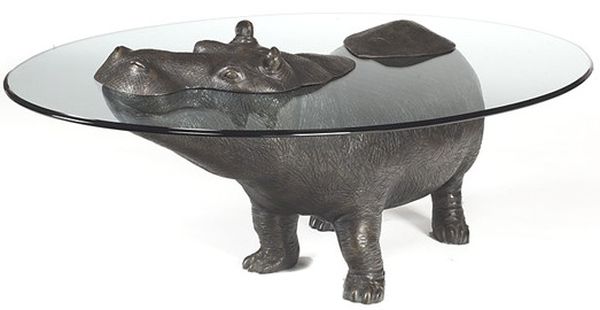 The Hippo table works as a nice alternative for the ordinary table with a glass top through which it is pierced by the body of the animal, giving it a beast like appearance. There are different versions of the table available such as hippo "The lad" Coffee Table, Baby coffee table and many more.
9. Media Bully multimedia furniture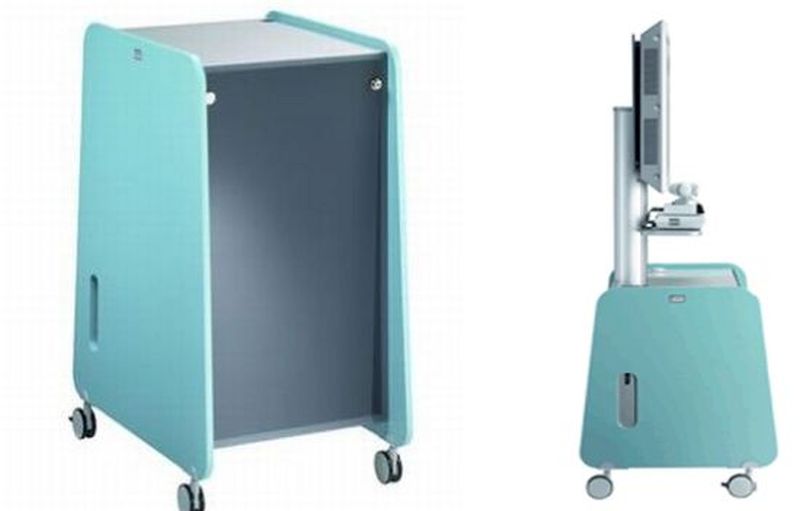 An expansion of the famed Bully family of furniture units, the "Media Bully" line of products at Destilat is a collection of diverse furniture units customized for the multimedia realm. This furniture series not only facilitates the storage of files and personal items, but also offers a bit of personal space that one can potentially identify with. The dark gray tinted glass with the silver-gray shutter doors pays tribute to the television furniture of bygone days. These furniture units are fitted with cable and vent slots, as well as diverse aluminum mounts. The castors for these units are equipped with a locking brake. Moreover, the Media Bully range was developed in partnership with sit_designbureau for the Austrian office furniture manufacturer HALI.