Hygiene isn't something new. It is the result of the long-fought battle between cleanliness and filth. In fact, in many developing and underdeveloped countries this battle is still on. In fact, in developed countries too, although we can say that we have good standards of hygiene, there's a long way to go. We can indeed keep our environment clean by availing public toilets, but we need someone to clean the toilets too. However, nobody likes to work as a janitor, as it is a job that almost everybody looks down upon. Therefore, to combat this problem, designers are coming up with self-cleaning toilet and urinal designs like Ultimate Clean Toilet. These not only help to keep their surroundings clean but clean themselves too.
Ultimate Clean Toilet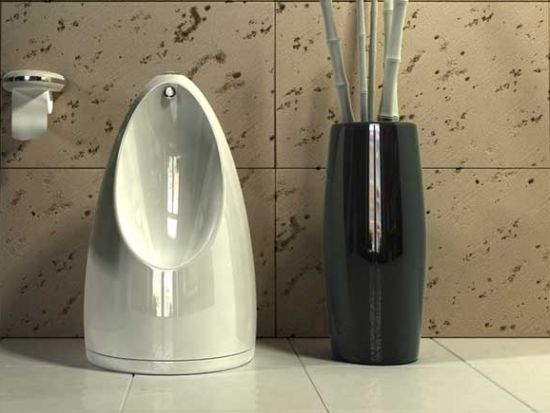 With limited space in urban environments, accommodating a urinal and a toilet simultaneously in a public washroom often becomes difficult. Providing an innovative solution to the problem, Italy-based designer Young Sang Eun has come up with a self-cleaning toilet. In fact, this "Ultimate Clean Toilet" doubles up as a urinal. Featuring a hot design, together with a UV light system inside for the sterilization, the multifunctional toilet is an ideal pick for public bathrooms, especially male, as they normally remain occupied throughout the day. Moreover, the modular toilet is equipped with hi-tech technology that makes transformation of the toilet brisk and smooth. All the users need to do is press a button to swivel the urinal into the toilet. Simply futuristic!
More toilet and urinal designs like Ultimate Clean Toilet
1. Regio Smart Toilet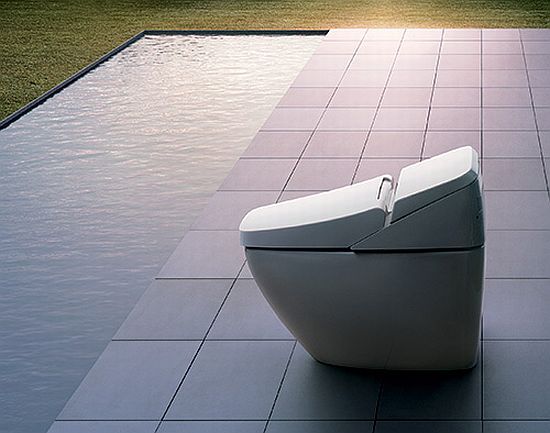 Toilet cleaning is possibly the last thing that one would include in the priority list of his or her household tasks. Adding some perks to the dirtiest and most hated household job, INAX has come up with an innovative lavatory. It is called the "Regio Smart Toilet". It not only offers automatic flushing and deodorizing, as soon as you step away from the toilet. Furthermore, it also plays your favorite music when you approach the toilet.
Incorporating all the modern features, including automatic seat and lid, automatic dual flush, deodorizer and built-in bidet, the ergonomic toilet also touts Plasmacluster Ion to ensure utmost comfort to the user. In addition, users can download and program their own music with a removable SD card. When not in use, the toilet goes in sleep mode to reduce the power consumption. Moreover, the Regio Smart Toilet equips lights to illuminate the inside and outside. It does so after the sensor detects your presence, in the dark.
2. Eco-friendly urinal booth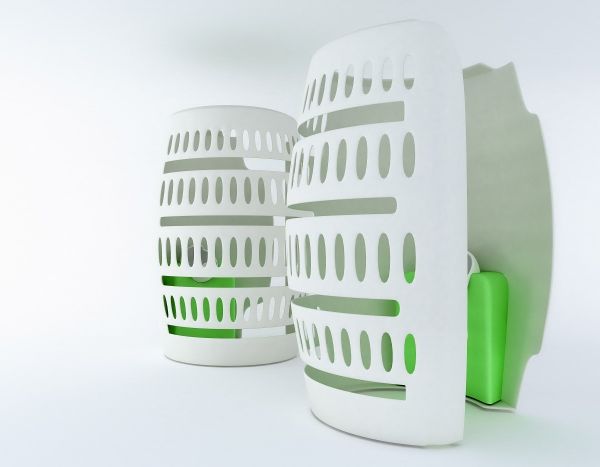 The odor emanating from urinals can be a thing of the past. We might just get to see aesthetic, eco-friendly urinals with the new Eco-Urinal Booth. It has been designed by Rico James Sunga, a senior fine arts and design student from the Philippines.
The urinal booth is cleverly designed out of recycled waste; is free of odor; has good ventilation and is ergonomic. The outer appearance of the urinal has holes to ensure free flow of air. This modern booth can accommodate only one person at a time and is pretty spacious. It has a wide entrance (it's door-free!) as well. The shape and size of the urinal basin prevents spillage.
3. STAK Portable Toilet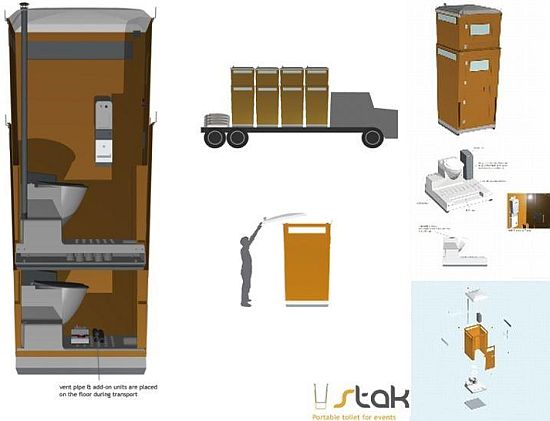 Designed with sensitivity towards less able users, Stak is a stackable portable toilet for events. It promises to maximize the space on trucks allowing transportation of 16 toilets at once. This would greatly reduce the cost and also improves user comfort and hygiene. Created by Darmayanti Adisusanto, a student at the University of Technology Sydney, the concept seeks to capitalize on the space inside the toilet by improving the design of toilet seat, incorporating sanitation with better hygiene, and light.
Using Rotational molding (High-Density Polyethylene with UV stabilized colorfastness) for the main parts (wall, door, waste tank, and roof). The structure is able to achieve maximum strength, toughness, and durability, whilst reducing the tooling cost.
The design of the parts themselves also reduces assembly cost and allow parts to be replaceable improving maintenance. An entrant at the Australian Design Award, Stak seeks to provide innovation and improvement to the current portable toilet for events and that too at a reasonable price.
4. Transparent public toilet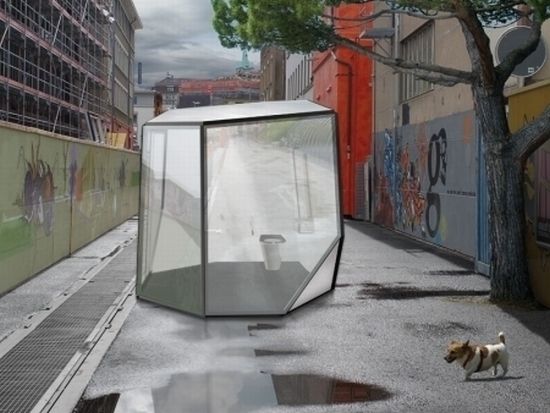 A transparent toilet and that too in a public place? No, do not be shocked at the idea of urinating in public view. Once you lock the door the toilet will become opaque. The person who designed it had strange ideas in his mind and wanted to surprise users. The public toilet consists of Cristal liquid glass that becomes opaque when you lock the door. This is indeed a great design from Oloom.
5. Axixa

Mexican designer Miguel Melgarejo has come up with a public urinal concept dubbed "Axixa" (urine in Nahuatl) that will help in maintaining the cleanliness in the streets. Featuring the shape that a leak leaves on a wall, the public ceramic urinal generates a permanent mark in public streets or places where people can urinate and participate in a manifestation in which the disposal itself becomes part of the public life.
6. Pee-Tree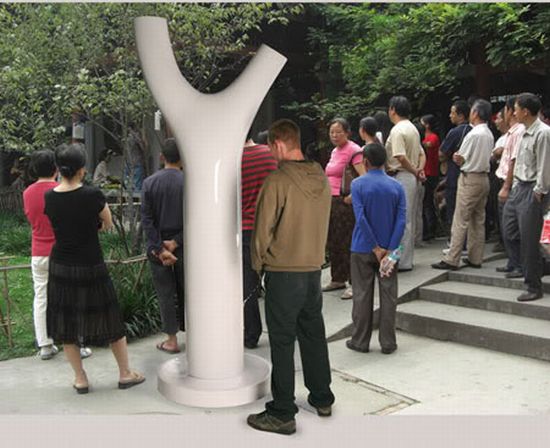 The "Pee-Tree" by Joa Herrenknecht provides another hygienic way of peeing on the streets. Featuring an abstract form and dimension of a tree, the Pee-Tree is finished in bright white ceramic, so it could easily be seen from distance in urgent situations. After you are relieved, the urine is directly flushed down to the underground sewage canal to avoid the odor.
7. Wheelie Bin Urinal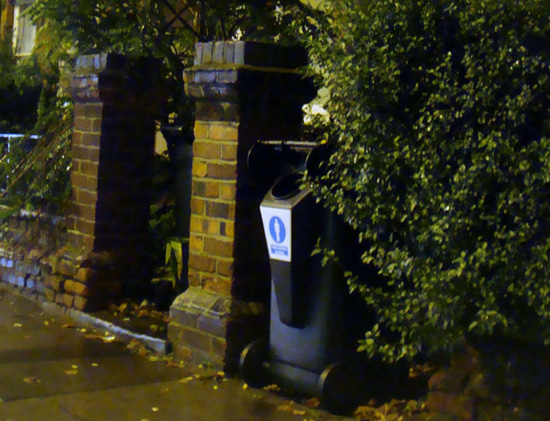 Designer Stephan Bischof has just popped an experimental installation called "Wheelie Bin Urinal" to create public awareness of the common problem of public urination. Completed under the MACP Designrat Project, the bin urinal explores way outs to facilitate the legal act of urinating in public in designated areas.
8. P-Tree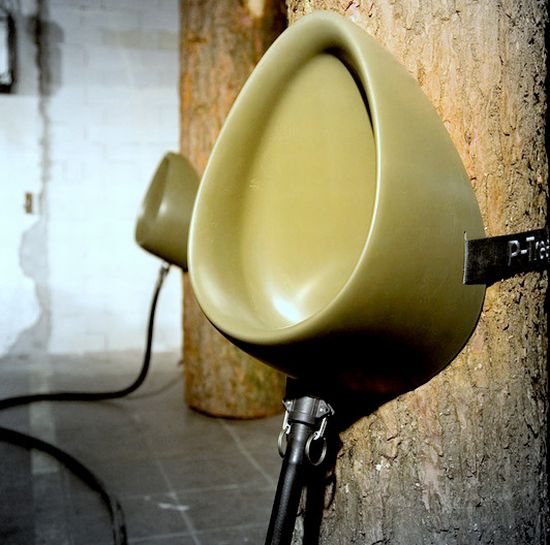 Designer Sam van Veluw has come up with a simple yet effective solution that encourages people to pee in public places but without harming or polluting the surroundings. The "P-Tree," as the designer hails his design, is essentially a simple pee pot tied to a tree, or poles for that matter, which is connected to sewerage lines with pipes to add some decency and hygiene to your peeing in public places.
9. Sega Toylet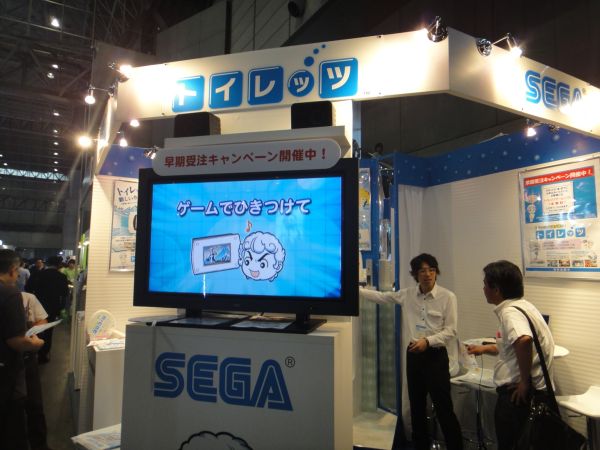 Sega is a glorious videogame maker that introduced Nintendo, a winner of gaming consoles in the '80s and '90s. Their last hardware offering, Dreamcast was an underdog console in the market. After that, Sega never tried to give that system a successor. Now, the Japanese company is testing a new video game made for urinals. Toylet is an interesting game that rewards you for urinating, at selected locations around Tokyo.
The system is made of a LCD, mounted on the wall and a pressure sensor. The pressure sensor measures the length, pressure, and location of your urine stream and help you progress further in the game. The LCD screen helps you to choose and play the game and after the games finishes it shows some advertisements. The architecture is equipped with an infrared sensor that identifies that a person is approaching closer and prepares the screen to start the game. As the person starts urinating, the speed, volume and duration is calculated. If you want to play and score, then be ready with a strong stream.