Washing machines are a dime a dozen in the market. Therefore, most of us generally opt for popular brands. However, no matter how much they try to hide with their advertisements, what's popular isn't the best. Even if it is really good, it might not be the best for you. In fact, despite all the greenwashing going around, it is an established fact that most of the products of popular brands tend to have high carbon emissions.  So if you are looking for better utility or simply want an eco-friendly washing machine, then check out Maglev and other washing machine mentioned in the article.
Maglev Washing Machine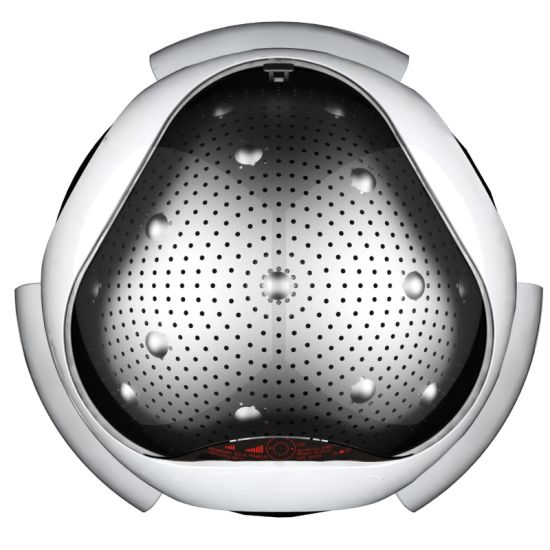 Designed by Jakub Lekes, the "Maglev Washing Machine" is a radical washing machine devised to improve the effectiveness of the washing process while reducing the consumption of water and washing powder. Replacing the cylindrical drum, revolving about single axis, of current washing machines with the spherical drum capable of rotating around different axis, the Maglev Washing Machine enhances the washing process in a great way, thanks to the magnetic levitation. Functioning like a Maglev train, the washing machine makes use of rails with electromagnets.
For the drum integrates three rings, as a part of the body, to create a magnetic field and induct electric current in the reels of rings on the drum. The washing machine also creates whirling magnetic field which spins magnets on the drum.
There are many electromagnets which are put on a surface of the drum. These electromagnets are divided into two groups. One group of electromagnets caters to levitation in the magnetic field which is created by electromagnets located in the body of washing machine. The second group of electromagnets makes a movement of drum in the magnetic field and its rotation around all directions. There is no contact between the drum and body of machine, which means there is tremendous reduction in sound.
To emphasize on the drum's function and its rotation motion, the designer used transparency sphere as major object that's standing on three legs. There is a source of magnetic field and also a water pump in the bowl under a drum. In front part under the display is inbuilt a cartridge chamber of washing powder. User only sometimes fill it up by a slot under a display. Opening of washing machine is possible by pressing the top transparent cover.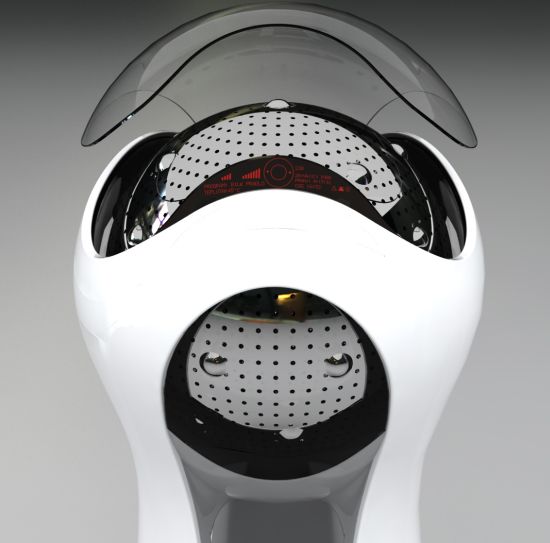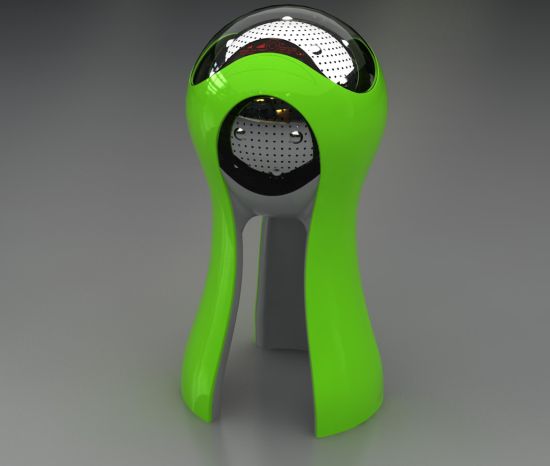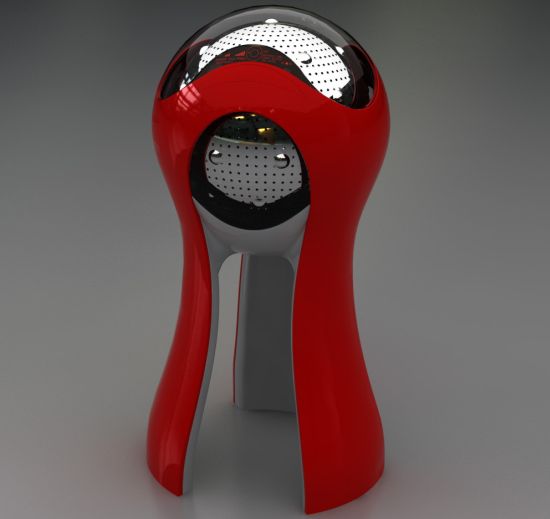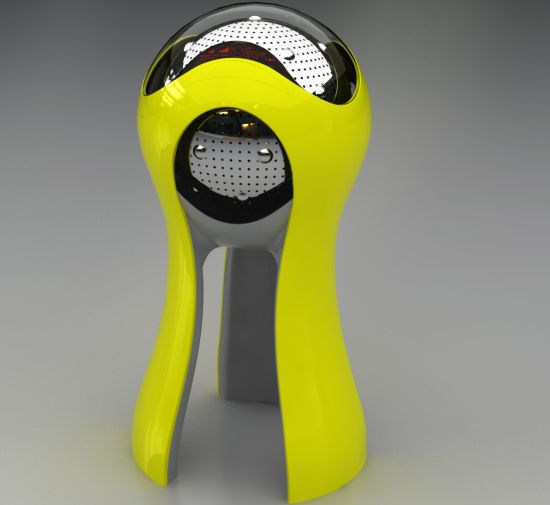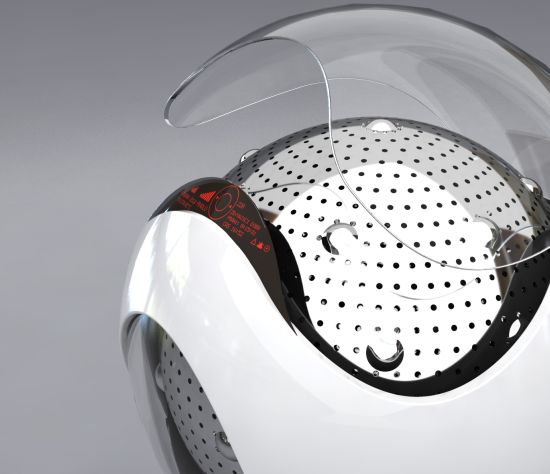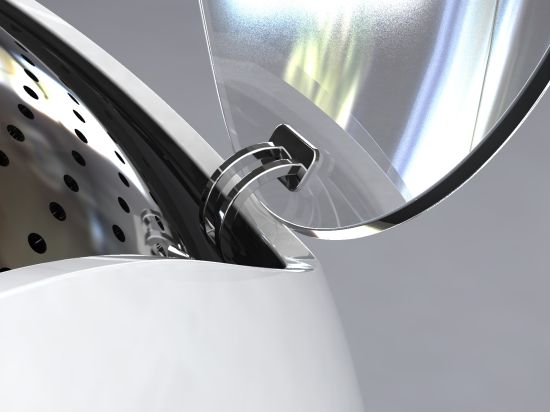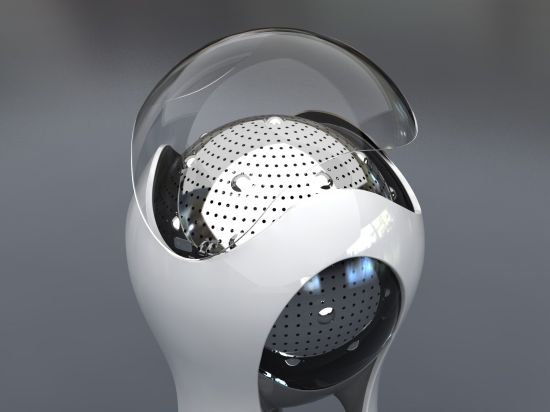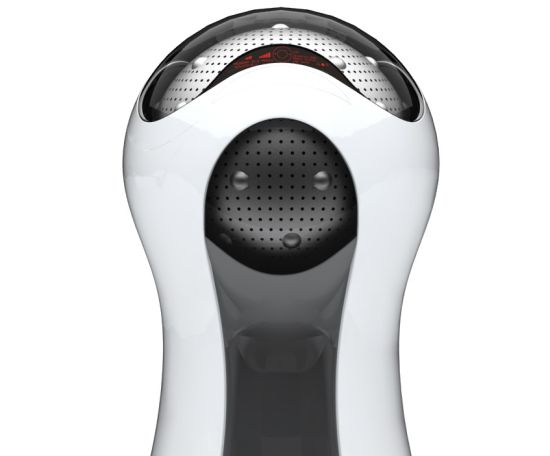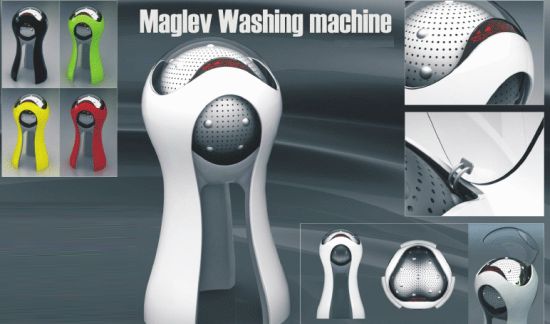 [Thanks Jakub]
Some more gadgets like Maglev Washing Machine
1. Bike Washing Machine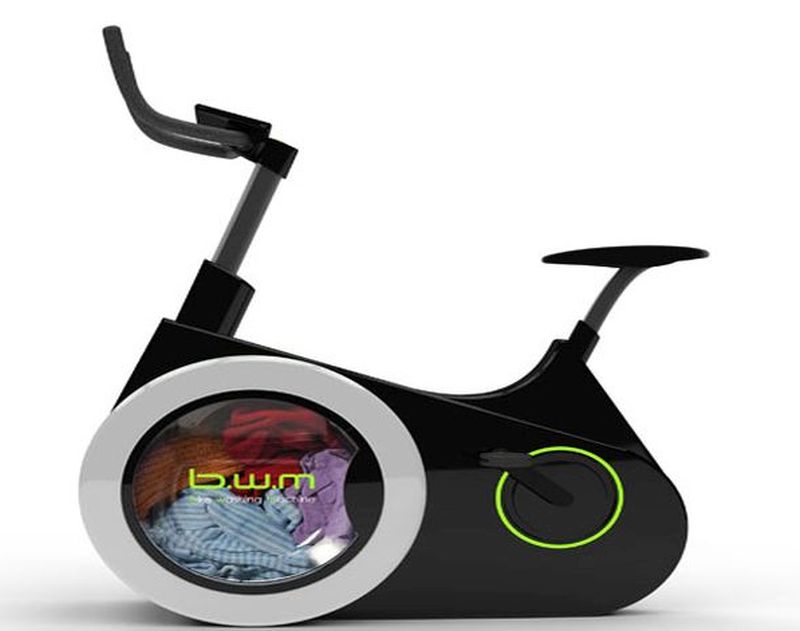 A designer named Li-Huan has introduced the concept of Bike Washing Machine. The design of this washing machine includes a pedal system of a bike. The user has to put the clothes in the washing machine and has to drive the pedals for its working. It is an ideal way to exercise as well as get the laundry done of the user. The effectiveness of the cleaning depends on upon how fast you are cycling. The idea behind this washing machine is very innovative, which combines physical exercising with the task of cleaning clothes.
2. Yirego Drumi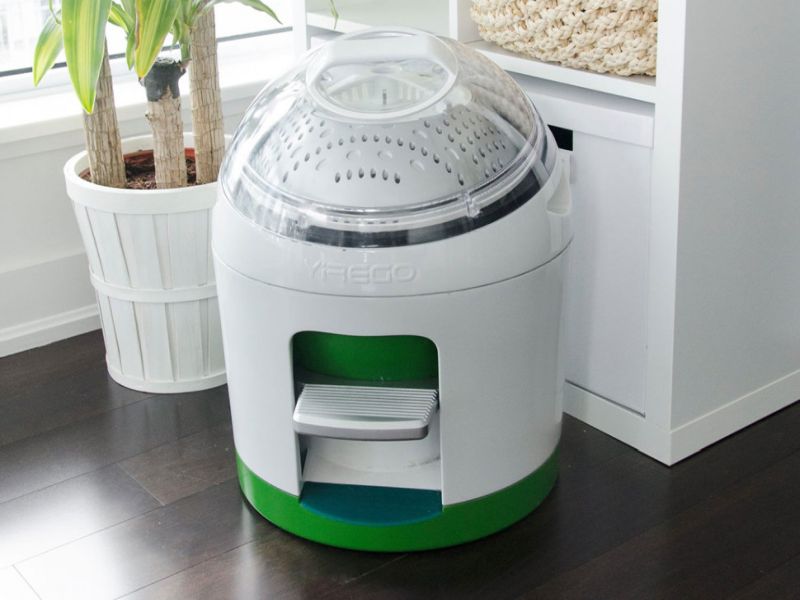 The Yirego Drum is a 22-inch tall eco-friendly washing machine, which is capable of washing six to seven clothes at a time. You can put clothes, water and detergent in its small circular interior ball drum for cleaning. There is a small pedal on the bottom of the Yirego Drum, which requires pumping by a single foot for its working. It is a good option for people who use washing machines less or simply want to wash less number of clothes. It is also a handy option during power outages.
3. GiraDora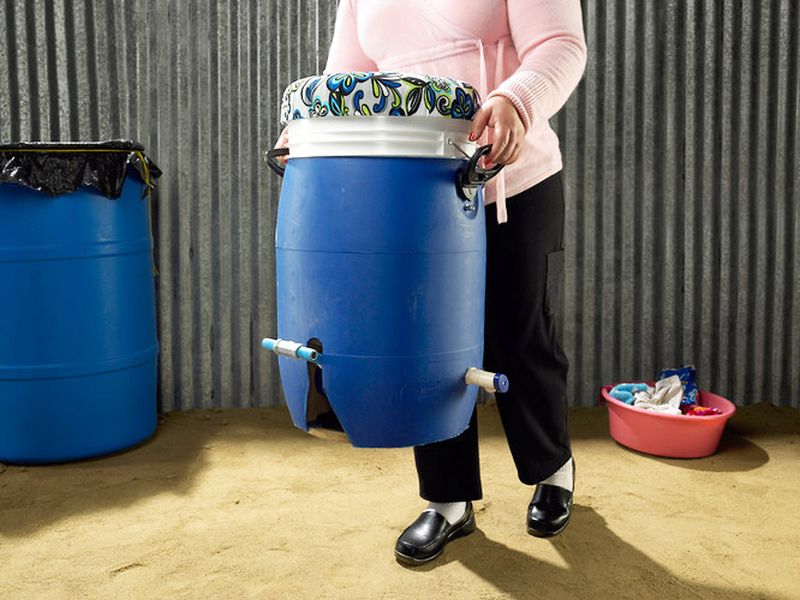 GiraDora is a pedal powered washing machine, created by Alex Cabunoc and Ji A You. The creators designed this washing machine for developing countries that lack electricity or money to buy expensive washing machines. This pedal powered washing machine is a combination of a washer and a spin-dryer. A single pedal foot is present at the bottom of this product to operate it. This economical washing machine has an expected price tag of $40.
4. Spincycle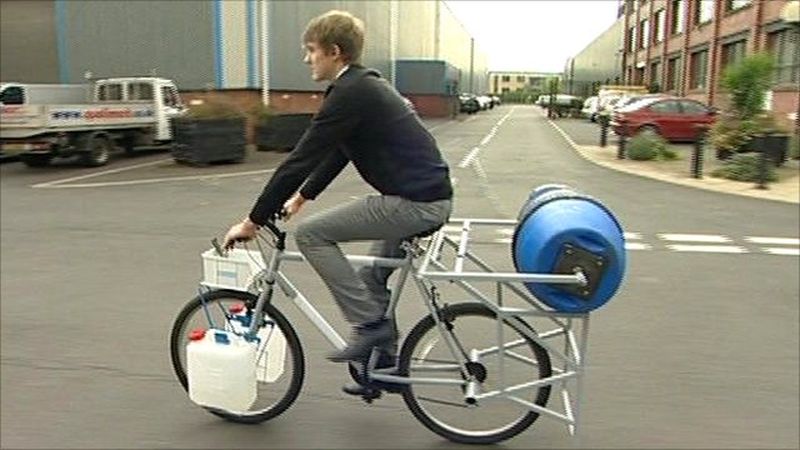 Image Source : AtlanteanProject.Com
The Spin cycle washing machine is an innovative device that can wash, rinse and dry clothes. The pedal powered washing machine attaches itself with a tricycle whose pedals give it power for its operation. It is a good option for those who cannot afford a washing machine or find themselves in places with limited electricity. This washing machine is completely an example of brilliant innovation.
5. Cyclean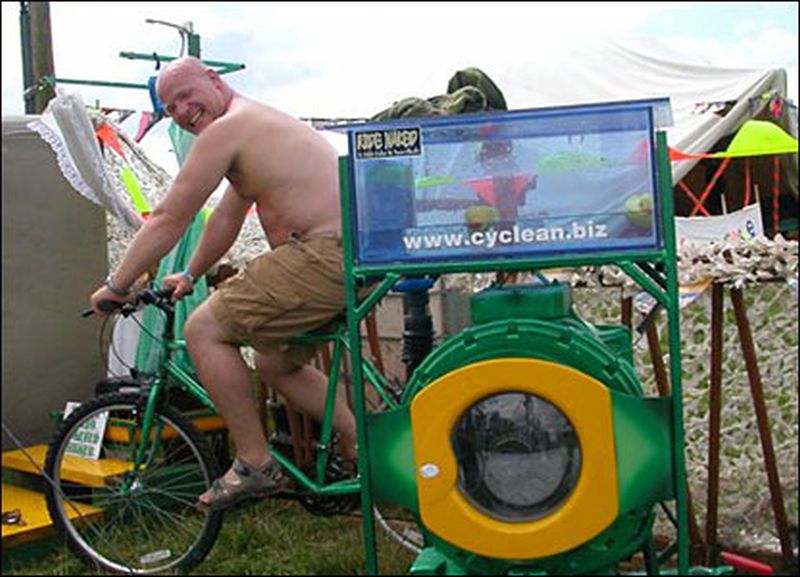 Image Source : Newsimg.Bbc.Co.Uk
Green enthusiast, Alex Gadsen built this prototype pedal-powered washing machine known as Cyclean. The Cyclean is a combination of intelligent design and efficient waste management. This washing machine utilizes a stripped drum and shocks of an old washing machine with a designed frame to place them together. It utilizes a universal joint to connect the washing machine with the bike pedals. Cyclean is an extraordinary concept to reuse an old washing machine as a pedal powered washing machine.
6. Bicilavadora
Image Source : News.mit.Edu
Bicilavadora is a bicycle washing machine. The credit of this washing machine goes to a group of students from the Massachusetts Institute of Technology. It utilizes a light suitcase and plastic molded panels for the construction of its inner drum-outer drum combination. The machine is especially for developing countries where its construction materials are readily available. It has options of a spin mode and a wash mode. To switch its functioning from spin mode to wash mode, the user has to shift the cycle to high gear. 
7. iSky Mini Max Washing Machine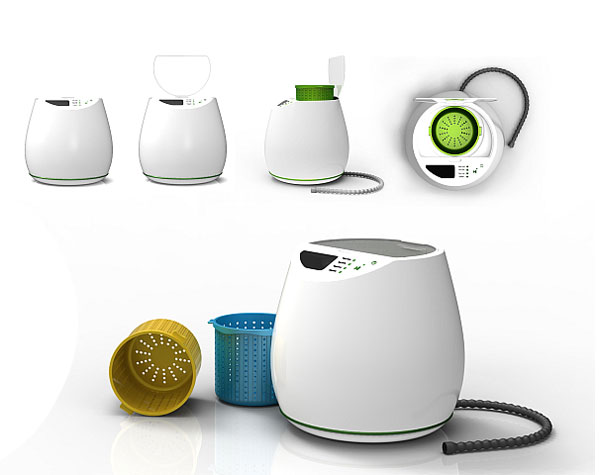 Normally even if you want to wash a handful of clothes there is no other option but to use the hefty washing machine. To avoid using it almost all empty, we keep piling up clothes and not wash them right away. Szemin Ho has designed a compact washing machine named iSky Mini Max Washing Machine which will allow you to wash your clothes even if they are few in number.
The washing machine has been designed keeping in mind small families who need to do laundry frequently. Also those people who live alone and don't have a lot of laundry load can buy it as well. This mini washing machine can be placed just anywhere (both outdoor and indoor) and does not need a special spot. Position it on a small table or shelf or a garden or even your balcony, iSky is so compact that it will not act as a hindrance.
The control panel is simple to read and is very user-friendly. The exterior has been shaped in a very eye-appealing manner and is quite sturdy. So, if you fight who will do laundry next time, switch to iSky Mini Max Washing Machine, choose the basket of your favorite color and don't depend on anyone for washing your clothes.
8. Re-Cycle: Eco-friendly washing machine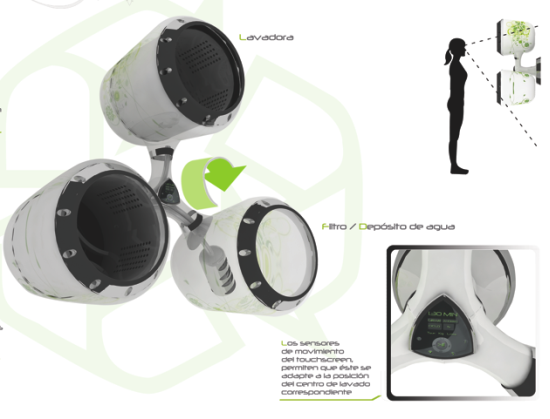 Based on the water preservation theme, 'Future of Water,' of the Whirlpool 2008 Contest, the Re-Cycle is a sustainable washing machine design, that seems well equipped to tackle the water crisis, looming large across the world. Designed to match modern residential apartments, the revolutionary washing machine comes with a three-in-one Laundry Center, including a washing machine, a dryer and filter with water tank. The water used for washing the clothes doesn't go to waste, as an innovative mechanism deposits and recycles the used water in a separate tank that can be used for the next wash.
The Re-Cycle is a futuristic washing machine concept that will help in conserving the water by re-using it. Conceptualized by a Mexican student designer, the futuristic washing machine will not only help in saving the water, but space as well as energy, as it rotates clockwise and propels the water from the washing machine to the tank and vice versa, using the force of gravity. Moreover, the distinctive design of the Re-Cycle makes it a stylish home product.