Laundry is a tough and tedious job. Back in the days, people had to dedicate the best part of their Sundays for just the laundry. Although nowadays we spend too much time of our smartphones, we don't have to dedicate all that effort to our laundry. The modern-day washing machines make this time-consuming job easy and time-saving. Technology is progressing rapidly. It is making the simple much simpler. In fact, there are various researches going on that are making washing gadgets even more functional and irresistible. Here are 8 futuristic washing machines designs that would surely find a place in the households of the future.
8 – Highly Innovative Washing Machines Designs for the Future
1. Luna Washing Balls: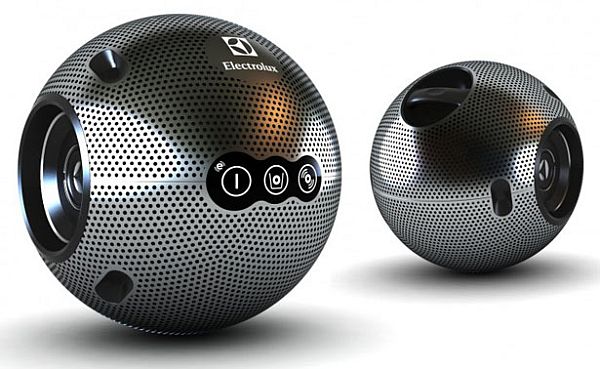 Designed for the future when our lives will become busy and people will feel the need to perform maximum number of jobs in a very short time, the Luna washing balls is a concept that still needs to be worked on. The Luna is a small sphere-shaped ball that is easy to operate. All you need to is a place the sphere inside your laundry basket and it will clean all the clothes with its electrostatic working. The futuristic washing machine requires a small amount of water to generate electrostatically charged steam particles. These particles move along the cloth fibers and clean them to give you clean and fresh clothes.
2. The Shaking Washer: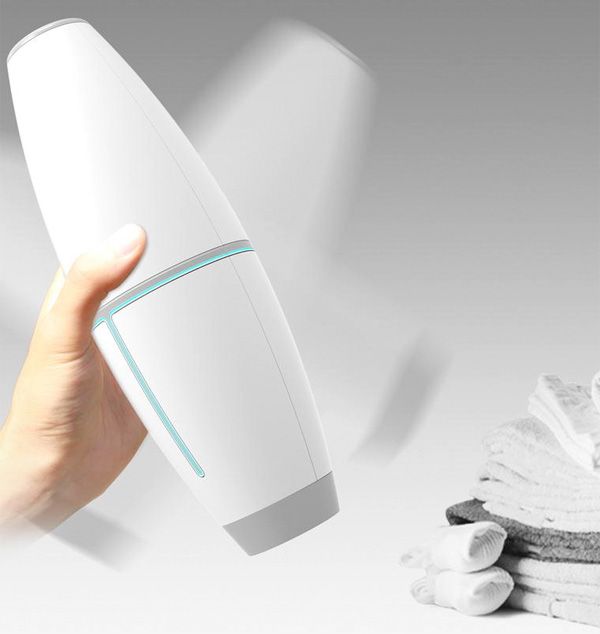 Returning home after a long journey is a real joy. However, if you find your socks, undergarments or some other clothing missing after a refreshing bath, it would ruin your enjoyment. At such a time, the only option left is to wash all the clothes you have been carrying during the tour with your hands. Hand washing is not just hard but you will have to wait for long to dry the clothes. The shaking washer is a portable washing machine designed to wash and dry clothes immediately. Put your clothes and water inside the shaker, shake it properly and remove the water to have clean clothes instantly.
3. The Almighty Laundry: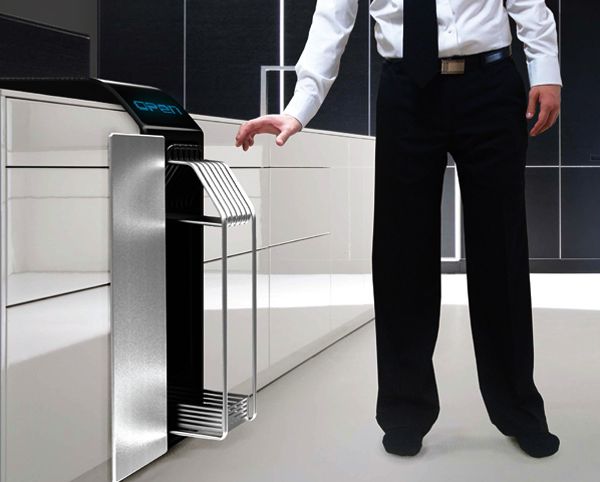 The Almighty Laundry is the most seductive and sizzling washing machines designs ever. It is designed to acquire less space and give maximum performance. Particularly intended for young and busy people, this machine features a single rack for shirts and an extra rack for boxer shorts and socks. You need to place the clothes inside the racks and then push the start button to let the machine work. The machine's sleek body makes it fit for small apartments and homes.
4. Bosch 360: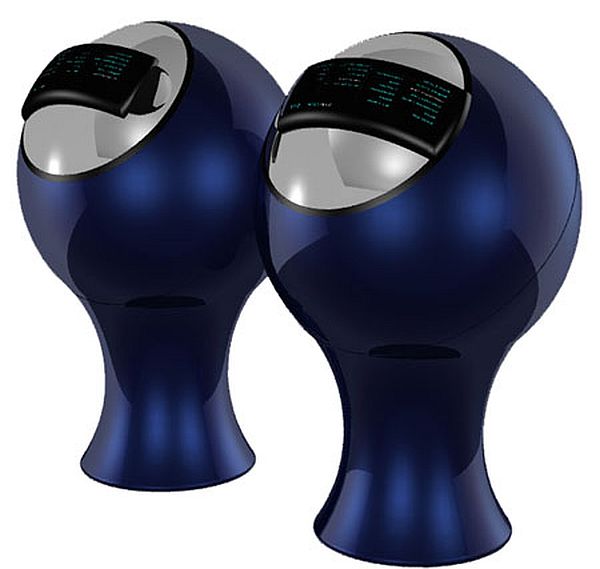 Bosch 360 is a washer cum dryer designed by Lee Owen and Doug Cox. It aims to deliver perfectly cleaned clothes just like the top and front-loading machines. This unique washing machine has a spherical shape and washes clothes in all directions to clean them. The door of the machine lies at an angle of 45 degrees. In addition, the touchscreen control panel is placed on the door, thus it is comfortable to operate.
5. LG's Futuristic Titan Washing Machine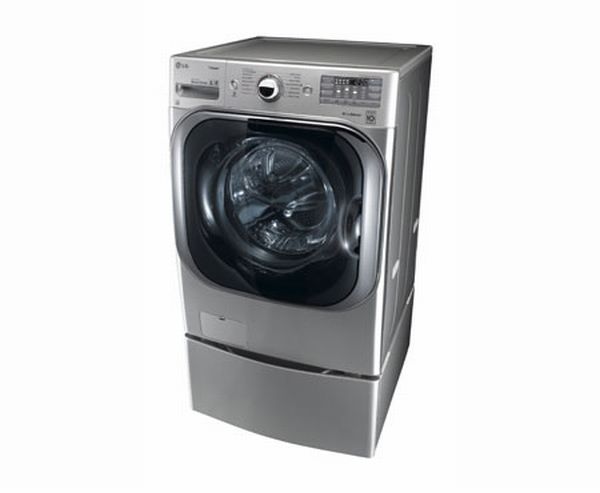 The Titan has a larger capacity space which means that you can wash more clothes at a single time. It is one of the energy-saving washing machines that also offers a very powerful performance as well, so you get the added benefits of cleaner clothes and be eco-friendly at the same time. The machine is a front loader and can handle up to nineteen kilograms of wash loads at a single time. It also has a ten kilogram drying capacity that features the True Steam option. This makes LG's Titan the first front loader washing machine with the large capacity designed for home use.
The company has a already established itself in Saudi Arabia as a leader in household appliances, they wish to further strengthen this by giving the customer added value through reduced water and energy consumption and protect consumer health as well. The Six Motions direct Drive imitates the actions of handwashing; the True Steam feature removes traces of pollen, dust and other allergens for a healthier life.
The MD at the UYM Naghi Company says that the increased capacity will now enable you to wash an entire set of beddings and sheets in a single wash load and cycle. The more you wash in a single load, the less water you use-this helps you to save on water and time. The LG Titan was launched amid the company's grand ten-day marketing display in Riyadh Gallery Mall.
6. SWASH Air Wash Washing Machine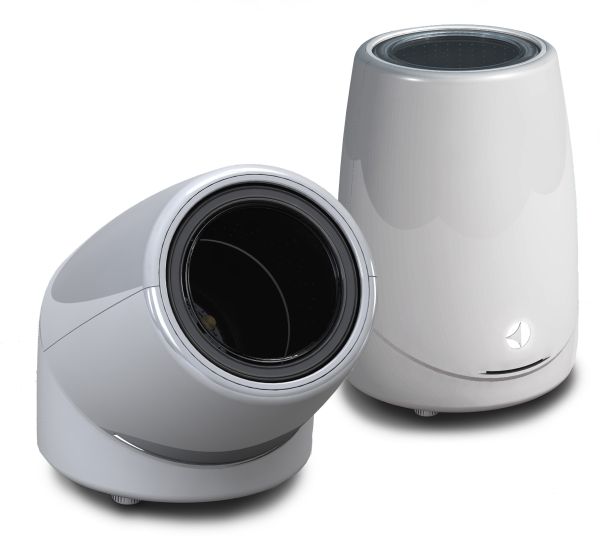 Powered by wireless induction, the machine will allow users to do their washing without having to fuss with wires. Thanks to a revolving top, the machine acts both as a front loading as well as a top-loading washer. The machine focuses on the way that urban users aged 20-30 use the appliance. They often live in apartments that don't have the required space for larger washer/dryer combos.
This is where SWASH fits in as a real solution since it not only meets the basic requirement of allowing users to do their laundry quickly and efficiently but with its zero-fuss construction, allows users maximum ease of use. The machine can literally be placed anywhere, including a cupboard if necessary without having to worry about drainage, water supply and electrical cords etc.
Another really handy feature in the design is that is comes with Wi-Fi integration which allows users to simply setup a load of washing and preset the instructions for the machine (when it should start cleaning the clothes, when it should finish, etc.) via a smart phone. A light indicator hidden inside SWASH's Electrolux logo allows users to know the status of their washing (red = standby; white = connected to smart phone; blue = washing; green = washing finished).
SWASH comes with a lid molded in clear HDPE with silicon rings further compacting the design. A small drum inside the machine's active zone has built-in air ducts that let hot streams of air inside to thoroughly clean out your clothes.
7. The spacesaver washing machine concept
This concept is very similar to Smeg's small space design and focuses on the reduction in space. Sink and Washing machine are rolled into one in this innovative approach. It has an extremely innovative and appealing appearance, making it look stylishly sleek. It has been specially designed by keeping in mind the space constraints facing the apartments today. Furthermore, it rhymes perfectly well with folding furniture.
8. Moshi multipurpose kitchenette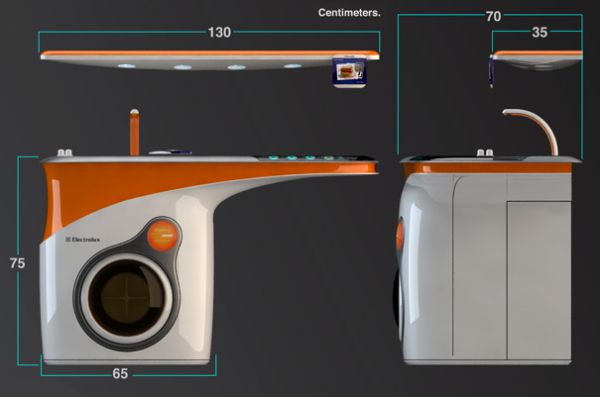 Moshi multipurpose kitchenette sink, dishwasher, washing machine, and induction cooking hub rolled into one. One of the popular washing machines designs, this multi-utility device allows space-saving to extreme manners as it performs the role of five units, which are known for taking up considerable space in the household area. You can wash your utensils, cook food, wash your clothes and even wash your hands in the sink, all in one single place with this extremely useful device!