Nothing is ever truly broken. This is the mentality that lies behind the Japanese art of Kintsugi, a practice which restores smashed or chipped ceramics, not with the intention of making them 'as good as new', but rather, with an eye to acknowledging and appreciating the object's individual journey.
Since the late 15th century, Kintsugi has been restoring broken ceramics through techniques that are as aesthetically pleasing as they are meaningful. Kintsugi is both an art and a philosophy. It relates to wabi-sabi, the Japanese ideology in which beauty is found in imperfection.
What does Kintsugi mean?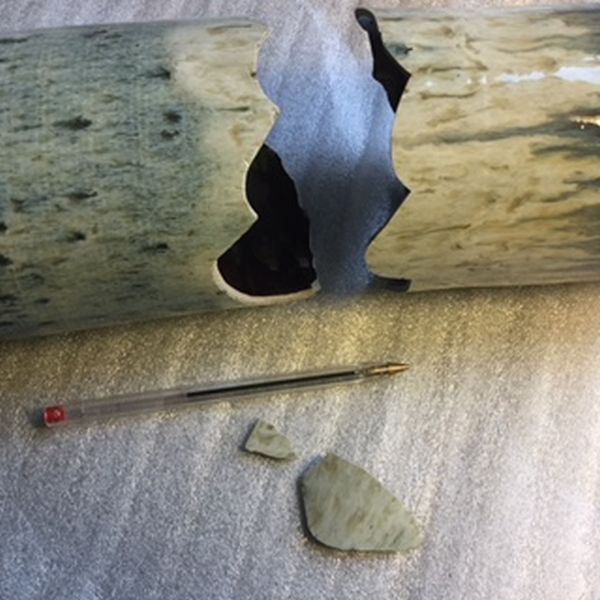 The word 'Kintsugi' literally translates as 'golden rejoining'. Kintsugi is the process of emphasizing rather than hiding the damage done to an object, drawing attention to a ceramic's new flaws by filling any cracks or missing pieces with gold. This artistic restoration endows pottery with a unique touch, celebrating its story.
Kintsugi is about more than putting the pieces back together – it's about creating something new. Sansho, an independent Japanese homeware store specializing in the products of traditional craftsmen, have explained that when their delivery was broken, they sent the pot to be repaired by Kintsugi Oxford. This way, the life of the object was showcased, not hidden. When the pot returned, it's beauty had only been enhanced.
In an age of mass production, consumption and waste, Kintsugi has come to stand for the principles of preservation, reuse and 'upcycling' that (as is becoming increasingly evident) we need to value more highly in the western world.
How to do Kintsugi repair
The art of Kintsugi involves fixing broken pottery by sticking it back together using a lacquer. This adhesive is then dusted with silver, platinum or gold, so that the object is not so much repaired as changed and improved.
A careful technique is required to make this lacquer. Add too much gold and the mixture will be too soft, but add too much epoxy and the bond will be too brittle when it dries. If the right balance is achieved it'll create the effect of glistening gold piping, running through the body of the object. The sparkling seam lends a unique design, enriching the object with individuality.
Ways Kintsugi can transform any ceramic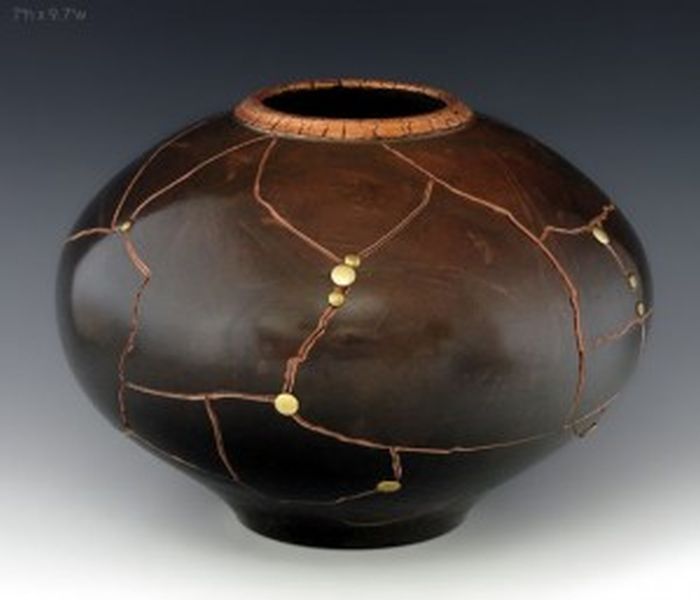 With this technique, minimal lacquer is used, as only the cracks are welded.
Here, lost pieces are replaced with lacquer, such that chunks of the ceramic are filled in with gold.
In this method of Kintsugi, fragments of other broken wares that are the right size and shape are worked into the broken pottery, replacing missing pieces with a different pattern, like a ceramic patchwork.
What does it represent?
Kintsugi is about more than pottery. It embodies a general attitude towards broken things. The technique values the life of the pot, preserving its narrative history at the expense of symmetry and perfection.
After pottery has broken, every single piece can be re-experienced through Kintsugi. In practicing this art, one learns how to approach life, change and loss. Rather than buying into the mentality of 'damaged goods', this philosophy discourages a shallow reverence for physical perfection.
Instead, it venerates the healing process and glorifies scars. Both are seen to represent meaningful emblems of progress. The source of beauty is the effort to salvage, an attempt which is honoured in opulent gold – not disguised or dismissed.
Through Kintsugi, we are taught to value journeys, history and reincarnations. We are shown that, through damage, something becomes unique. The eastern ideals which form the basis of these artistic and philosophical principles are a lesson to proponents of western dogma: in covering up imperfections we lose the story, and, thereby, the beauty.
Article Submitted By Community Writer