With modernization, life is changing at a hypersonic speed now. The old jobs are no longer applicable. Everyone is looking for better job opportunities now as many of them are there now. However, with better jobs even work environment is changing. Nowadays, many employees are allowed to customize their work environment. They are free to choose their workstations chairs etc. in ways that boost their productivity and creativity.  Here are some workplace additions like Magnetic Office Set that can help you with these.
Magnetic Office Set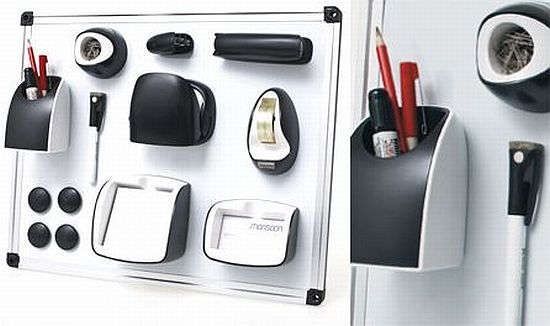 You know how you can never manage to get enough desk space in your cubicle no matter how organized you are? Well, I bet you never noticed how much space office stationery and other small supplies hog up.
To remedy the problem of space and ever-missing staplers and pens we bring you this innovative new Magnetic Office Set. It lets you stick all your smaller supplies like pens, paper clips, whiteboard markers, paper notes, staplers, sticky tape, hole punchers, staple removers and business cards to a magnetic whiteboard. In addition, you can also use it as a temporary doodle drawing board! It is perfect for home or office use.
Furthermore, the whiteboard of Magnetic Office Setlets you stay organized even in smaller spaces and for a small amount of money. In addition, it makes your life much easier also letting you free a lot of work space!
Source: Deals Direct
More products like Magnetic Office to make the most of your workplace
1. Modular Diso counter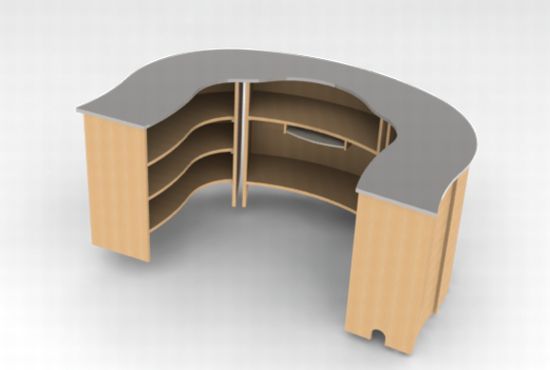 Intended towards the need of running a carwash business, Diso is modular office counter that houses a complete office solution in small package. Designed by Leonor Castillo, the office counter solves the need of furniture unit required to complete an office. The furniture promises to fill the space to an operator of a carwash to meet all its obligations. Diso divides into four sections when needed, or serves as a single unit. Moreover, the sections are allotted place to hold paper and documents, PC, and much more keeping the counter free from clutter. Since, this business also asks for the serving snacks to customers, this counter is a perfect solution package.
2. Formway's FREE seating system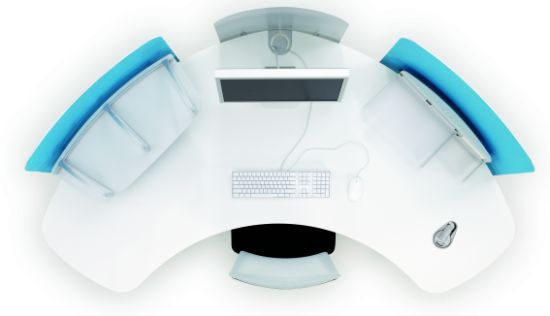 Nowadays offices have ceased being boring and instead boast of a vibrant environment that permeates down to the seating arrangements. So, exit boring old chairs and enter newer concepts like Formway's iconic FREE range office seating system. With the FREE range, you have the flexibility to configure and reconfigure whenever you want to.
Offering ultimate flexibility in the office, the FREE range enjoys inviting aesthetics, new wiring solution, desktop accessories, and a range of impact colors. These could add zing to an office décor and work environ. The mobility of workstations allow for easy adaptations of the office layout. In fact, they nest together to make the most of awkward spaces. Its unique wiring system with a cable port at the rear of the worktop and cable capsule underneath keep the messy cables out of sight. Formway FREE's open design allows communication, information flow and strong teamwork. More images after the jump.
3. Hip Office: Portable workstation


Here is what you call sheer innovation! Finished with glass-fiber, the Hip Office from HK-Ergonomics is a portable workstation the lets you work on the go. Designed by Henning Kunow, the utilitarian Connect-a-Desk enables users to accomplish their usual office activities like using a notebook, draw or write without disrupting the momentum of work. The wearable laptop stand or workstation presenting an ergonomic design supports different working postures, as you may work while sitting, standing and even walking. A workstation has never looked so cool!
4. Office of the future
Brian Liang, an industrial designer, gives the idea of an office for the future. People can communicate with each other in this office by using both socialization and collaboration. This office is completely made out of aluminum, providing a light, portable and comfortable office space. This office has all the basic facilities typically found in an office room, which can be arranged without creating clutter in the small office space. Four to eight people can work in this office easily.
This office is extremely comfortable, lightweight and portable. The office uses only basic facilities and devices, so it looks clean and neat. However, the design of this office has a dedicated area to ensure productivity and open space above the cabins that can be used for special business occasions.
5. H2Office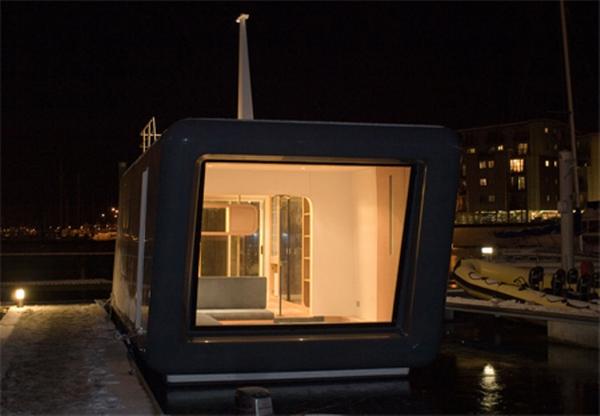 H2Office is a futuristic office which is designed by WaterSpace. This office floats on water and is used in marinas and inland waterways. By using this office, you can float in the middle of a sea, lake or a river, while you do your work. Moreover, H2O is provided with a kitchen, 240V electric power, AC, folding beds and two tables, which converts it into a house.
6. Garden office of the future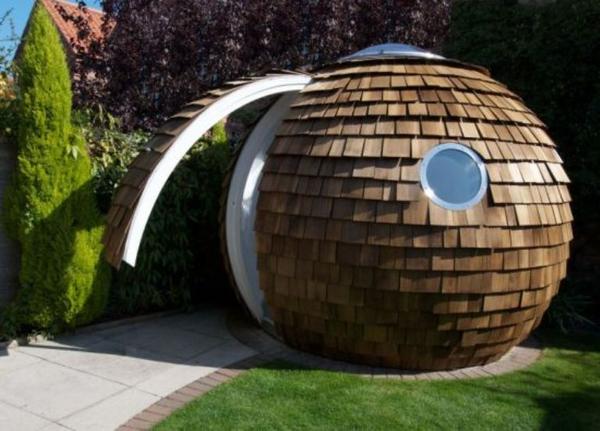 "Archipod" is a future garden office, which is designed by Chris Sneesby. The outer part of the Archipod is made of brown timber material, and the inner part is painted white, so it looks like a coconut. Furthermore, it has a circular window and a cap-like roof. The door is smartly hidden in the coconut shell. The door opens upwards, as if a coconut piece is cut from one end. In addition, the Archipod is lightweight, as it is made from timber and it gives complete insulation against heat, cold and noise.
7. OfficePOD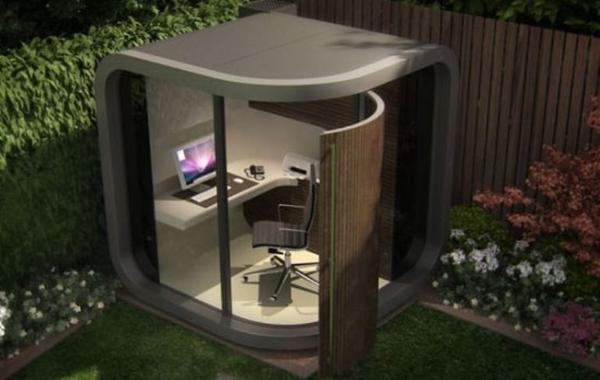 The OfficePOD is a cute-looking future office, which is provided with all facilities and features to help the person do his/her work in a comfortable manner. This design could be the future alternative of the cubicle. Moreover, the OfficePOD provides complete insulation from climatic disturbances and other distractions. The cooling system helps people do their work easily. This office is made of recycled products. It also uses several energy-efficient components that consume less energy when you compare them to conventional alternatives, so the OfficePOD can be called a green product.
8. T6 Mobile Office made by Volkswagen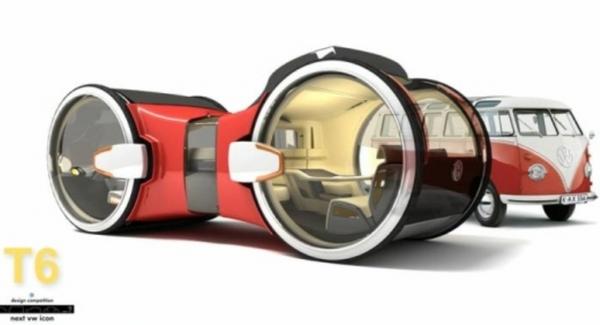 Volkswagen has made a future office car, which looks like a dumbbell and is dubbed as T6. The T6 can be used as a car or as an office. However, the wheels of the T6 look like the wheels of the bike in the film "Tron: Legacy." Moreover, the four wheels of the T6 move around the two glass cylinders by which the car moves.
9. Beta workplace system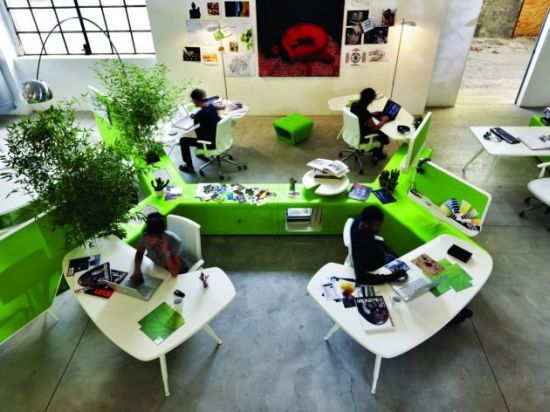 Italian manufacturer Tecno have won a 2010 Red Dot award of high design quality, for their Beta workplace system of furniture designed by Pierandrei Associati. Beta workplace systems aim at providing customized space configuration on the basis of individual work cultures. The workplace is designed as a focal point that provides individual work space, acts as a place for holding informal meetings besides ensuring relaxation throughout.
Rather than being a plain system, the Beta is an actual environment, with non-linear growth logic. It provides space for informal meetings to discuss vital issues on one end whereas the other end is dedicated for soft work and relaxation. The furniture system made from recyclable material primarily consists of worktops, containers, and accessories. The system provides separate individual areas for work besides ensuring ample storage for work-related things.
Furthermore, the furniture system helps maintain privacy, curtails noise and adds a little bit of green to the office. Moreover, at the same time, it helps in facilitating ample interaction between the people.