A coffee maker is one of the most essential items for a coffee lover. It has to be as special as your daily cup of coffee. There's no worse way to start a day than doing with it a mundane cup of coffee. Therefore, to allay your morning blues, here are some portable coffee machine designs that would make your coffee as special as it ought to be. Mini-Nespresso, the mobile coffee machine tops our list.
Mini-Nespresso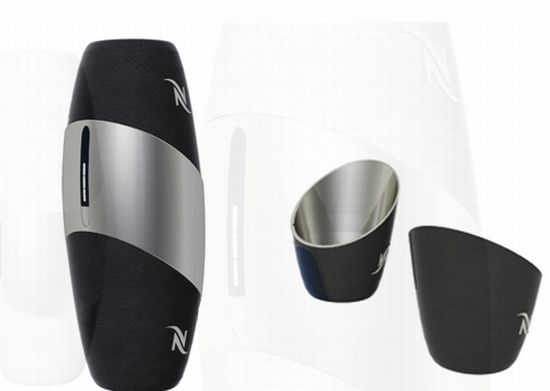 If you are one of those addicts who cannot start your day without a cuppa coffee, designer Hopfgartner Gerda has a portable coffee machine designed to let you enjoy the booster, regardless of the occasion or location. Popular as"Mini-Nespresso," the mobile coffee-machine includes a 300 ml detachable water tank that can be refilled afterwards. Integrating the cups within, through a technical design, the Mini-Nespresso runs on electricity via a rechargeable battery or an adapter. Ideal for trekking or camping, the portable coffee machine easily fits in your backpack and lets you enjoy a cup of coffee anywhere, anytime.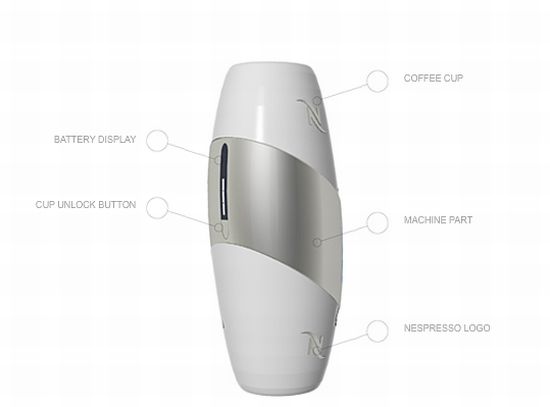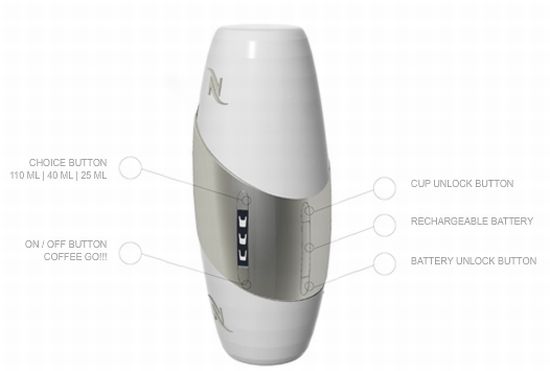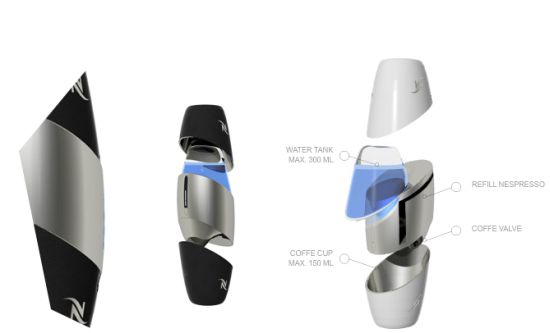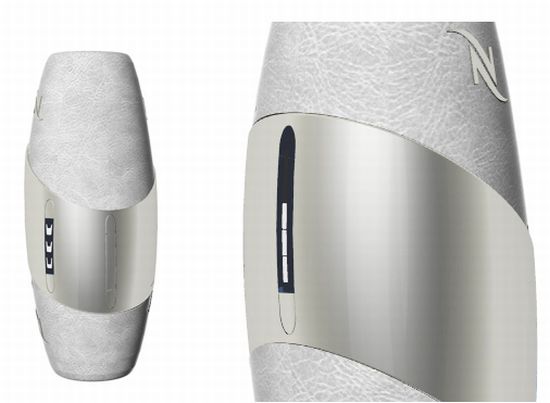 Via: Gavari Design
Some more innovative coffee machines like Mini-Nespresso
1. Jaryn Miller's coffeemaker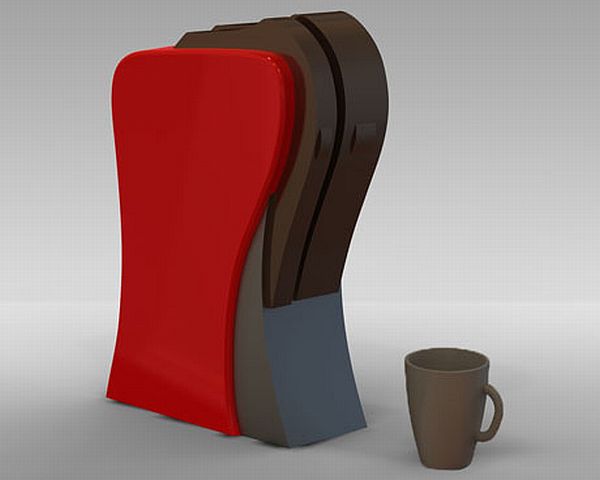 It's raining outside, and the best company in such a situation is a book plus a steaming cup of coffee. But whenever we imagine ourselves drinking a nice cup of coffee, all we think about is heading toward some famous coffee joint. This means enjoying the rainy weather sitting quietly on your balcony or beside the window take a backseat. Jaryn Miller has designed a coffeemaker which will pour you a simmering cup without any tantrums.
The coffeemaker has a simple yet elegant design. This curvy machine's design utilizes Alias industrial design software. The machine has dispensers fitted to it. Pour out fresh and hot coffee from the spout. This will give you company, by pulling down the large dispenser. Its color is also that of coffee. But if you like your coffee with a lot of crème, then simply pull on the other dispenser. Not only this, the dispenser will bow down to each and every coffee-related demand and all you have to do is order. The coffeemaker not only brews great coffee but is also very eye-appealing. Its clean and sleek façade will dive into your heart in no time.
So, next time when it rains there is no need to run till a coffee shop to seek perfect company, as Jaryn Miller's coffeemaker will give you a wonderful partner in the form of a steaming coffee cup in no time.
2. Podi coffee maker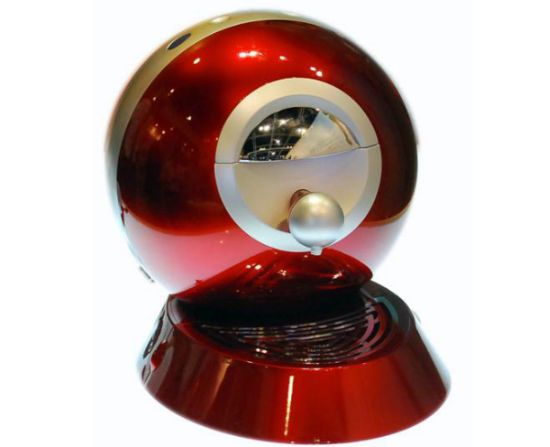 "Podi" by Vinod Gangotra for Selec Line (Asia) is a single serve coffee maker. The users have to use it with rigid capsules of Italian origin available in six different aroma. These allow a great variety to the users.  The single serve coffee machine also includes a 1.0 liter water tank, 17 bar pressure and automatic capsule ejecting system. Available in white, black or red finishes, the new coffee machine just features one push button for easy and practical functioning.
3. MiCoffee coffee maker concept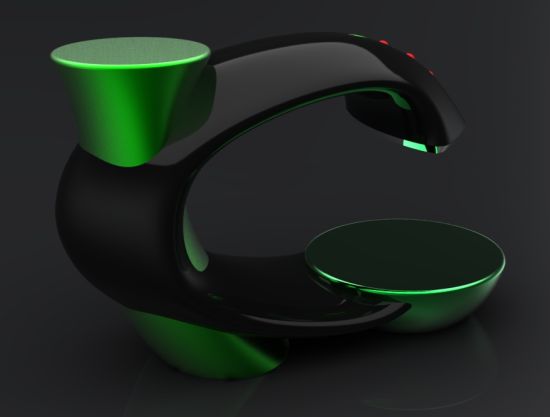 Combining the servings of coffee, tea and hot cocoa in a single appliance, designer Carlos Marquez has presented a personal brewing station that allows users to customize the size of their beverage from 6oz, 8oz, 10oz or 12oz, so there is no waste of water. Entitled the "MiCoffee," the coffee maker concept includes a pressure sensitive pad to know when a mug is under the spout, so the automatic setting does not go off without a container to catch it.
This coffee maker is designed to be poured straight into your favorite mug. It presents an organic shape with sweeping curves. Moreover, it has interlaced pieces to match the decor of contemporary apartments. Placing the coffee, tea, cocoa and water into the cylinder on the back part, the coffee maker also integrates customizable clock and timer settings, simple 3-button interface and hidden cord compartment. Featuring a sleek and compact design, the MiCoffee just measures 10 x 10 x 5″ (HLW) in dimension.
4. Makineta: Ultimate portable coffee maker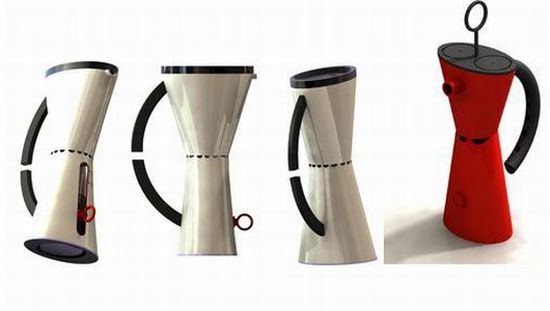 Picture this: you're stuck in a ski cabin in the middle of the worst blizzard seen this century (and you had better get used to this situation given the rate at which the greenhouse effect and pollution is screwing up the weather system) with no power to plug in your cooking appliances and you're so cold you can kill just about anyone for a hot cuppa. What do you do? Well if you're smart you probably already own something like this makineta with a gas burner at its base.
Created by Yonatan Zur, this portable coffeemaker takes you back a good century when it comes to cooking technology, but being completely portable and superbly emission friendly, it can be used almost anywhere and anytime. Of course you have to ensure the gas in the machine is full enough to last you a while when you decide to take it for a trip. However, that's not even an effort, keeping in mind how it can boil many a good cup of water for your instant noodles and other instant recipes!
5. Electric Coffee Maker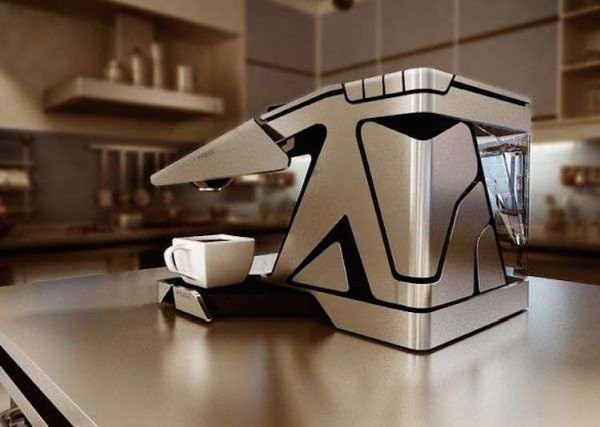 A steaming cup of coffee can relax your tensed nerves. It makes us slip in a whole new world. where worries are kicked away with every sip. The Electric Coffee Maker by Alexander Yakushin is at your aid to make you live this experience every single day.
The impressive design comes clubbed with features worth drooling over. The coffee maker makes good use of capsules from the pressed ground coffee, which can be inserted through an opening at the top. The used capsules are automatically removed, thus saving precious time. The overall design is simple and will save a lot of space in the kitchen. It has been fitted with elements that can slide in and out. The angle of dip tray can also be altered as per a user's needs and when not required, simply push it back in its case.
The electric coffee maker has been given control keys that perform important functions. Make your favorite coffee, espresso or cappuccino at the press of a button and enjoy a mug full in no time. A tank is there to hold 3-liter of water. This water tank is separated from the hull with a button wedged on the handle. So, brew coffee in style and swap your kitchen area into a cafe in no time.