After bicycles, electric vehicles must be your second choice when it comes to buying an eco-friendly vehicle. Just looking at the ones available in the market isn't an excuse enough to say that electric vehicles do not match your vibe. If you haven't seen the popular innovations in the e-vehicle market, you still have a lot to see. Since most vehicles nowadays are going eco-friendly, most of the top designer vehicles coming out focus on sustainability. There are even speculations that very soon you won't even have to charge your vehicles. From all the designs of such innovative electric vehicles, here are a few that we believe would stand the test of time.
Skoota: Portable electric scooter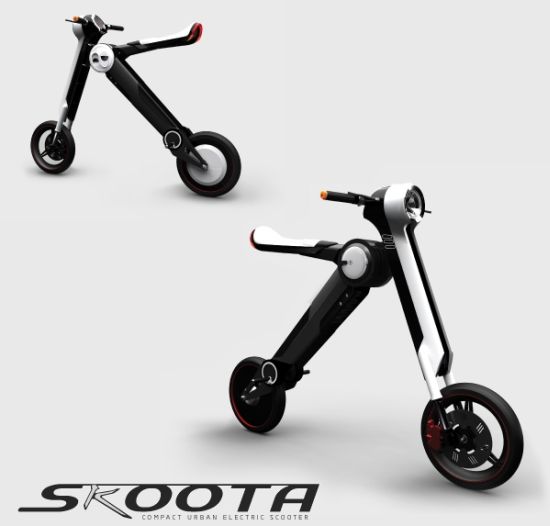 Pollution and parking are possibly two major problems of urban areas all over the world. Making the cities a better place to live in, designer Stuart Emmerson has popped up a portable electric scooter that provides safe and sustainable commutation in urban areas. Hailed as "Skoota," the portable scooter makes use of Super Charging Lithium Ion technologies and an in-wheel brushless hub motor to provide an eco drive for riders between 20-35 years old. Ideal for short distances, the electric scooter uses a central compacting interface to reduce its size with five simple steps. Therefore, you can easily move it within the living or workspace with minimum fuss.
Based around an exclusive "K" shaped frame made in powder coated die-cast aircraft grade aluminum, the Skoota is not only light in weight (about 20 kg) but also ensures durability. Running on small red highlighted 12.5″ wheels, the scooter also features lights on either side of the handle bars. Moreover, it also has a curved rear tail light and front LED headlight, while functions are kept simple with only two buttons, power and headlight. The handlebar height, seat height and wheel base of the scooter are similar to a standard 24″ electric bicycle. Other than lithium batteries, the Skoota also harnesses solar power for an entirely sustainable ride, reducing the carbon footprint of the users.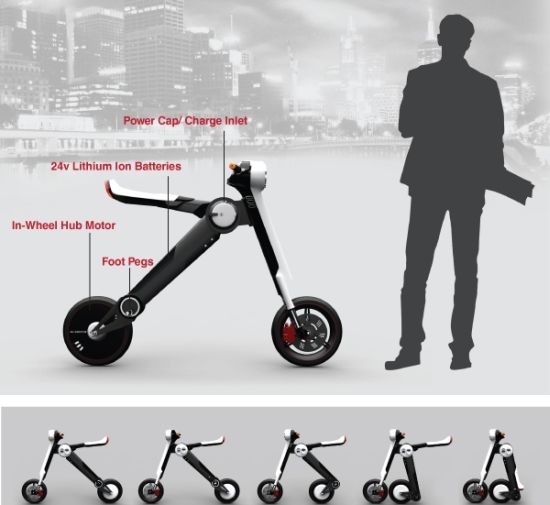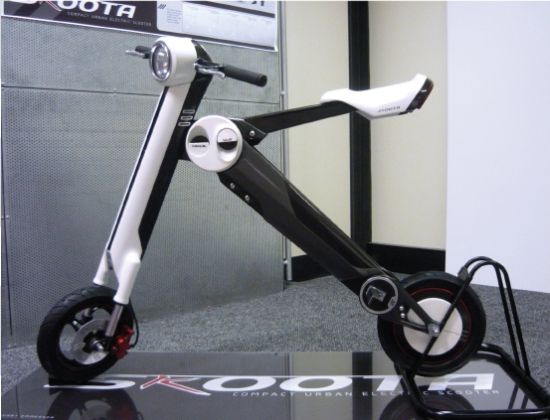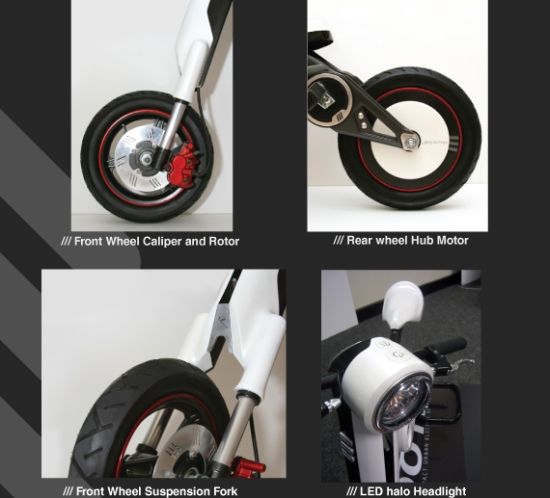 Via: Designawards
Some more electric vehicles with innovative designs
Click through to see some more electric vehicles, which have unique designs.
1. Urb-E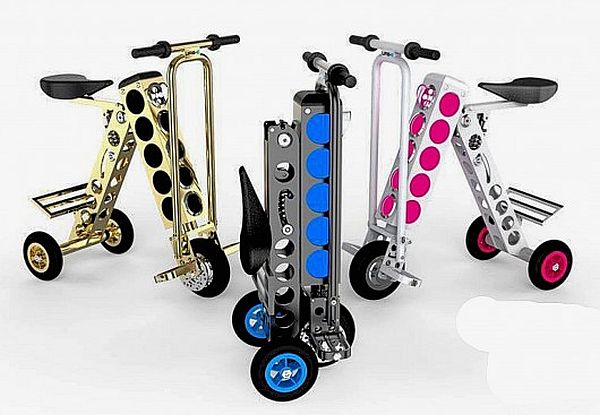 The Urb-E is an electric scooter that takes three hours to charge. In spite of its small build, it has a good range of 20 miles, and the top speed of 15 mph. The best part is that Urb-E is a folding concept, just fold it and carry it like a luggage, you can carry it with the handle while you travel in a bus or a train. The Urb-E comes with two wheel and three-wheeler options.
2. Tesla's Electric Pink Bunny Slipper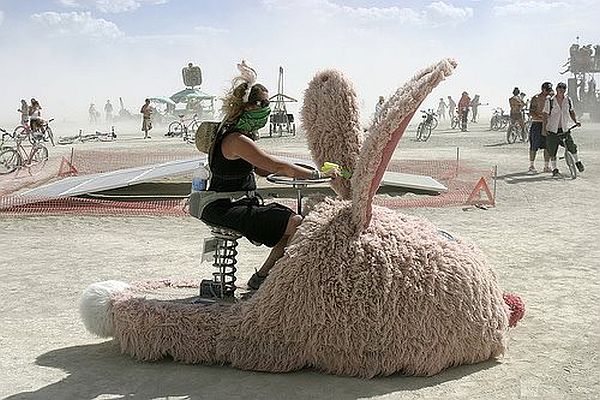 Engineers at Tesla keep experimenting with the designs of electric cars they produce. For use at the Burning Man festival, Greg Solberg at Tesla made this unique and a cute designed pink bunny slipper. The 7.5 feet long electric slippers have a frame made of steel and plywood, and a top speed of 15mph.
3. Bamgoo, Electric Car Made of Bamboo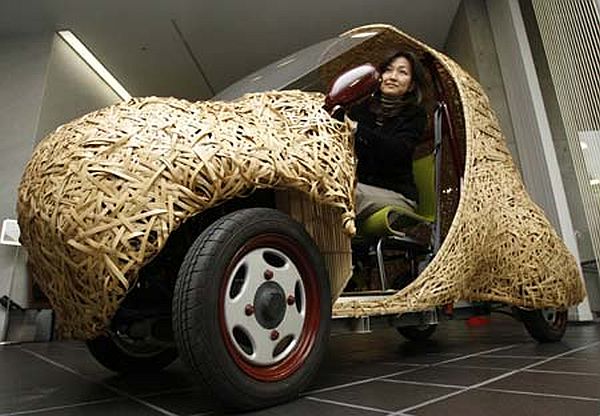 Japan has done a commendable job that it has come up with a design that has a double eco-friendly capacity. This vehicle is the brainchild of Kyoto University and Kyoto City, Bamgoo is an electric vehicle whose outer frame consists of bamboo. With a total weight of 130 pounds, Bamgoo can go 30 miles at one charge.
4. Ecooter Electric Car/Scooter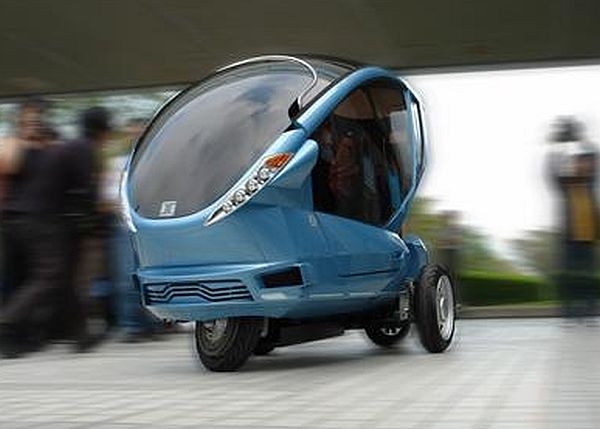 Ecooter is an electric scooter made in China. It is an ideal solution for neighborhood driving in congested urban areas. The four wheels in Ecooter have a diamond pattern that makes it super easy to move the vehicle through crowded spaces. The vehicle has a good 60-mile range.
5. Nissan Pivo 2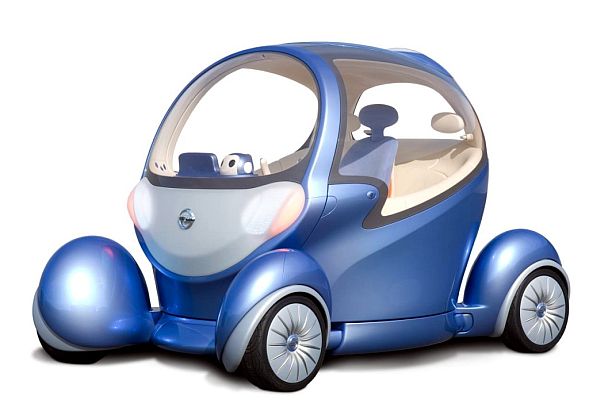 Majority of people find it hard to reverse a car, the Nissan Pivo 2 is an ideal solution for such people, as the vehicle has no concept of reversing because you can rotate the cabin full 360 degrees and drive it with utmost ease in any direction you want. For reversing, just rotate the cabin 180 degrees and drive the car forward. This amazing concept first came to show in 2007 at the Tokyo Motor Show. Another remarkable feature of Nissan Pivo 2 is the robotic agent that enables the driver to communicate with car and it lets you know the nearest parking space available and other notifications.
6. Lumeneo Smera Super-Narrow Electric Car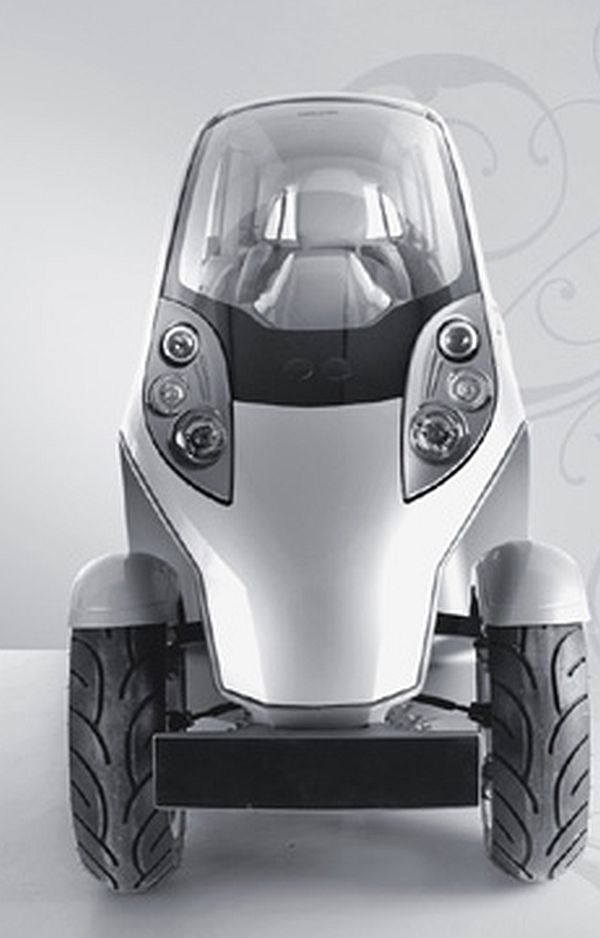 Unveiled at the Geneva Auto Show in 2008,Lumeneo Smera is a super narrow electric vehicle with a seating capacity of two. It is incredible how a narrow vehicle that takes almost equal parking space as that of a motorbike fits in two people in the comfort seating of a car. This magical electric vehicle has a range of 93 miles and 80 mph capacity.
7. UnoCycle Electric Gyroscopic Bike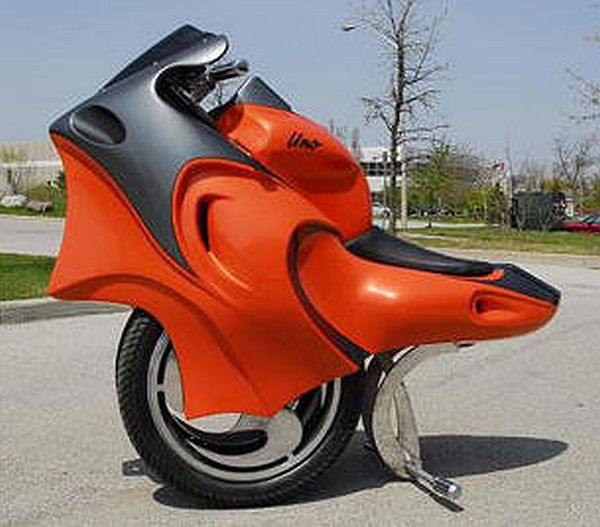 Brainchild of an 18-year-old boy Ben Gulak, UnoCycle Electric Gyroscopic Bike has won awards like "best in category" and "best engineering" at numerous motorcycle shows. He got inspiration from smog-plagued China and designed this motor bike with two wheels. This bike is very light and one can easily carry it indoors to charge. It can run for 2.5 hours after a charge, and has a 25 mph speed. Driver is supposed to lean back on the bike to slow it down and to lean forward to speed it up.
8. Moovie
A futuristic concept designed by André Costa, a Portuguese designer. Moovie won the Peugeot Design Competition. Although it is just a concept right now, nice yellow colored interiors and a glass frame makes Moovie a stunning electric car.
9. Nwet Electric Tricycle Scooter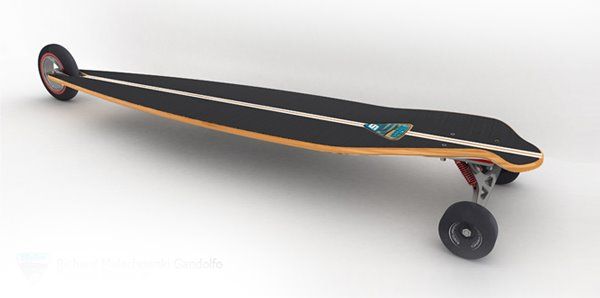 Children love to skate on their scooters but they have one common problem of carrying additional stuff, like a backpack or luggage on these. Working on this, Richard Malachowski has designed the Nwet Electric Tricycle Scooter. This skate scooter will be powered by a motor and will inject fun in the lives of its users.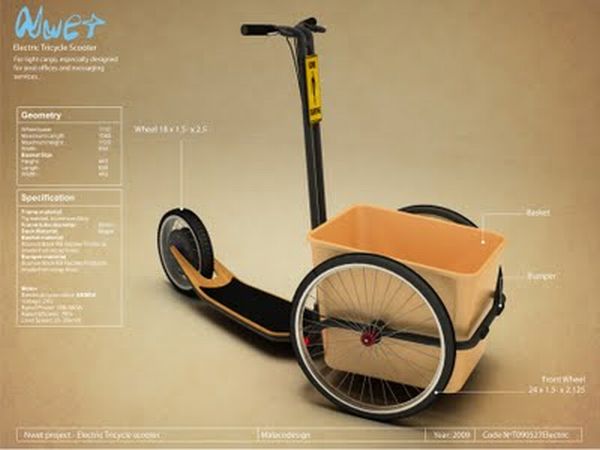 It has been crafted in a simple yet highly functional manner. The scooter comes fitted with a loading space which can be used to carry heavy stuff from one place to the other. It will keep the charm of transportation powered by human efforts alive while embracing the motor concept. The motor won't work till the time the rider gives it an initial impulse.
The Electric Tricycle Scooter is a novel concept and comes packed with user-friendly qualities. It can be a substitute to a bicycle, proving itself to be a safe and a fun travel partner.
Summary
As the idea of the vehicle changes with technology, designers are coming up with new concepts to make the best of new tech and modern age challenges. The new approach often leads to vehicles that don't necessarily look like the classic car shape we have become accustomed to see.