Vehicle technology is moving forward at a staggering pace. But it has both positive and negative sides to it. Taking an account of the depleting fossil fuel reserves it becomes clear that we are bound to look for alternatives.  Furthermore, we also have to make sure that the alternatives that we choose don't lead to any carbon emission. While discussing alternative energy vehicles, many types of vehicles come to the picture. There are cars like Moovie working on electricity, and then there are cars like Z Cryo working on Hydrogen. However, mere type is not enough. To really gauge their worth, we need to take a careful look at all their specifications. Let us see what they have to offer.
Moovie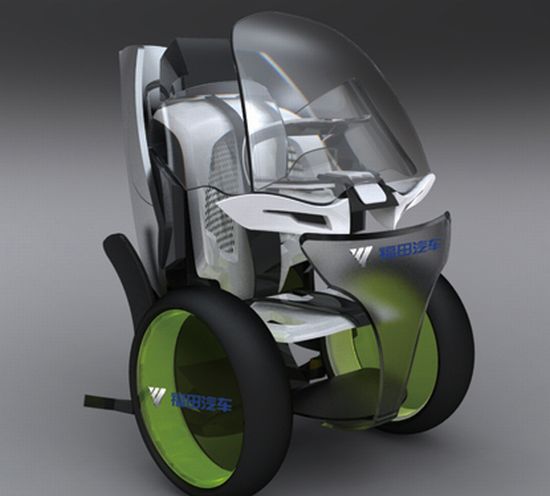 Winner of the Gold Award of Best Advanced Technology in the first "Science & Future" International Concept Car Design Contest, the "Moovie" by designer Han Jing, a graduate from School of Fine Art, Tsinghua University, is a modular vehicle that switches between two modes, two-wheel and three-wheel, to meet individual needs of different commuters. Ideal for inter-city as well as highway drives, the zero-emission personal electric vehicle gets smaller in the two-wheel mode to move at controlled speed on cramped roads.
In this system, the driver can drive in the intelligent automatic drive mode to control the distances between vehicles and driving line. While on the other hand, the three-wheel mode of Moovie lets you move in high-speed.
In addition, the Moovie integrates a wheel-display to show images or messages of the vehicle and lets the driver share messages with friends or other drivers, thanks to the future internet technology.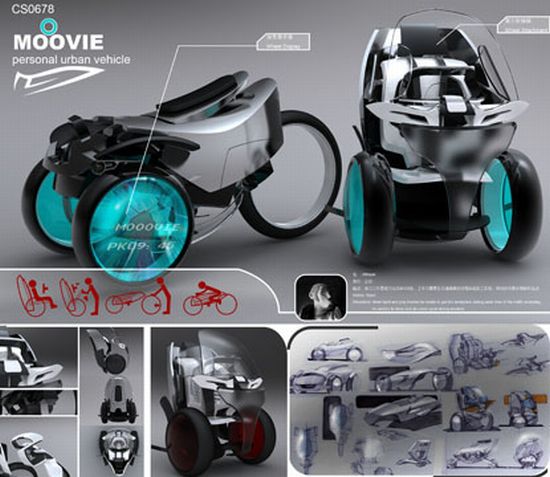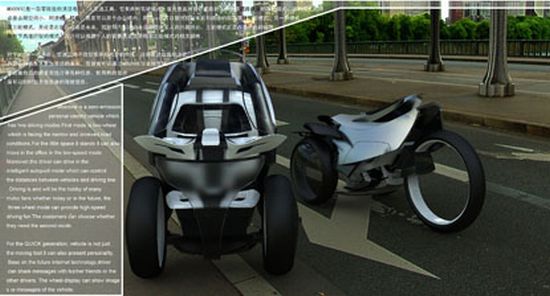 Via: Icsid
More zero-emission vehicles like Moovie
1. MiraQua
Designer Chaoyi Li has come up with the MiraQua, a designer compact car for modern cities. While conceptualizing the vehicle, the designer showed concern about how spaciousness affects the mind of people today; may it be while driving on the congested roads or decluttering their homes. This vehicle is especially for countries like Australia and China and would surely bring a change on the roads.
As the car runs on electricity, it will extract maximum utility in terms of space and at the same time, prove to be a boon toward nature. The designer made use of crafting techniques like sketching, body storming practices, mock-up modeling in various media include styling foam, crafting clay and metal wire etc. for coming up with this innovative style and technique.
Fitted with an inbuilt in-wheel-motor and drive-by-wire technologies, the suave compact beauty has a different front wing rising up and down as per the entering convenience. One can access the rear car seats by pushing the front seat forward. So, if you want to create storage space for your luggage, just simply roll down the front passenger seat and you have a lot of space all to yourself. The size of the car being its biggest advantage, zipping and zooming through traffic was never this easy before. The car is as small as it can be, and with the extra space utility on its side, the advantages know no bounds.
Last but not least, the car is emission-free, which makes it bear a one-up on rest of the cars.
2. Monobike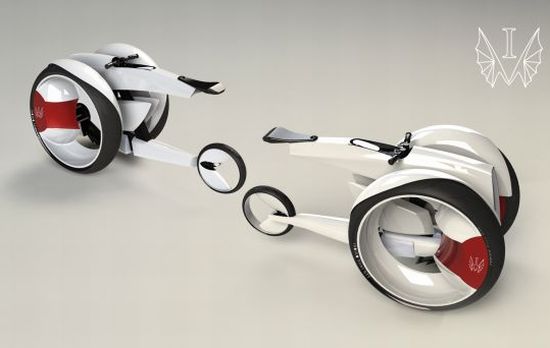 Addressing the issues of maddening traffic and pollution on city roads, designer Ilia Vostrov has come up with a portable motorbike named the "Monobike" that moves briskly, thanks to its compact design, even on crowded urban roads and needs very little space for parking. Moving on the front wheel that consists of two segments allowing stability and the rear wheels, the Monobike presents high maneuverability and steadiness at a low speed. Powered by electrical engines, the Monobike can reach the top speed of 180 Km/h on the highway, while a special ducting opens to accelerate and change air direction, lifting its "tail" and the rear wheel. Moreover, one can park the zero-emission vehicle vertically, making it space-efficient.
3. BMW Z Cryo

The BMW Z Cryo is one concept car that has enough punch to roar across the autobahns at insane speeds and at the same time not emit a gram of carbon dioxide or any other gas except water from it's tailpipes. Yes. you guessed it right, this Beemer runs on hydrogen. The Z cryo looks unlike any of it's BMW siblngs by having a a Shelby-like front end. We say Shelby because we think that is one real muscle car which has a curvy hood like the Z Cryo. The Z Cryo screams BMW, thanks to it's very prominent double kidney grille design. Styling is muscular all over with a low slung aggressive stance with the right amount of muscular curves abounding the Z Cryo's front, rear and even the sides.
Looks apart, let's come down to where the action really is and the reason for the Z Cryo's muscle car tag-the engine. The Z cryo runs on a 2 litre engine that manags to pump out a stupendous 270 horses to make it one blistering performer. This phenomenal 135 bhp per litre is only possible because of hydrogen. Yes, there is liquid hydrogen in a cryogenic tank in the Z Cryo.
Now that the Z Cryo proves that one can use hydrogen to power a real muscle car, we expect a mad rush with other manufacturers and customizers looking to hydrogen power for squeezing the maximum out of their engines. And before signing off, we hope that this concept makes it to production very soon. Watch this space.
4. Husqvarna Panthera Leo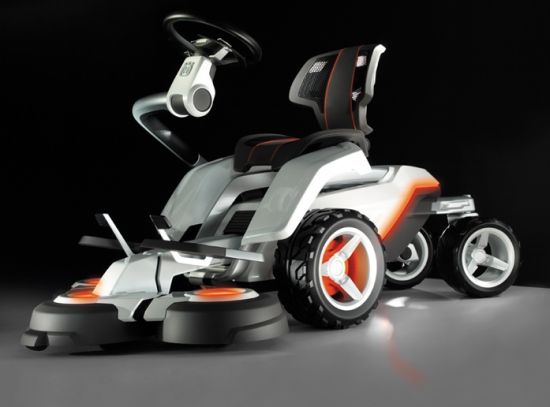 Designed by the fancy robot lawnmower maker, Husqvarna, the Husqvarna Panthera Leo is an electric lawnmower crafted from recycled materials. Featuring five motors powered by a rechargeable lithium phosphate battery that propels three separate cutters, the lawnmower can do the cutting tasks nonstop for about two hours. Featuring an LCD display monitor with silicon underneath, which automatically comprehends the optimum cutting height, speed, width of the cutting deck, service information, steep hill warning and running speed, the electric mower is capable of mowing of variable, between a 33″ and 47″ wide swath. The zero-emission lawnmower comes with an ergonomic steering wheel and easy to control dashboard with zero-turn functionality, making lawn mowing fun.
5. Kia Pop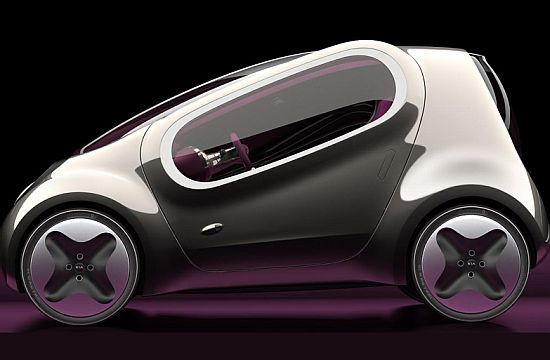 Scheduled to be displayed at 2010 Paris Motor Show, running from September 30 to October 17, the "Kia POP" is a car concept that features a unique bubbly design to attract gen-next users. Presenting a massive windscreen that stretches all the way back to allow a transparent roof, the commuter car accommodates two passengers on one single curvaceous bench seat, hopefully, in comfort. Generating power from an all-electric drivetrain, the compact car can be recharged by plugging it into a regular wall socket used at homes. Placing the passenger sits slightly ahead of the driver, the electric car allows more room cargo area at the rear.