You can do with bikes what you can't do with cars and vice-versa. However, what about trikes? They are the connecting link between bikes and cars. Therefore, their advantages and disadvantages lie in between that of a car and a bike. This, in fact, makes them ideal for highly irregular terrain like that on the moon. Maybe that is why NASA is considering vehicles like Recumbent Moon Buggy Trike as good prototypes to the vehicles they can send on the moon. These are compact like folding bikes while at the same time stable and controllable like cars. Here are some examples of trikes that you must check out.
Recumbent Moon Buggy Trike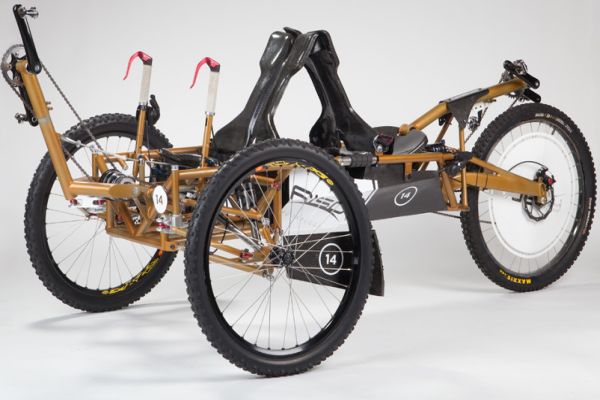 Winner of the Best Design Award at the 2011 edition of NASA's annual Great Moon buggy Race, the RISD Moon Buggy Trike 2011 is one of the most sophisticated recumbent trikes that have surfaced in a few years now. The team, which secured third place in their debut appearance, last year, is the first design school with no engineers to enter the competition. This year the team entered not only the race portion of the competition. However, they have also put their entry down for the design competition and much to their delight won.
Starting with the aim of challenging the established notions of the role that design plays in the making of sophisticated engineering ventures. The team proved that application of the design process can offer solutions for engineering problems. The recumbent trike features an integrated freewheel differential. It was brought into the drive assembly for simplicity and two repositioned disk brakes. These were positioned outside the differential to allow proper braking.
Self-aligning bearing holders were press-fit into the same tube allowing perfect alignment. Moreover, they also protect the shielded drive sprocket from excess dirt and grime inside the alignment tube. The fully suspended all-Wheel-drive trike could seat two-passengers with ease.
Winner of best HPV at a competition by NASA
The competition, which is held at the Marshall Space Flight Center, Huntsville, AL annually, calls for teams to conceptualize and create lightweight HPVs. These can effectively travel across a rugged landscape that simulates the surface of the moon. The track comes complete with gravel pits and unexpected curves across the half mile long surface. This surface is created in accordance to the difficulties that Apollo astronauts had to overcome using their lunar rovers during the space program.
RISD student Bryan Cloyd led the suspension and steering systems design in both the editions. Furthermore, he also donned the co-team lead cap in 2011, when RISD was awarded the best design trophy. He won it over entries from over 40 universities. He designed an HPV capable of tackling engineering challenges faced during lunar travel. The competition held jointly by NASA and the American Institute of Aeronautics and Astronautics (AIAA).
Via: Bryan Cloyd
Some more trike ideas like Moon Buggy Trike
1. The Cirbin V13R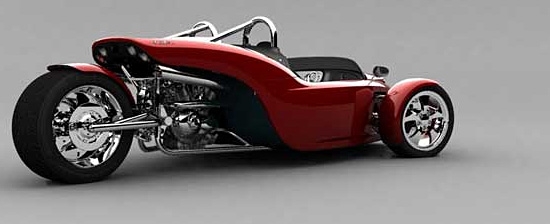 After the outrageous Trike from Cheetah, which had brute V8 power in an insane chassis. We have something very beautiful, almost a work of art, in the Cirbin V13R, three-wheeled sports vehicle. And, if you think, the V13 stands for thirteen cylinders, you have missed it by a mile. The Cirbin V13R actually uses a 1300cc Harley Davidson Vrod engine. It is unlike all other Harley Engine's is thankful, liquid-cooled and has a sweet-shifting 5-speed gearbox.
The Corvin, three-wheeled sports vehicle itself is a delightful mix of curves at all the right places and exposed metal which makes it one hell of a good looker. Viewed side-on, this hotrod can easily be mistaken for a low slung four-wheeled roadster. The rounded front looks Buick'ish with the Slot machine grill and the inclined twin headlamps on both sides give the front some respite, which otherwise would have looked bulbous.
The car, er.., motorcycle also looks muscular with the sculpted front side flanks and looks very fast and racy, even while standing still. This three-wheeler is a two-seater, with both the rider and passenge sitting side by side. The real action, however, is in the rear where the powerful Harley lump sits. The V-twin pumps out a lot of power to the meaty single rear wheel which makes this trike one fast, thrilling machine. Though this trike costs 40 grand officially, high demand has ensured it sells at an expensive $55,000 which you most probably need to cough out to hear that awesome potato-potato harley exhaust note. Absolute music.
2. Triciclo Kamikaze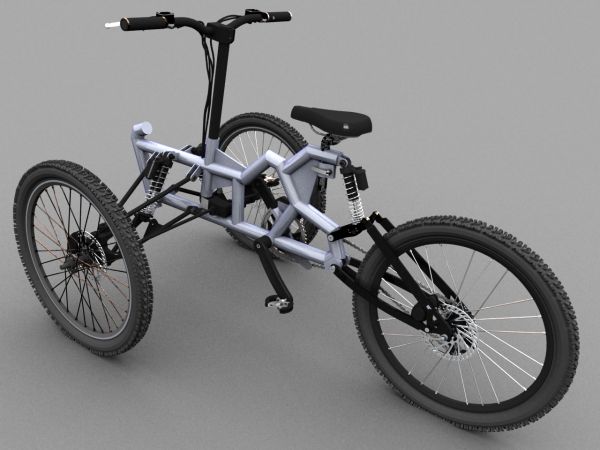 Trikes come loaded with features that manage to send an adrenaline rush. But, how about one that doesn't have an engine? Don't pucker your eyebrows in surprise and read ahead. Mariano Ayastuy has designed one, named the Kamikaze Tricycle.
A trike has always been associated with wild fun, but it pollutes our precious surroundings. The designer's love for nature pushed him to throw the engine out and make an eco-friendly creation. It will inject the same fun like a gas-guzzling beast and that too without an engine. This sounds wicked! The design has three wheels to make it larger than a pedal bike.
Two wheels will be wedged at the front and one below the seat. It has been crafted using double wall wheel 26 to withstand impacts. On the other hand, wide tires with high heels ensure a better grip on land. It also has a structural pipe box section aluminum circular 2-inch team Shimano Alivio derailleur and mechanical disc brakes. The seat height can be adjusted as per a rider's convenience.
The amazing trike concept will make a three-wheeled ride all the more exciting. It will help you stay in a healthy state and provide the satisfaction of going for a quiet and comfortable ride at any time. So, go around the city doing different riding tricks or just take a leisure ride along the coast or the mountains on Tricycle Kamikaze.
3. Triker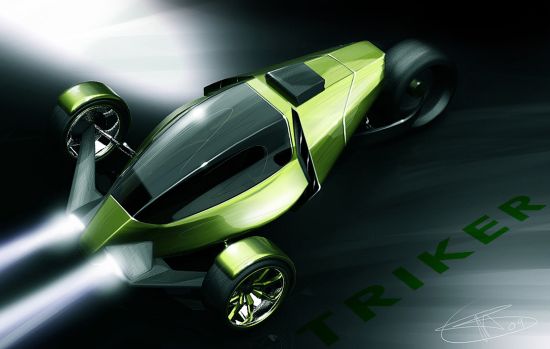 Designed by Swedish designer Marouane Bembli, the "Triker" is a three-wheeled electric vehicle that is not only environmentally friendly and cheap to produce, but personal as well. It can be used for driving to work every day or to enjoy a relaxing drive on the weekends. The body is constructed as a single module mounted on a aluminum chassis to make it lightweight. This module can easily be replaced with another, if the driver prefers some other material or color. It has some relation to a motorbike at the rear end with the single wheel and power transmission.
The Triker has a very conservative interior in order to reduce production expenses. It's simply a driving machine. It has a head-up display for navigation and other relevant information required for driving. The Trike is not radical or revolutionary in the way of innovations, but it's a great example of a dynamic, cheap and fun driving machine that doesn't pollute the planet.
4. Electronic trike 'e-rs'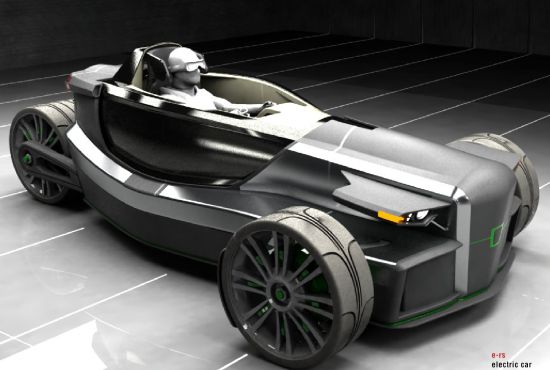 Designed to provide an alternative to fueled cars, the "e-rs" by German designer Daniele Ferrazzano is an electric vehicle in the super sports car segment that extracts the best from cars and motorcycles. Running on three wheels, the electronic trike is capable of producing 420hp to reach from 0-100 km/h in just about 3.6 seconds. Got to be a powerful engine. Presenting a range between 250-300km per charge, the hybrid vehicle offers a torque of 2100Nm and only consumes 10KW to cover 100km at 100km/h. Weighing about 650kgs, the single-seater allows a safe, sustainable and stylish ride.