Are you a true gadget geek? If you are, then we know that you don't love anything more than you love your gadgets. Moreover, it isn't just about the specifications, it is more. You know that a classy vintage floppy disk art is much more than a highly spacious external hard drive. If that's what you think, then there's a great piece of news for you. Steampunk USB Flash drives are recreating the same class in modern gadgets.  Their retro collection combines modern specification with vintage design.
Steampunk USB flash drives
Steampunk gadgets get their inspiration from the Victorian era when steam was the main source of power. They are modern sleek gadgets, with looks that take them back to the 19th century. Many steampunk enthusiasts and designers work meticulously to give a retro look to these new era gadgets. Replete with clockwork, copper pipes, brass carvings, these high tech gadgets look every inch look antique pieces. One of the modern gadgets that have found favor with steampunk designers is USB drives. Some of the interesting steampunk USB designs are given below.
1. Bottle-stopper USB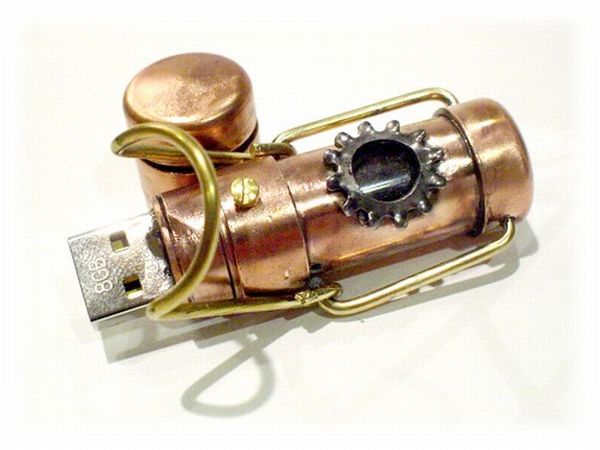 From the look, anyone can get confused that it is an old fashioned bottle stopper. It is completely made from waste or recycled material the copper body is made from pipe, and other parts are made from wastes such as pipings of a construction site. When it is in use it glows blue, and it looks classy.
2. Train USB
This 8GB USB drive is made of brass and copper and is as steampunk as can be. It truly belongs to the era of steam engines. Why? Because a beautiful steam engine of a train is embossed on the back. Designer Rockwell's signature is also imprinted on it. There are bolts and wheels at various places on the front. It looks awesome as soon as it is plugged in as it starts emitting yellow like which looks like a small furnace. It comes in a vintage faux tin box with colorful details as is wont with Rockwell brand.
3. The Wheelhouse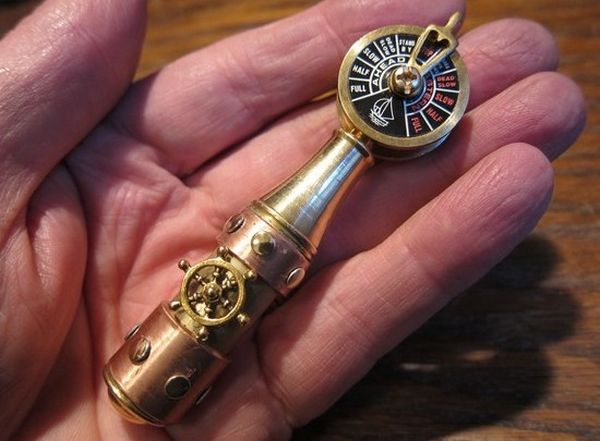 This replica of the engine telegraph of Titanic is made of brass and copper tubing. It is adorned with a miniature ship's wheel and brass trim. Signature of Will Rockwell with a date is engraved on it. For the fans of Titanic, and all things nautical, this 8 GB USB comes in trademark Rockwell faux vintage tin box which as velvet lining in the interior.
4. The Collective
This collectible item is made from rosewood. Four coolant pipes are attached to a brass manifold, and they add to the beauty of this device. The rosewood frame is also decorated with a tiny imitation gauge with a watch hand, placed inside a domed cover. When in use, it is lighted by a convex cut framed cabochon. This 16 GB flash drive has a storage tank as cap. It is engraved with the signature of Will Rockwell and dated 2010. It is housed in a beautiful glass museum case with a velvet pedestal on which it can rest.
5. Quartz crystal USB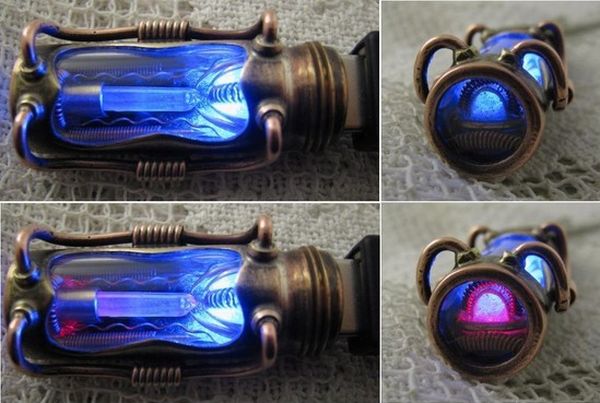 Image Source : recyclenation.com
This waterproof beautiful steampunk USB drive is made from brass copper, glass and genuine quartz crystals that rest inside a large elegant glass window. When the drive is plugged in, the view is remarkable, as the crystal starts emitting a blue glow, and it glows red when transmitting data. This solid drive has an antique look. Creator Derrick Culligan has created the effect by distressing the metal. It is sturdy and all the metal connections are soldered with silver. For those who always loose the cap, it has a wire bale to attach it to a necklace.
6. Flashy Tail USB drive
This Derrick Culligan piece is made of brass, copper and glass. A copper wire coil winds inside the glass tube and reminds one of a light bulb. This solid piece is waterproof, so you need not worry if you spill your cold drink or coffee over it. Its tail glows red when the drive transfers data. It is given an old fashioned look by distressing the surface and applying platina. The cap of this antique looking steampunk gadget can be used as a pendant of a necklace.
7. Glowing test tube USB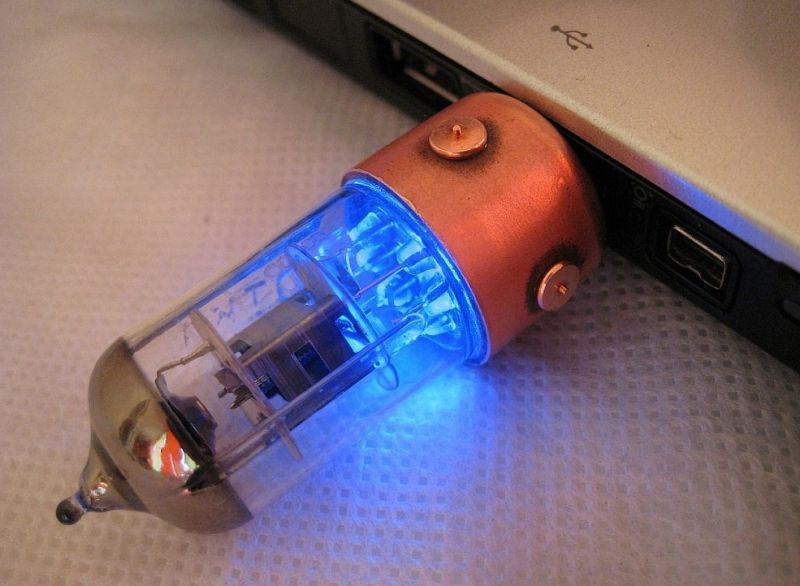 Image Source : media.boingboing.net
Here is a device made from reclaimed copper, brass, and ….frosted test tube! This 1GB flash drive emits red light from the test tube during data transfer. Copper and brass surface gives an antique look as polished but not treated so that natural platina can develop.
Some more strangely innovative USB flash drives
1. Ninja USB Flash Drive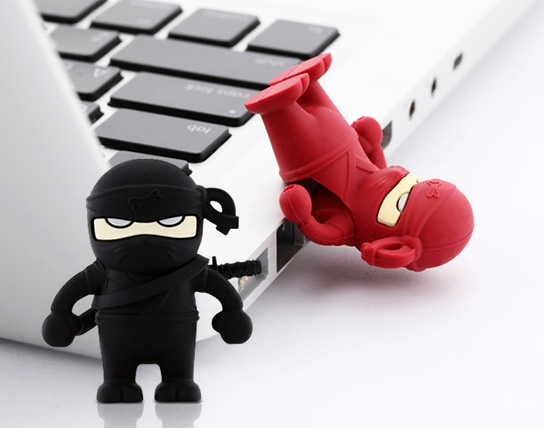 This is not a small plastic toy for your child to play with this sleek looking Ninja is a 4GB USB drive. If you are a Ninja fan, here is an opportunity to buy one. It has many interesting cool features like 3-piece silicon suit exterior, small magnets in the limbs to make it stick to a metal surface, LED light, etc., which makes it real fun to use.
2. Key USB Flash Drive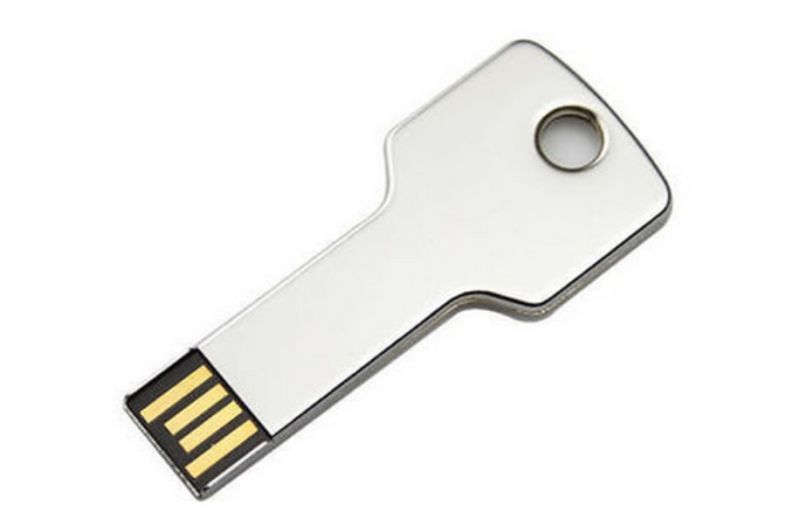 This sturdy metal key design looks exactly like key and can fit in a key ring. You can easily carry it wherever you go fitted along with your other keys. With 8GB capacity, it is water and scratch resistant. It has fast transfer rates too. This cool key shaped USB is very practical and sturdy too.
3. Chocolate Shaped USB Drive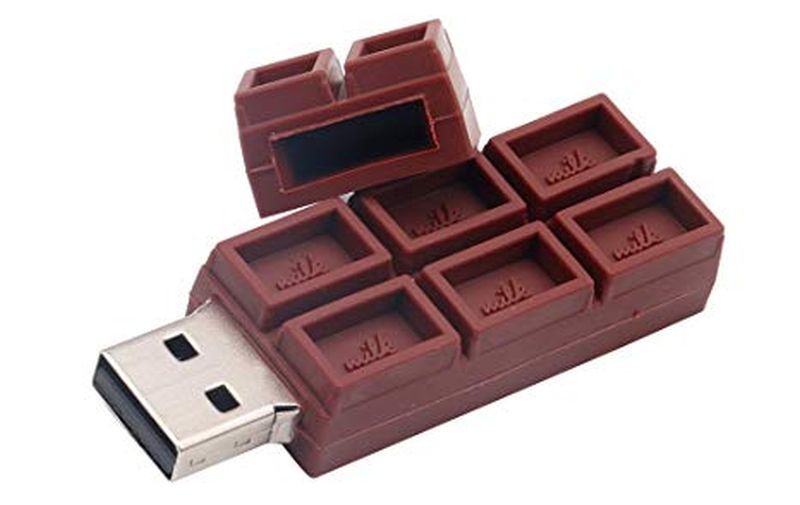 Wait! This is not a chocolate. It is chocolate shaped USB drive. Moreover, it is available in 64MB-16GB capacity with high access rate. It supports password so that you can keep your documents safe from prying eyes. In addition, it can keep data for more than ten years. Available in both brown and white colors, this USB drive is a delight for chocolate lovers.
4. Human Thumb USB Drive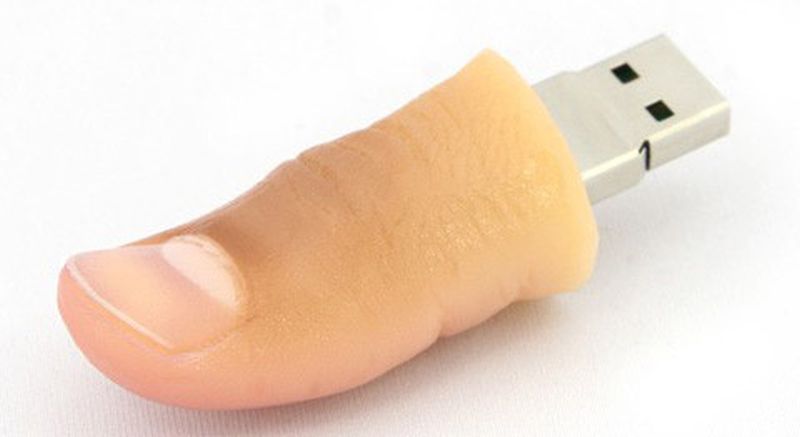 If you have a taste for weird or sickly gadgets, then this thumb USB drive is necessary for you. This 16 GB drive is made from urethane rubber cast, slightly squeezable, and is flesh-tinted with every minute details of a human thumb that it is really difficult to tell that it is not a real thumb. It is preformatted for mac or windows. A protective cap for USB connector is also provided.
5. Colorful Ring USB Drive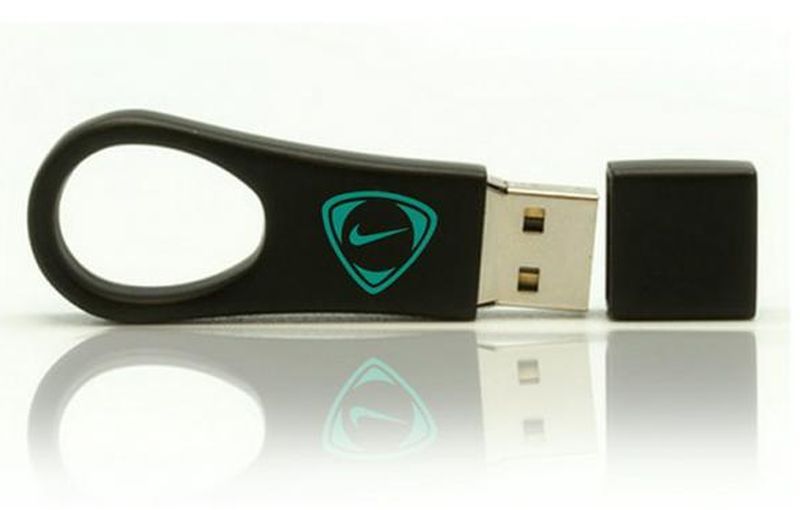 These cute plastic rings in various colors can be worn as rings and can also store sweet memories within them. These 2GB flash memory drives are formatted for Windows and Mac. They are fitted with LED. So now you can store your favorite music or pictures of your loved one in your ring USB.
6. Ripped cable USB Flash Drive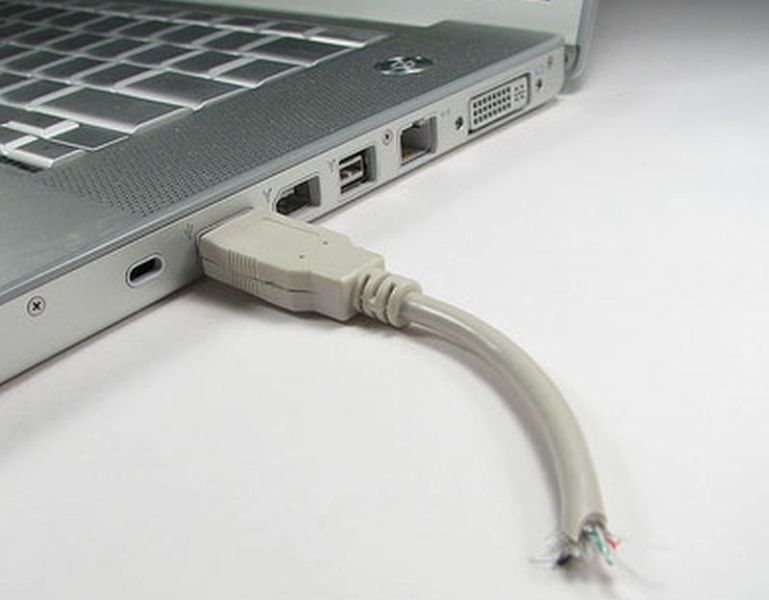 Oh! Did someone break my USB cable? No, actually this broken cable stores 2 GB data. It is a USB flash drive. This cool flash drive is a favorite of many. This device is called Hacked and it is not useless. You can store your data, in it and shock your friend by showing this broken cable.