When talking about furniture mobility might be the last thing you are looking for. It sounds like the complete opposite of how your furniture should be. However, if you add mobility to your furniture, then that makes it more functional than ever. With moving furniture like traditional mobile dining mentioned in the article, moving your furniture would become extremely easy for you. Apart from that, they would also allow you to easily change the configuration of your house depending upon your mood or the season.
Traditional Mobile Dining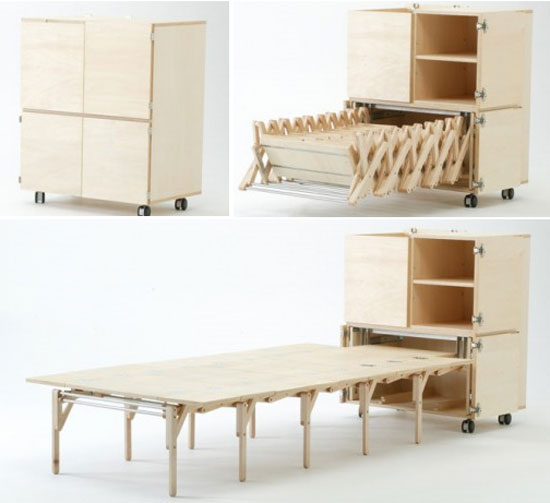 Keeping to the Japanese tradition, Nobuhiro Teshima designed a low-height, highly portable dining table that allows floor dining. This exclusive piece of furniture called "Mobile Dining" is ideal for cramped apartments. It is inside a specialized wooden cupboard along with number of shelves offering perfect space for keeping cutlery sets and wine bottles. On unfolding the table from the cabinet, it stretches out to accommodate eight people at a time. The absence of chairs is for the Japanese style of eating allowing you to dine comfortably while sitting on the floor. The height of the table is adjustable and you can also use it as a game table. The wooden cupboard stands on the wheels that allow its easy movement from one place to other. Incredibly transportable and space saving, this portable dining table provides you with stylish dining space merged with tradition.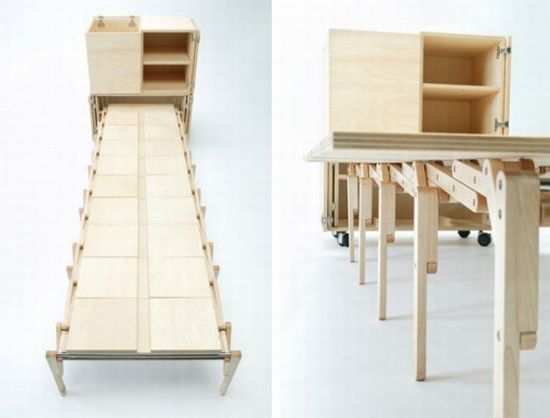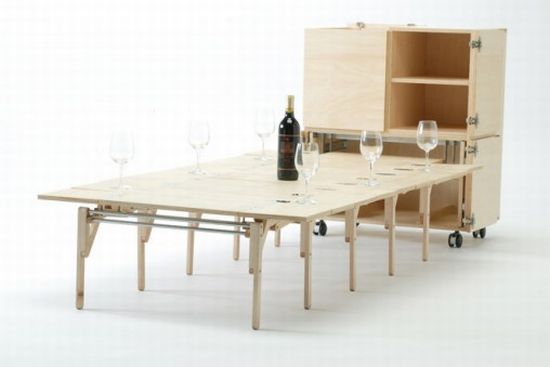 Via: Trendsnow
Innovative dining furniture like Mobile Dining
1. Water faucet and washbasin right into the dining table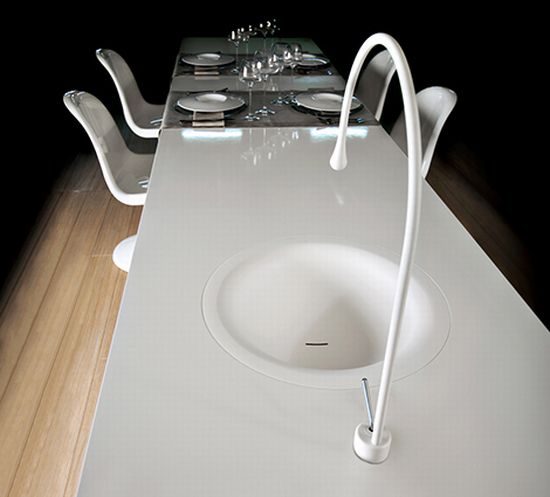 Usually people have to visit either the washroom or the kitchen for hand wash before joining the dining table. Created for Gessi, the "Goccia Kitchen Faucet" by designer Prospero Result is an innovative bath/kitchen fixture that redefines the traditional uses our spaces by incorporating a faucet and a washbasin right into the dining table. Now, you can wash your hands before/after your meals without leaving the dining table. Presenting a fluid, liquid-inspired form that is both beautiful as well as practical, the dining table with faucet becomes just right for open-concept homes and small spaces. Featuring a slim, sleek design, the Goccia faucet allows 50-per-cent water conservation in comparison to other kitchen/bath faucets. To quote Gessi,
2. Monolith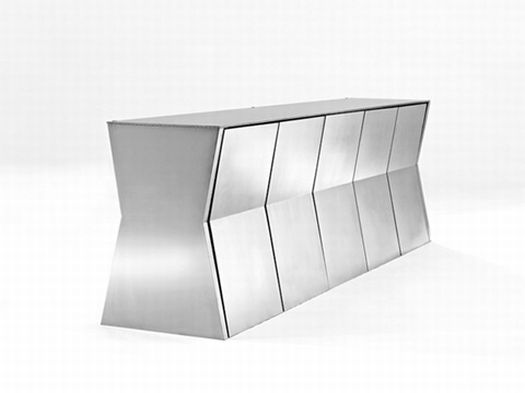 Introducing the elegance and style of the fashion world to domestic products, fashion designer turned product designer Gioia Meller Marcovicz has come up with a multifunctional piece of furniture to enhance the looks of modern apartments. Dubbed the 'Monolith,' this glossy furniture is a long and slim steel sculpture that transforms into a dining table, which is good enough for a big family of 10 people. The dining table comes along with 10 folding chairs and compresses into a compact 18″ x 29″ x 98″ size, giving more space to your living room. Boasting of a 35″ x 98″ mirror-polished tabletop, the masterwork of steel will be an ideal pick for homes with relatively bigger living spaces until its compact version comes into being.
3. Classy dining furniture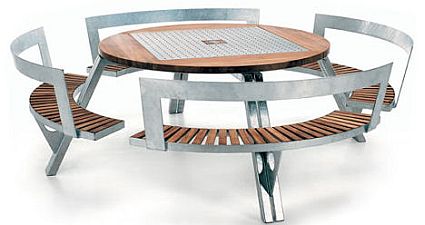 You just can't keep buying chairs that are tailor made for each and every family member's requirements. It's a sheer waste to be spending on furniture that you are any way going to throw out once the needs are out grown.
So, when you find flexible furniture that is not only adaptable to your needs but also multi functional and chic, you can't help but thank the designers whose mantra is 'why waste time looking for a perfect design when we can create our own'.
Check out this swanky dining furniture from Extremis that promises to be as flexible and as adaptable as you want it to be. The dining benches consist of materials that are just apt with the current trends- hardwood and stainless steel – a perfect combination that goes with any decor.
What's great about this design is that the bench is adaptable and accommodates your kids, guests and family members of any age and size.
Furthermore, you can adjust the benches in four levels, the lowest being for the adults. You up-it one level and this is perfect for small adults or bigger kids, one more level up and your little ones are sitting and interacting on your level. And now, the best part- take it to the highest level and you can party now as this transforms into a huge table as the benches move close to the table when you move it to the higher levels.
4. Unified Dining Table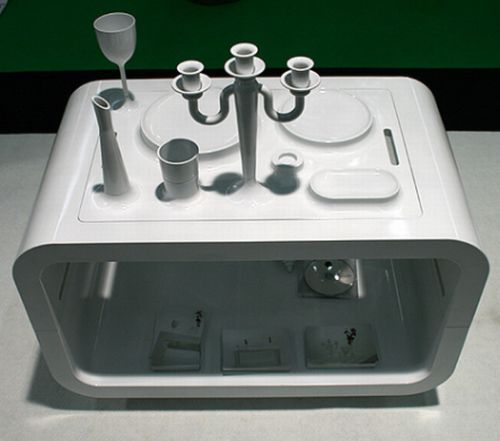 Already wasted a lot of time in preparing the food and don't have much time on hand to set the dining table for a candle-light dinner? Check out the instant dining table by Min Hoo Park that the users can arrange, for a candle-lit dinner, within seconds and that too with minimum fuss. Dubbed the 'Unified Dining Table,' the portable dining table features a detachable tray that comes built-in with all the important objects, including plates, glasses, side dishes, a candelabra and a vase, necessary for a candle-light dinner. When you are done with the dinner, just turn the tray over, for a flat surface, and use it as a regular coffee or dining table. Really cool!
5. Dining Table Set becomes storage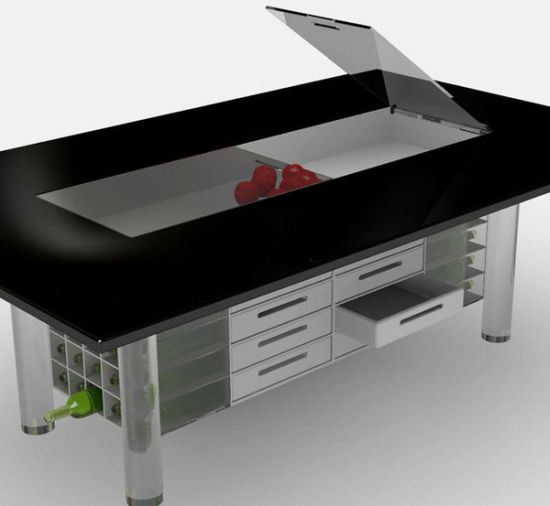 Life-sized dining tables consuming a large portion of compact living spaces usually turn into a bane in contemporary city apartments. However, the "EGO" from Baita Design is a dining table set with a difference that makes the most of idle space underneath. Furthermore, the middle section of the table rises to store your plates, cutlery, napkins, fruits, flowers or whatever you want. The lower section of the table comprises a closet with drawers to keep what you want, while a number of shelves store wines and other beverages alongside. Finished in Corian, wood and transparent acrylic, the dining table accompanies some simple lines chairs to complete the set, which brings lightness to the entire unit.
6. Offside Wengè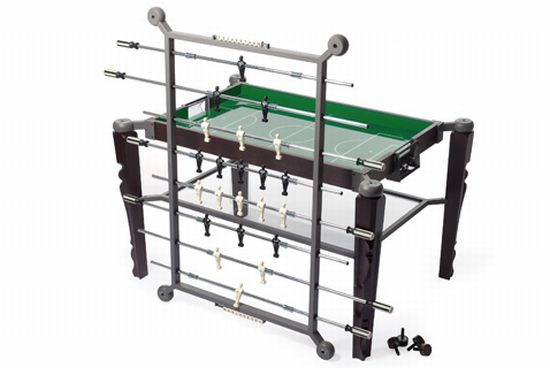 Designed by Borek Sipek, the Offside Wengè is a convertible football table that other than entertaining your guests doubles as a dining/coffee table to dine with family and friends. When you don't use it as a foosball table, you can replace the playing surface and bars of the table with a wooden board. However, if you don't wanna opt for a glass tabletop, you can use it as a normal table. Moreover, you can also place the playing surface and bars on the wall as a painting or sculpture to decorate your living space.
Identical to chess pieces, the table uses black and ivory players and knobs, while the lower level of support in glass, with metal frame, makes the table perfectly stable during your intense gaming sessions. Made in wood, metal and glass, the multipurpose table measures 146 x 101 x 93cm (LWH) in dimensions. Furthermore, the Offside Wengè not only features a slender, elegant design but also the performance and size of professional foosball tables.