For those who don't like bikes and cars and want their ride to be something innovative, they should give a shot to trikes. A primitive version of the bicycle, it is particularly for those who are afraid that they might lose their balance. However, if you think you would miss on functionality and design, just because it is a predecessor to bicycles, then you need not worry. Trikes have always had an alternative market and they have improved significantly over tricycles (which children can still use). Velorian and other trike designs mentioned in the article show the same.
Velorian recumbent trike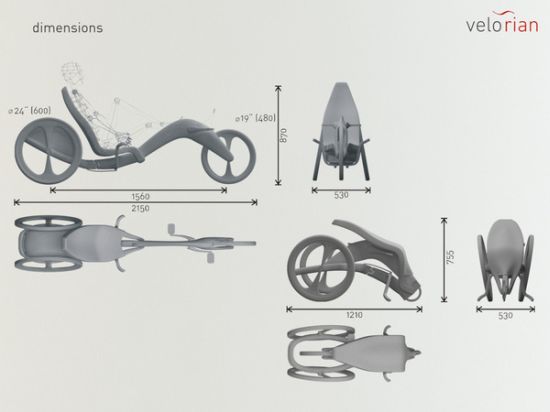 Created by Lithuanian designer Mantas Palaima, the "Velorian" is a recumbent trike for urban environment. Just like foldable bikes, it folds for easy storage and transportation. Featuring split handlebar and track rods to present easy controls even for beginners, the folding trike allows front-wheel driving and back wheels steering to make it highly maneuverable. Made in carbon fiber and aluminum, the trike runs on the wheels (rear) with 10 degrees of camber to increase stability in the corners, while the seat is designed to damp the shock impulse. The recumbent trike is as compact as it folds down to 1210 x 530 x 755mm from a standard trike. All the user need to do is unlock pivot, bend fork between two rear wheels and fold-out seat on the top of front frame to lock it up. In addition, the Velorian includes a bag for easy transportation.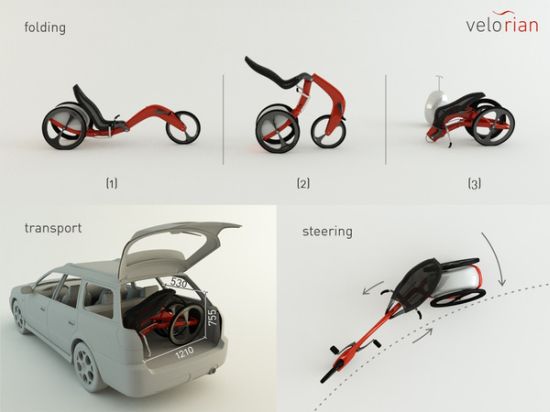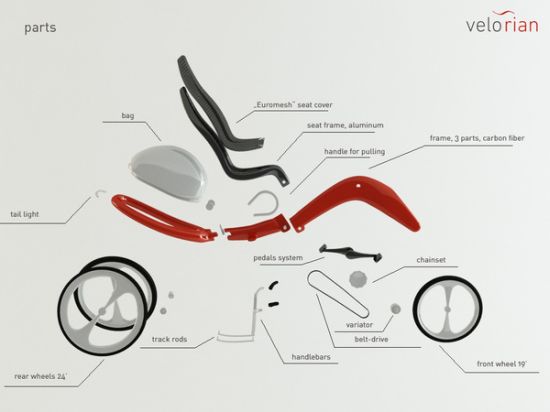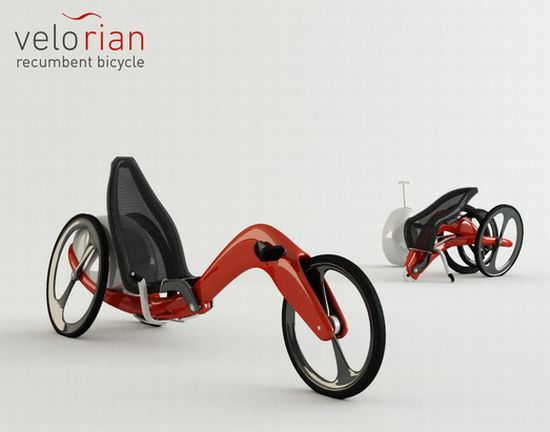 [Cheers Mantas]
Some more trike ideas like The Velorian
1. The Rhino Trike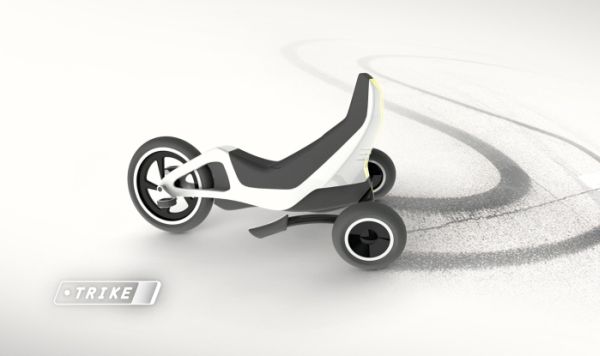 Kids love to ride on a tricycle, which is practically their first ride on wheels. Endowing this ride with a little bit of panache is designer Michael Young, with a Trike named Rhino. The fun-filled ride has been heavily inspired form motorcycle racing movies, which manage to send an adrenaline rush at first glance.
The Rhino is a pedal-powered Trike and ranks high on the safety level. In addition, it can be maneuvered like a skateboard by the rider for an enthralling experience. Furthermore, a user can also control it aptly at all speeds, which is a result of axle pivots fitted at the rear. The handles have been embedded near the seat for easy riding and better handling.
This is the exact reason why the handle placement wins over the conventional handlebar by offering better control at pumped-up speeds. However, the traditional ones may result in roll-overs and spin-outs that could result in injuries. Moreover, the basic frame has been crafted from low-cost plastics and comes fitted with a soft seat.
Fine looks are a result of aluminum detailing and chunky rubber tires. The Rhino Trike has been specially designed for children falling in the age group from 8 to 12. The amusing ride can be savored by anyone, irrespective of the age they come tagged with. Zoom on the roads on this fine-looking Trike and make heads turn.
2. Trike Roadster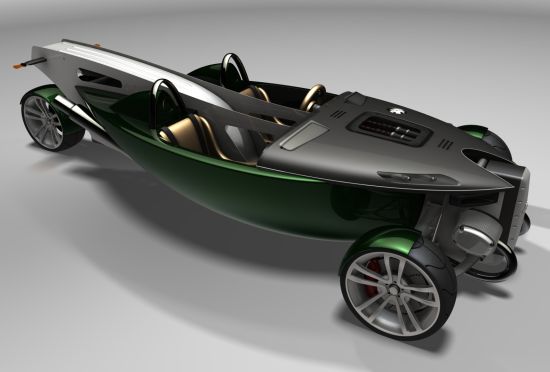 Conceived by British designer Ian Nisbett, the "Trike" is a lightweight, low cost roadster concept, which combines simple construction with extreme styling and a dynamic driving experience. Influenced by the classic Morgan three-wheelers from the 1920s, the Trike concept utilizes a tubular and aluminum backbone chassis with bonded composite passenger pods. Locating the powertrain, derived from the BMW motorbike boxer engine and sequential gearbox, at the front of the backbone to creates a strong down road graphic (DRG) without the need for extra body panels, the roadster features a simple race inspired interior and seats that are bolted directly to the chassis.
Holding the luggage within the backbone between the passenger pods, the Trike also features adjustable suspension to customize the driving experience. Creating a stripped-out, extreme aesthetics without resorting to crude, engineered look, the Trike concept maintains a premium automotive style. The roadster could be updated, thanks to the backbone chassis, by changing the design of the side pods and the front cowl while keeping the same chassis. It allows the user to explore how a low volume extreme roadster could be evolved or updated without having to change or modify the main chassis.
3. Batmobile inspired Citroen Root trike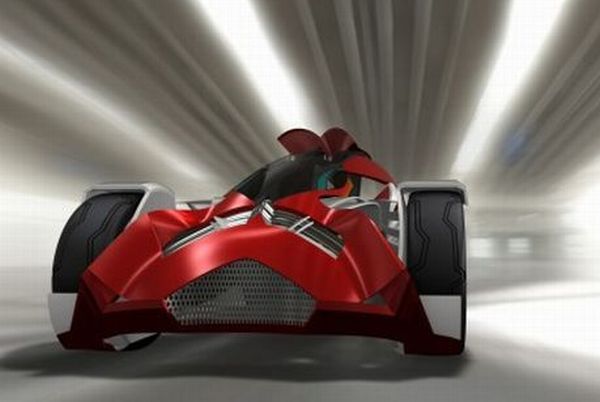 Why would anyone want to ride a motorbike like they were sitting in a car? We are not sure but designer Dooyeul Lee seems to be convinced that there really are a lot of people out there who would like nothing better than riding a bike without having to sit astride. At least that's what his design for this roadster project seems to suggest. Borrowing heavily from the numerous Batmobiles that we have seen, the Citroen Root comes fitted with an electric engine so you don't feel too bad about having imposed this monstrosity on the world.
The trike with an identity crisis claims to be lightweight and dynamic with its biggest advantage over regular bike silhouettes being that it would provide optimum protection for the rider in the event of a crash. So basically, if you ride this you'd run no risk of an injury or being known as a thrill-seeker either. What's even better is that the trike can be ridden both in the traditional horseback style or you can slide the seat backward over magnetic tracks and drive the trike from a more car-like seat.
With no other known specs, we're not really sure what to think about this design. We mean it looks like a trike but does it do much else? We're not sure if it breaks any land speed records that would make it worth all that extra protection but if you like your bike to looks a doodle someone drew in a boring political theory class this is definitely the trike for you!
4. Vario concept trike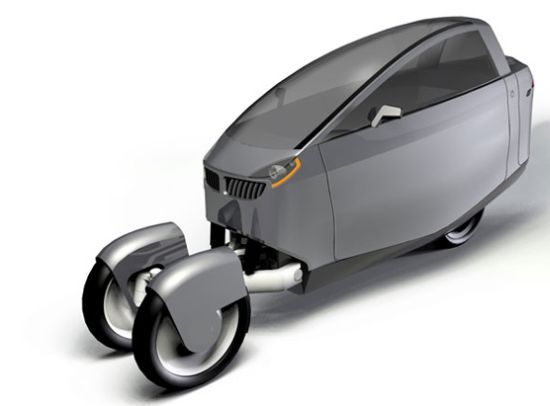 Making commuting sling and affordable for two persons, Vario concept takes the definition of the vehicle to a new dimension. Vario combines a Trike with the design of two-seater car, challenging the design based on the identity of the BMW. The three-wheelers Vario, features two wheels in the front, and one in the back. The two front wheels manage the speed of the vehicle. When Vario goes fast, the two wheels come together, turning the handles like a motorcycle. They move apart when running slowly or standing still owing to variable gauge of the front wheels. In short, it's a small package of fresh and modern vehicle for urban roads touting their ergonomics and aesthetics.
5. An inside & outside green trike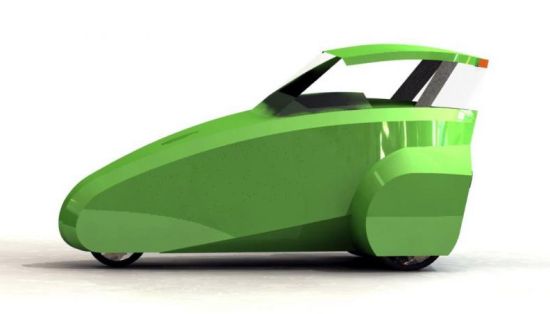 Bricycles is an interesting name and an even more interesting site (albeit an unfinished one). The creator is working for the development of an eco-friendly transport solution and wants to build a single-occupant vehicle which drives on electricity. His concept vehicle is a trike which is green whichever way you look at it. The monocoque recumbent trike is enclosed in fiberglass and runs on electric power. The prototype is under construction and when (and if) finished the vehicle will have: "an independent suspension system, disc brakes on all wheels, 21 speeds and have a front-mounted 48-volt hub motor." With front and rear fender almost done, the prototype is making great progress.