Dire times call for dire measures. This applies to nothing better than to rescue gadgets. No matter whether it is beach, hospital or a metro station if we don't have the necessary equipment to deal with emergencies, we are lacking something. To fulfill this very necessity, designers from all across the world are coming up with rescue gadgets especially attuned to the situation. Check out Vite collapsible snow stretcher and other such gadgets that show how proficient we have become in calmly dealing with any emergency.
Vite Collapsible Snow Stretcher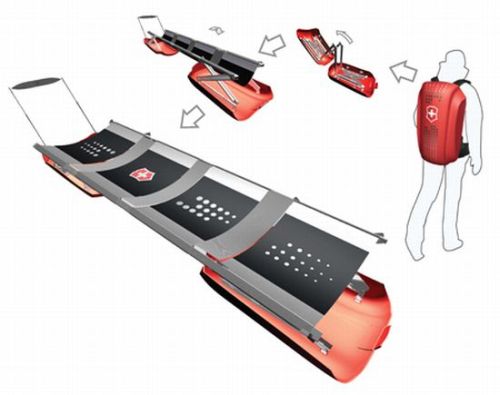 Adventure sports like skiing and hiking may provide opportunities to let loose your electrifying emotions, if you are one of those audacious souls, but at the same time these sports also calls for some of the most trying situations. A bunch of designers, including Soyun Kim, Jason Lin, Agustin Zea, has popped up with collapsible snow stretcher that enhancing the safety measures will allow an immediate rescue, in case of an accident or injury.
Dubbed "Vite," the stretcher comes in the form of a backpack that the skiers can carry with minimum fuss. Featuring easy functions, like a push button, ball hinge, automatic lock system and expendable handle, the Vite is not just an easy stretcher for professional rescuers but also for common users who may effortlessly unfold it and drag the victim out of the emergency situation.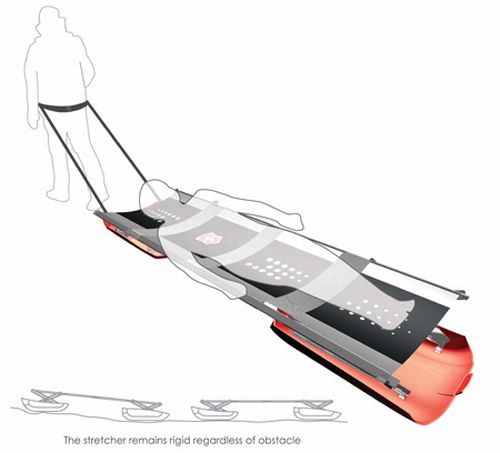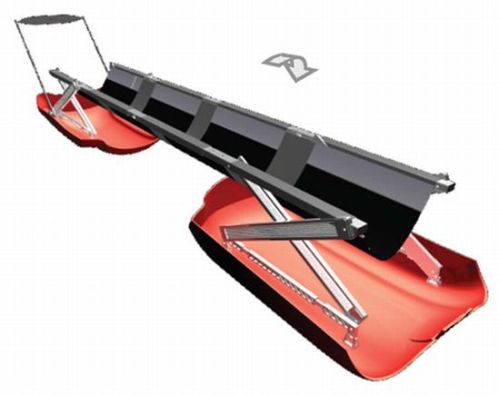 Via: Tuvie
Some more rescue gadgets like snow stretcher
1. Portable Stretcher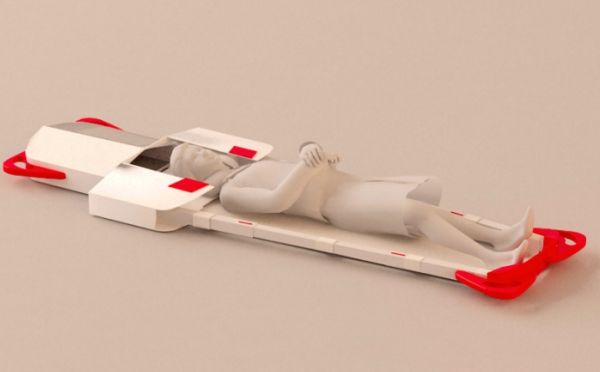 Medical equipments, like a first aid kit and stretcher, are of utmost importance in case of a medical emergency. Moreover, it generally requires two people for carrying these equipments. As designer Geim Bernard Eran seeks to combine both for an easier approach, he has come up with the Portable Stretcher for solving multiple purposes.
Just like Vite collapsible snow stretcher, the stretcher has been shaped like a backpack and can be easily carried on the shoulders. Such a design requires less time and manpower as well. Its easy installation won't consume much time. The lower part of the Portable Stretcher is pulled out in case of an accident. It consists of pipes that have markings, in the form of locks, on them. One has to pull it until the locks appear. When the locks are fully visible, secure the device and extend the lower panel. Headrest will appear when the lower panel is fully pulled out. It is uncomplicated and does not require cumbersome steps.
The Portable Stretcher with an easy usability quotient is worth an applause. It will make the operator more independent by subtracting the need of more people.
2. Rescue Transportation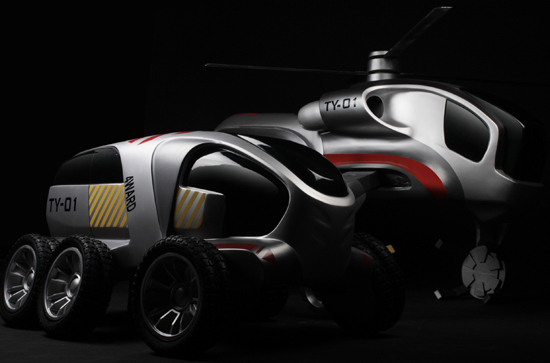 Developed as a part of the "Fun Taiwan, New Design" exhibition during DMY International Design Week Berlin 2010, the "Rescue Transportation" as its name depicts is a disaster management project to aid quick evacuation and relief in emergencies. Designed by young Taiwanese designers, including Meng-Chang Lin, Yu-Min Cho, Yan-Rui Huang and Yi-Xin Huang, the new transportation project comprises a helicopter and a truck that can either be used separately or combined together for quick supply of basic stuff and transport of injured victims to and from the disaster-ridden locals. Running on turbine power, the helicopter converts surplus energy into electricity to power the truck; while on the other hand, the truck features an independent suspension to overcome the hard terrain of the affected areas.
3. Dyrio: Rescue device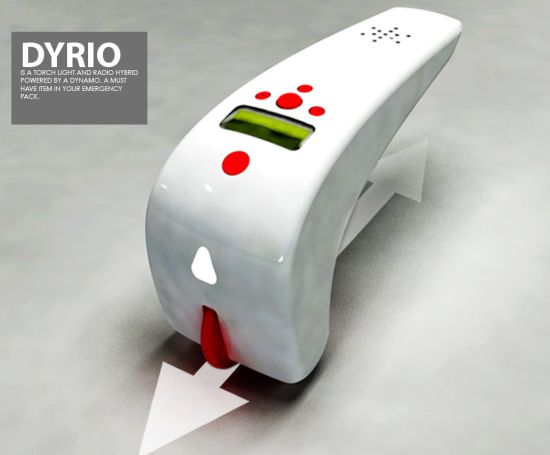 In case of an emergency on a far off voyage or trekking an isolated destination, a torch and a radio are possibly the most essential items that you would wish to have in your backpack. The torchlight will illuminate your path during night hours. On the other hand, the radio will help you in receiving instructions from the nearby rescue station. Combining a radio and torchlight together, designer Kevin Ho has come up with an innovative device. It promises to rescue the victims from the most trying situations.
Hailed as the 'Dyrio,' the dynamo powered radio torchlight is made from recyclable polypropylene. Furthermore, it runs on natural power. The radio torchlight also features a wheel, and users are required to roll the wheel along the floor to charge the device. Therefore, the Dyrio is not just a multifunctional device for emergencies. However, it it also helps users go green, as it is powered by sustainable energy.
4. Beach rescue system by Teseo e Arianna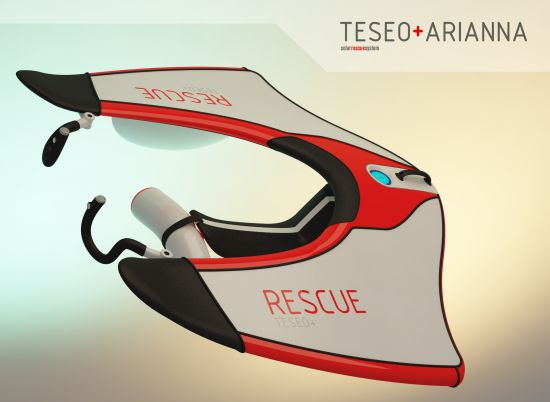 Devised by Italian designer Davide Anzalone, the "Teseo e Arianna" is a system of products for the beach rescue services. It makes rescuing easy, safe and quick, while maintaining environmentally friendly measures. Powered by solar energy, the Teseo+Arianna comprises a Tower (Arianna) that includes solar panels and radio remote control, together with a vehicle (Teseo) that generates power from a water jet engine. Featuring driverless assistance, induction electric power, CO2 cartridge and an easy plug in-off battery. Furthermore, the rescue system also boasts a refreshing design to accomplish prompt and secure rescue operations. In addition, the beach-guard solar rescue system just improves the first life support on board thanks to its intelligent automatic driving system.
5. Mantra: Automated system for rescue on the beach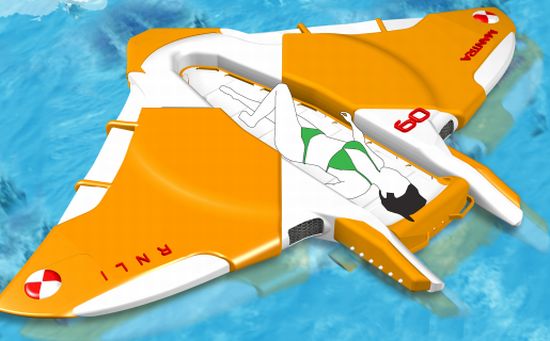 Increasing beach casualties during the peak season has been an alarming issue for lifeguards across the world. Providing a solution, British designer Adam Scott in collaboration with BSA (British Surfing Association) has designed an automated life saving system for beach lifeguards. It promises better surveillance and minimizes causalities in coastal areas. Dubbed "Mantra," the beach rescue system lies on the seabed during peak season, just off the coast. It uses small hairs on its surface to collect and store sustainable energy from tides and waves, known as "Super Cillia Skin."
It detects distress and drowning, using electro sensors and sonar, to monitor or sense the heartbeats and movements of the victim. When a casualty is detected, it swims up to 15mph, thanks to the SMAs in the wings. After detecting, it picks up the victim carefully onto a built-in stretcher to be carried on top of the water with the help of hydrofoils and impellers. The Mantra is always in constant communication with lifeguards. It meets them at a specific beach location to move the victim to the hospital through ambulances.
After the stretchers are replaced, the Mantra can take its position at sea once again. The whole process of monitoring and rescuing just take about two minutes. It is finished with polypropylene, carbon fiber, stainless steel, dyneema plastic, shock absorbing foam and PVC. Furthermore, the Mantra is not just lightweight and durable, but also allows low energy travel.
6. Emergency alert device to rescue hearing-impaired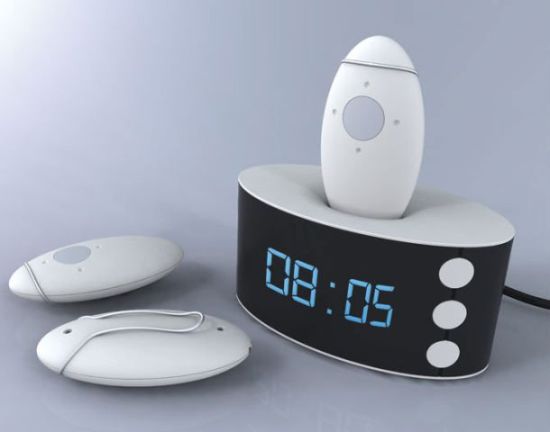 People with limited or zero hearing ability often fail to sense urgent situations and becomes more vulnerable during emergencies. Providing a solution, British designer Sergej Kuckir has come up with a simple yet innovative device. This device alerts the hearing-impaired during crunch situations such natural disasters. Looking like a radio receiver, the emergency alert device uses heavy vibrations and light signals to aware the users in serious situations. The light signals are more reliable and quicker than visual or aural gestures. Inspired by an egg, the device features a sleek and trendy design. The disaster alert device also features a charging cradle. It doubles as an alarm clock or timer while holding battery backup in emergencies.