Having an attractive interior to your home does not always require the help of a professional. However, when dealing with small spaces, such as a small apartment, styling can be a challenge. Small spaces can make a room look cluttered even without much furniture, and the wrong color choices can even make the space feel cramped.
If you're living in a small space, you don't have to feel cluttered in your own home or assume there is no cute way to decorate your area. Instead, use one of these five interior design tips for small apartments to help you maximize space and create comfortable, beautiful home.
Stick with lighter colors.
Darker colors will make a room look small, so it's very important that you use a lighter color scheme to enhance the size of your apartment. Stick with neutral or light colored walls to make them appear bigger. You should also use light colored furniture throughout your home too. Consider whites, grays, or neutral colors for items like couches, chairs, rugs, curtains and any other larger item you may have in your home.
Put curtains to the ceiling.
You can greatly make your apartment seem bigger by adding curtains all the way to the ceiling instead of at the top of the window. Curtains draw the eye up, and if your curtains go to the ceiling, it will make your apartment look much larger than it really is. Be sure to buy curtains that will reach from the floor to the ceiling in your apartment, and try to opt for those that are lighter in color. This will make your apartment seem taller, which will make it feel less cramped.
Opt for hardwood when possible.
Hardwood floors can make your apartment seem bigger. Even darker colors such as beautiful Brazilian cherry flooring can make a small apartment seem larger by running the hardwood vertically. This will trick the eye into thinking that the apartment is much longer than it really is, especially down hallways. If you are installing the hardwood, be sure to install it vertically instead of horizontally for a maximum spacious effect.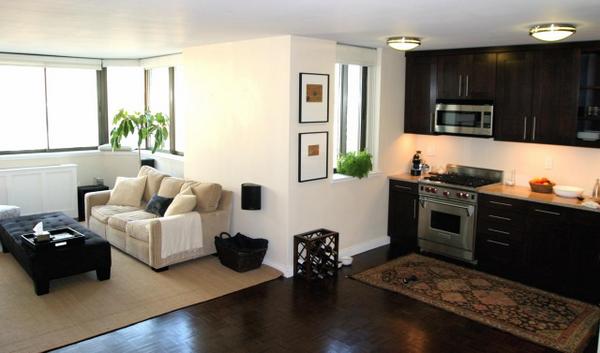 Choose clear when possible.
When decorating your home, be sure to choose clear items when possible. For example, having a glass kitchen table and glass end tables will make your apartment look larger because you can see through them. You can also choose clear décor, such as clear vases and light fixtures or even mirrored picture frames too. If you are adding shelves, a clear plexiglass shelf can make your home look much bigger too than some dark, boxy shelving unit.
Use shelves.
Shelving units can be a lifesaver for small apartments because they provide both décor and storage. Instead of cluttering closets or cabinets, or instead of using large, boxy furniture, open shelving units provide a cute, attractive, and space-maximizing way to store your items. You can place your shelves in an organized fashion, or you can zig zag them throughout your walls. Just remember to keep the shelving units void of clutter, and you will see a great space improvement throughout your home.