There's non-stop talk about eco-friendly transportation. We have more problems than resolutions. However, there's one point on which all might agree. Bikes can prove a viable solution to the problem. So,  let's check out some of the best eco-friendly bikes out there.
Ciclotte: Carbon fiber big-wheel exercise bike
An exercise bike may appear an odd pick to exhibit at the Milan Design Week, but the "Ciclotte" by designer Luca Schieppati is an exceptional exercise bike that definitely deserves your attention. Finished entirely with carbon fiber, the Ciclotte, apart from its sleek and sexy design, flaunts everything you ever required from an exercise bike. Launched as a "prototipo non definitive," the futuristic bike features a big wheel with two horns replacing the handlebar, supporting the rider while sweating it out on the bike. Presenting a compact size, the carbon fiber bike looks perfect for a small home or office gymnasium. And it's too bad an option for regular physical centers either.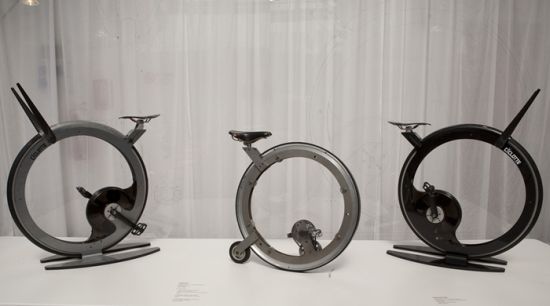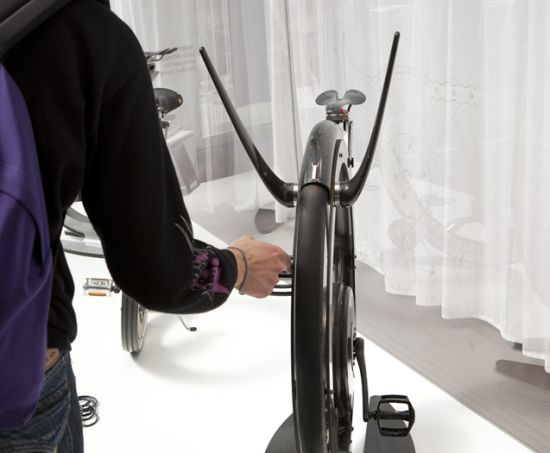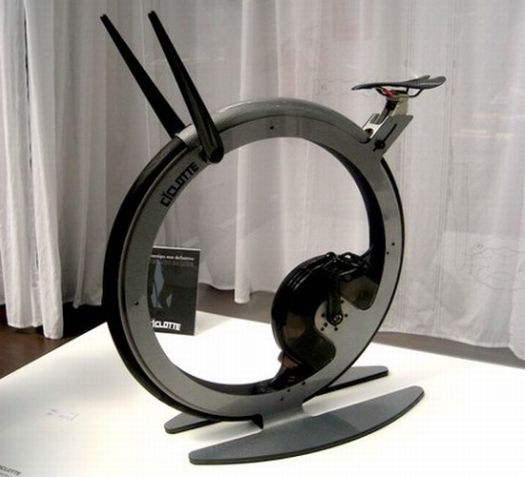 Via: Engadget/ Minimalismi
Sustainable Bike Concepts That Aim at Reducing Your Carbon Footprint
You may have heard of sustainable designs coming up for cars and airplanes. However, you would be delighted to know that even bike designers have started thinking of going greener with their sustainable bike concepts. Here are some amazing sustainable bike concepts that can be eco-friendly and highly beneficial in reducing your carbon footprint if they come into existence. Check them out.
1. Ele solar bicycle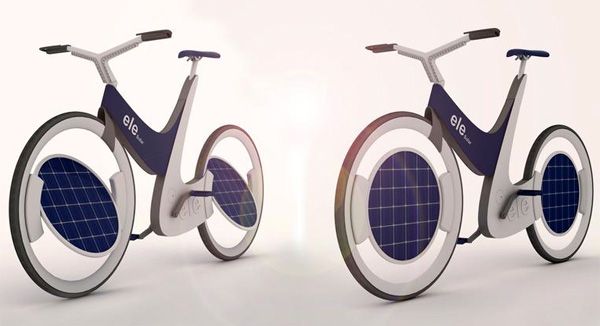 With solar panels in its wheels, Ele has not failed to impress many people with its sustainability concept. This sustainable bike concept works on the energy of sun instead of electrical energy use to run a bike. While this hybrid bike can also be charged by electricity, it is preferably charged by the sunlight. This solar bicycle absorbs sunlight and the solar energy is then used to rotate its wheels. Designed by Mojtaba Raeisi, this sustainable bike concept looks quite different and stylish.
2. Sunny Day bike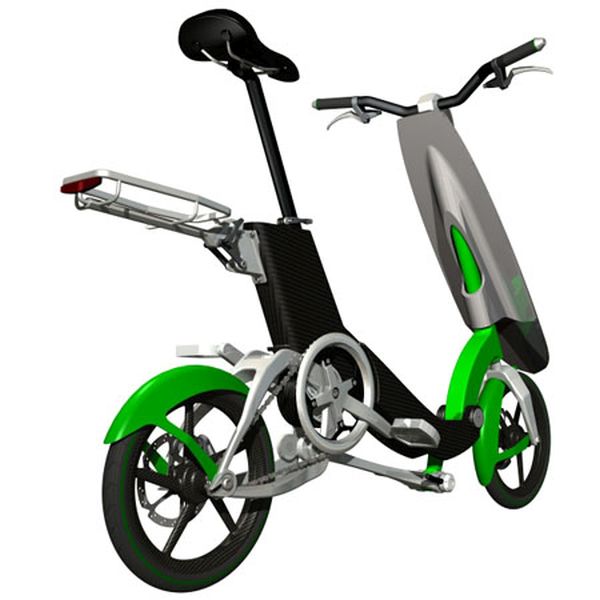 This is another sustainable bike concept that works on the use of solar panels to capture the sun's energy for powering a bike. Larry Chen has designed this bike and has integrated solar panels very well into the design. While your bike rests in the sunshine, it charges its battery that can also be charged using a plug. While it is a sustainable concept, this bike can also run on electric power. It has been designed colorfully and ergonomically for a few minutes' daily ride.
3. Win-Solar Energy Bike
This sustainable bike concept has come from designer Chen Chun Tung. The intelligent bike knows when to put its rider on electric mode and when not to do that. The bike has the ability to convert various natural forms of energies into electric power and then storing that energy in its rechargeable battery. It is a very useful concept if turned into reality.
4. Solar Bike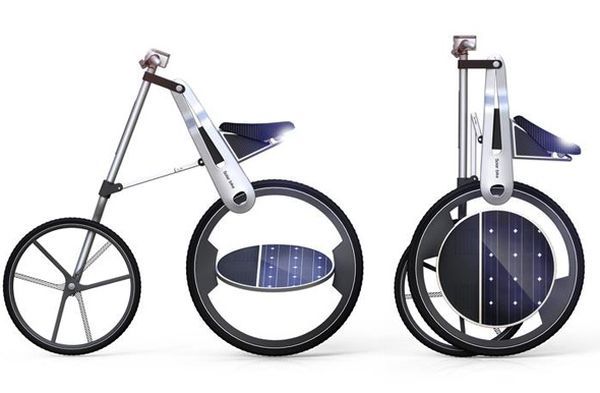 Solar Bike is another example of a bike concept that works on green energy technology. Juyoung Na has designed this compact bike with solar panels installed in its rear wheel. You may prefer to pedal or use its electric mode, but the bike will keep charging itself by using the available sunlight.
5. Dutch Solar Cycle Electric Bike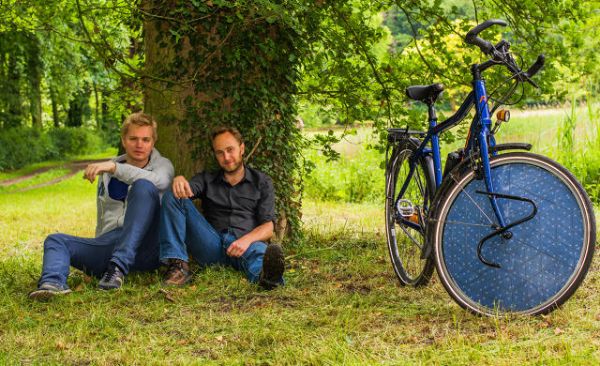 Developed by Solar Application Lab, this sustainable bike concept is another wonderful addition to solar bikes. This green bike runs on a battery charged by sunlight. To capture sunlight, there are solar panels installed in both its wheels. This lightweight electric bike looks cool and is easy to handle.
6. I GO: Swift and sustainable city bike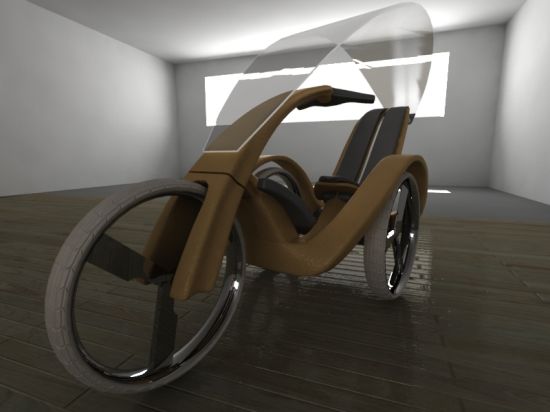 Power and luxury vehicles may have overpowered the conventional modes of transportation in this fast moving era, but a bike making its way through cramped city roads still is an important vehicle of the masses. For bikes, other than offering an easy way of transportation in crowded urban environments, also keep the riders fit and helps in sustaining the environment with zero carbon footprints. Responding to the environmental, fitness and transportation needs of the city commuters, Polish designer Piotr Górski is out there with a trendy bicycle hailed as the "I GO" that allows easy movement and parking in crowded cities with ability to move briskly in longer rides.
Generating power from electric battery, charged by propelling the paddles, courtesy of its built-in mechanical system of charging, the sustainable bike featuring swivels system and small electrical engines transforms its structure to give a better view to the riders. The bike also includes a windshield to protect the rider from strong winds, while the flexible seat and handle bar of the bike adjusts to accommodate riders of different age and height.
7. VIA commuter bicycle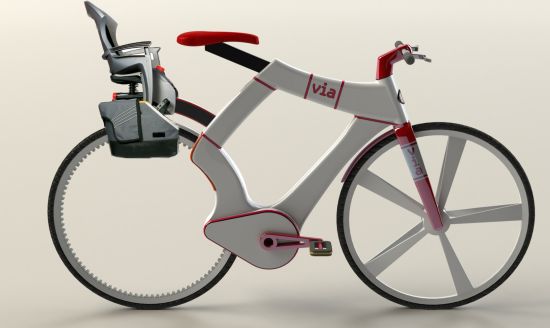 Offering a safe and sustainable ride in urban environments, British designer James Bourne has come up with a bicycle concept that features a big frame and front wheel made primarily from reinforced recyclable polypropylene. Hailed as the "VIA," the urban commuter bicycle gets strength from a strong inner space-frame-like structure, while an outer shell ensures a quality finish to the frame. Employing aluminum to strengthen the thinner components, such as back wheel, seat-post and handle bars, the bike uses plastic to eliminate the rusting of mechanism.

Powering the front, rear and pedal lights with a dynamo built in to the rear wheel, the bicycle also includes a sensor (above the rear light) to turn the light on mechanically. Sliding the seat post along with the frame, which brings the saddle closer to the ground and the handlebars, to accommodate different riders with ease, the commuter bike automatically changes gears to ensure a comfortable ride. Concealing the front hydraulic brake cables within the frame and fork and the rear brake inside the rollers, the VIA bike also presents a number of accessories, including luggage holders, baby seats and trailer attachments, to enhance your riding experience.
8. Versabikes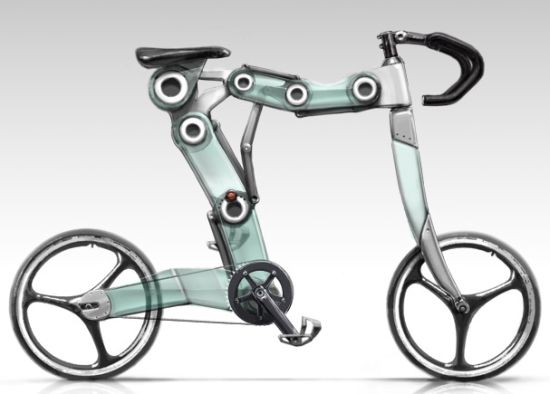 Conventional bikes are already quite sustainable as far as their usability and utility is concerned. But, frame size might make you dispense them off as all users don't have similar heights. The problem begins when a cyclist needs to resell his/her bike, but can't find anyone because of the frame size. So how can a bike somehow adapt or grow with a user or multiple users? Nathan Durflinger addresses this difficulty with his unique bike design.


The final design is eco-friendly and adjusts to a range of different user heights. Pieces of finished plywood, polycarbonate, or machined aluminum can be used in fabricating one. The frame will accept all standard bike hardware found at most bike shops. The frame of the bike has been designed to expand out or contract in motion. The bike can come in two different sizes: One that will "grow" with a child who has started learning to ride and another for teens and adults. The kids version with an inseam between 20″-27″ fits any child and the adult version having an inseam between 27″-34″ would fit anybody.

So, the bike can be shared by a couple, a family or can be passed on to another user after the first user is done with it. In case you've made up your mind to dump this bike, the materials and parts could be recycled or reused.
Summary:
You may now find some great design concepts for sustainable bikes that run on the energy gained from natural sources like sunlight. This is another step toward reducing our carbon footprint.
Read More: