With the rise of social media and more and more people experiencing wanderlust, Caravans are more mainstream than ever. Forget about the old designs, the modern caravans are modular in design and give you more than you can dream of. They are comfortable, cozy yet technologically advance. Furthermore, they are also multifunctional and sustainable as well. Depending upon your needs, getting a caravan like Colim might solve your housing needs. You can select the type of caravan according to your requirement. In this article, you would find the best types of Caravans for the traveler, the fishing lover, the adventurer and many more, so read on.
Colim Caravan Concept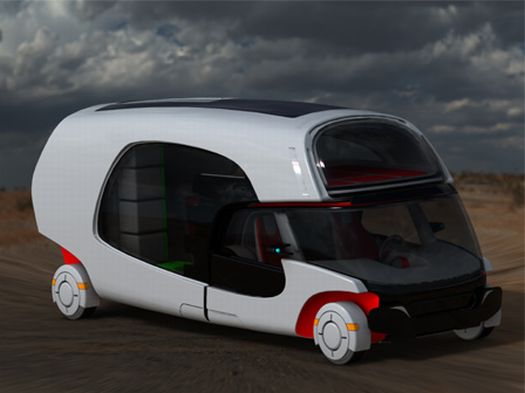 Bridging the gap between caravans and regular cars, designer Christian Susana has popped up with a multifunctional vehicle. It functions as a caravan when you use it as a whole. However, when you detach it from the home part, you can use it as a small car.
Named Colim, short for 'colors of life in motion,' the new mobility concept is designed to accommodate a small family. Featuring a geometric shape and a flexible living space, with individually applicable multi-function modules, the Colim is intelligent as well as a unique combination of a caravan camper and a car. Furthermore, it is equipped with modern amenities and auto technology. Earlier, the users had to move the whole unit around, but now they need not drag the home part all the time, they can simply detach the cockpit and enjoy a fun ride in the small vehicle.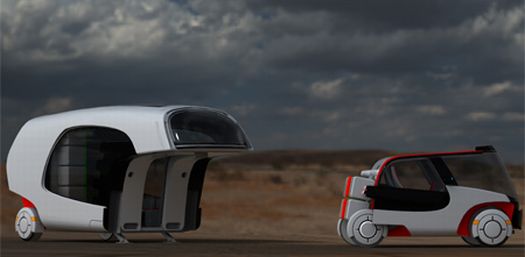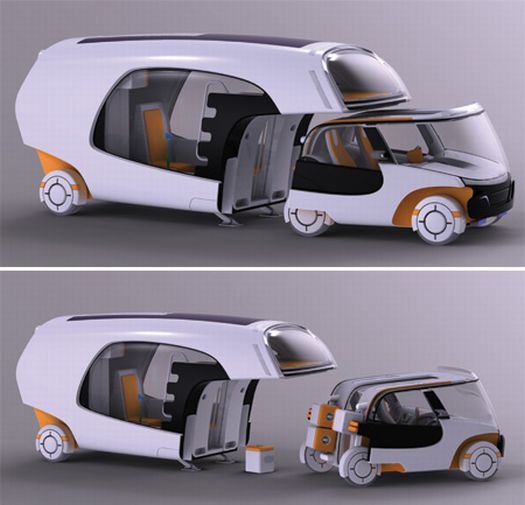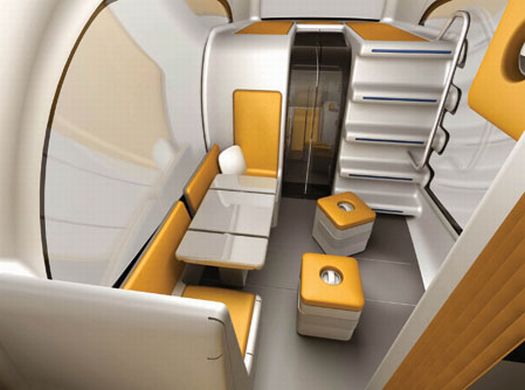 Via: Tuvie
Some more Caravan design concepts
1. Tabbert Paganini Caravans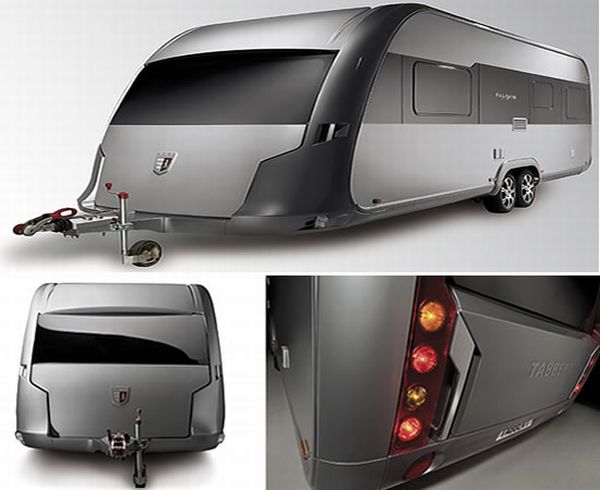 If you don't worry about money and style is all you care about then the Tabbert Paganini Caravans are perfect for you. They are made for luxury traveling on the roads. From the outer side it looks regal, elegant and impressive. The interior has been designed with lots of care and with a cautious eye on details. It will give you good value for your money and make every road trip as comfy as a stay in a luxury resort.
2. Caravan Pods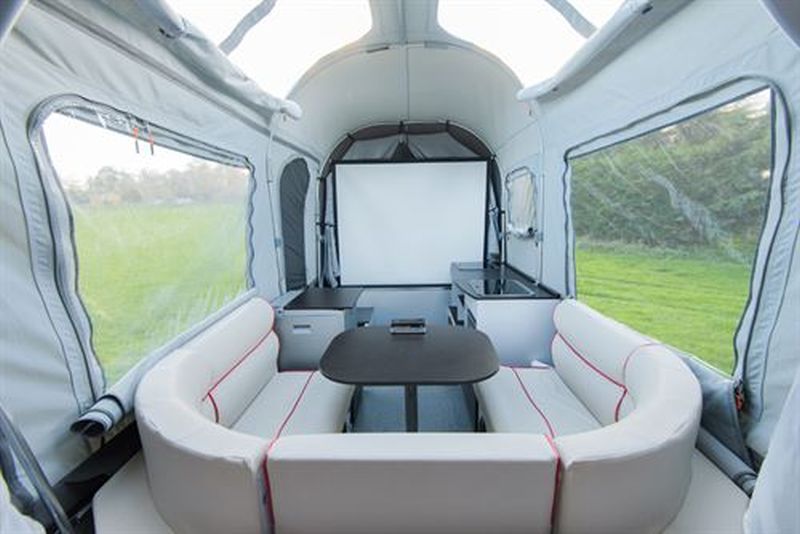 Image Source : wgp-cdn.co.uk
The mini caravans look deceptively small but can give you the comfort of a nice bedroom when brought to its full size. They can be folded to be parked at tiny parking spots and any car and tug it along in a journey. They look funny and come in different bright colors.
3. Sealander Amphibious Caravans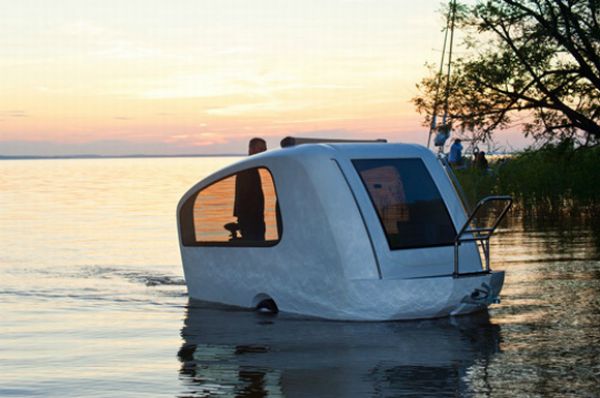 If roads are not enough for you, you can try the Sealander Amphibious Caravans that work equally well on roads and the water. Take it with you for fishing or enjoy some couple time in the middle of a lake inside your cozy caravan.
4. Opera Mobile Holiday Home
The unique design and the very comfy interiors make these Holiday Home Caravans a great choice. The adjustable beds and LED floor lighting make the interior look brilliant and organized. It also has provision for water heating, electricity and a small veranda.
5. Bob the Caravan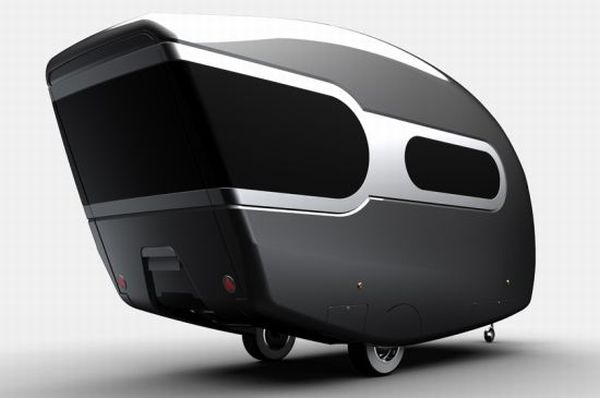 Summer vacation or living on the roads, whatever is your plan, Bob the Caravan is perfect for your small family. Nomadic life, with its adventurous and surprising elements, has always attracted human beings. The only difference is that while earlier it used to be harder and somewhat of a compulsion, now it has turned into a leisure activity. Designer Andrew Maynard, keeping the nomadic spirit up and high, has come up with his new mobile house design that will make life comfortable even when you are miles away from your home. Hailed as 'BOB,' the mobile house presents a quality living space for a small family. Its gearbox, engine, and drivetrain are neatly placed under the front seats, making the mobile house spacious.
The mobile house comes without the need of accumulating internal elements and this definitely sets it apart from standard caravans. The BOB, effectively triples the living space and offers an uncomplicated living area, fulfilling the basic needs of the dwellers.
Read More: Amazing trailers to add fun and frolic to your outdoor trips 
6. Foldable Foldoub Caravan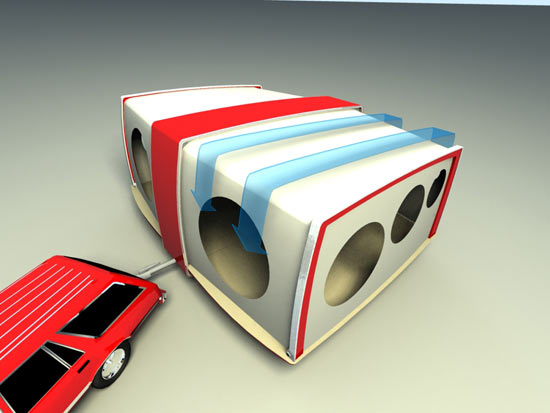 Created by Dutch designer Niels Caris, the collapsing Foldoub caravan concept is a wonderful new holiday accessory that makes traveling light a real possibility. Thanks to a collapsible frame made of lightweight, flexible materials, you get a lot more space with a lot less to tow. The frame of the camper folds down into a hard shell for transport, and all you have to do is to just drive up to a campsite and enjoy a spacious room to hang out in.
Couple this with a blow-up sofa and you'll have yourself the most luxuriant home away from home!
7. Nautic Sleeper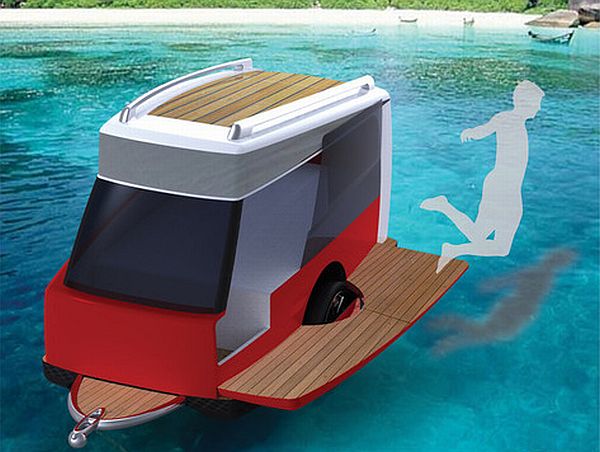 A caravan on the road is quite a sight. But how about one that will make you cover miles by gliding on the surface of water, aka water camping? Never heard of it? The Nautic Sleeper, a fresh floating model by Ruben Oya, will take you on a ride less imagined.
This structure is designed keeping in mind the needs of people who love to spend time with nature and also sports fans is quite light and compressed. With space to lodge two people, it has stow compartments that can be effortlessly approached from its exterior.
It can be easily pulled by a car and taken to a spot of your choice. The Nautic Sleeper will take you on an adventurous expedition and quieten your thumping nerves.
8. The Case Van
Perfect for the workaholics who have to travel a lot or do field work, the Case Van has a touch screen wall with internet connection for keeping in touch with friends and work friends.
Final Words
Caravans have been the objects of interest for us since childhood as they promise a different sort of life and lots of adventure. No matter whether you are going to a lake or a mountain, they are perfect for small vacation tours and ideal for people who hate to stick around the same place all their lives. There is a certain charm about living in the caravans. This is especially the case if the caravan you own fits all your needs.