In almost all cases, an apartment building is cheaper and more eco-friendly when you compare it to group of single houses. Although it does have its disadvantages too, however, not for the environment. These complexes accommodate a great number of people in a small area, thus saving other areas from encroachment. Nevertheless, in such housing complexes too, it is necessary that we combat their usual disadvantages. These could be from lack of privacy to lack of style and monotony. However, many modern concepts like Collective housing project and others mentioned in this article are breaking these boundaries. Let us check them out.
Collective housing project by Sou Fujimoto Architects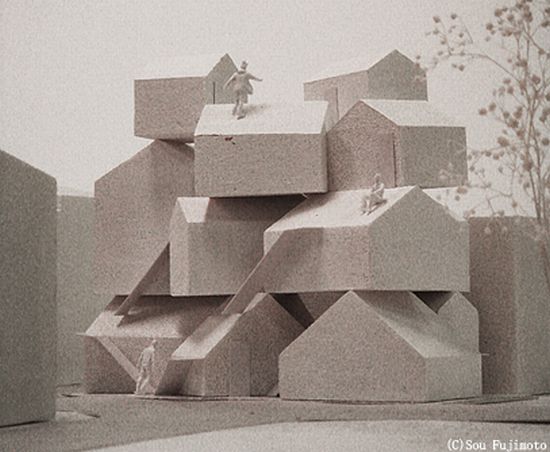 At first glance, this project for apartment design in Tokyo looks to be a set of boxes arranged unorderly. However, when you look closely, you realize the truth. In fact, they have been designed this way to serve some special purpose. It's very much like climbing up and down a mountain. Designed by Sou Fujimoto Architects, the collective housing project comprises five dwelling units, including the owner's unit.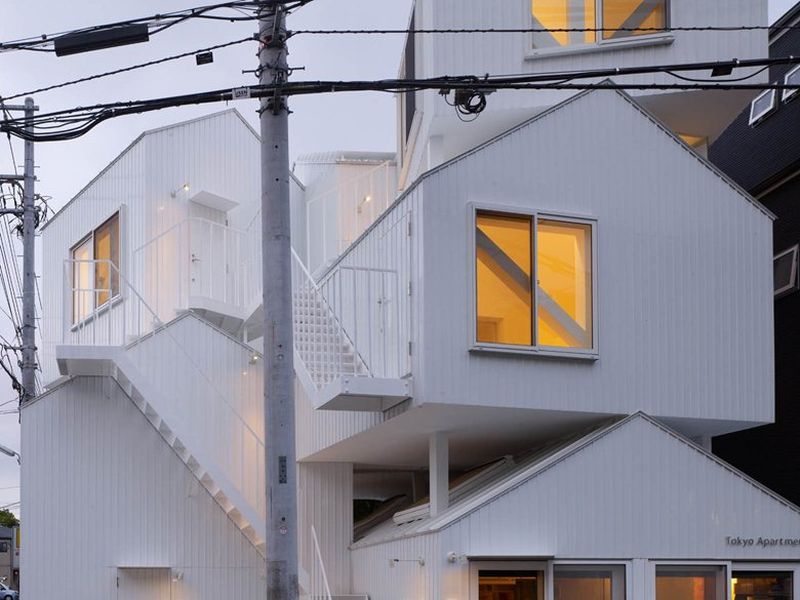 Image Source : cdn.archilovers.com
Every dwelling unit comes with either two or three independent rooms of prototypical house shapes. The rooms on the different floors are connected to each other with outside stairs. When you pass along these stairs, each dwelling unit is realized by the experience of two rooms. The architects think of this collective housing as the miniature of Tokyo. If ever made for real, such dwelling units will certainly fall in the category of offbeat homes.
Some more similar housing project ideas
1. Pre Fab petals housing units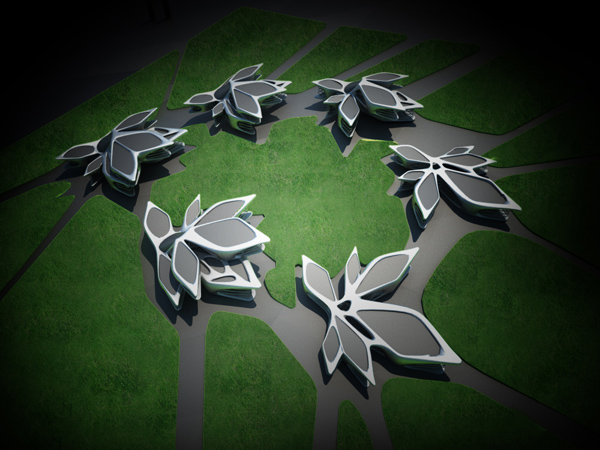 The idea of Leaf-shaped prefabricated housing structures, conceptualized by Huan Miao Khoo, looks at integrating digital designing and prefabrication technique into modern architecture. The two key processes employed in the technique are prefabrication and kit assemblage. The prefabricated units are leaf-like structures.
Utilizing timber prefabrication methods makes space for organizational and geometrical flexibility. Prefabrication technique, in addition, reduces onsite material waste. In fact, a strong percentage of the process is carried out off-site. In the usual methods of construction, it results in a landfill. Nevertheless, when you compare it with the prefab method, the onsite waste percentage reduces to as low as two percent.
For discovering a particular style for a particular environment, it also employs parametric designing. In other words, form-finding for architectural needs in a particular environment. The architectural plan of these units employs bundling parametric technique. This allows for dynamic change of geometry and typology through varied convergence and divergence.
Lingering on to innovative geometrical designs have often been a subject of vast discussion in contemporary architecture. Some call them unreal while others call them futuristic. Contemporary architecture digital design programs have developed for the same. This allows for a more modern approach to architectural practices. Moreover, it also makes it possible for each building to be precisely as it should be. It does so by feeding the data in a digital form along with scaling, rotating two and three-dimensional structures to get the final design.
2. System for housing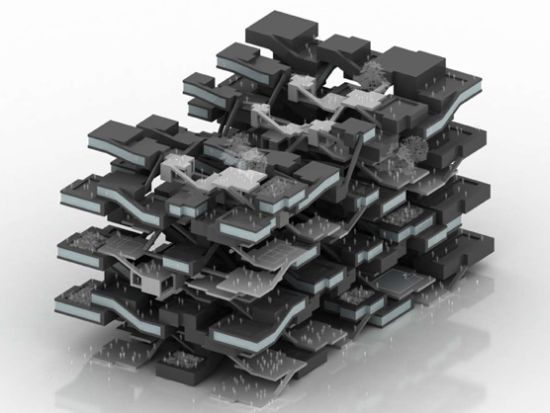 The growing desires of modern life change within no time. However, this very change results in the need for some highly flexible structures. Therefore, it would be better for us to alter our work or living space. It would help us to catch up with the fast pacing world. Addressing the issue, designer David Eskenazi has developed a multiple-use "System for housing,". To prepare for the design he began analyzing permutations to a 3D grid. This helped him meet the varied or multifaceted needs of contemporary as well as futuristic life.
The design features a webbed circulation system to support many social encounters and programmatic possibilities. Furthermore, the revolutionary system for housing also allows typological variations within the matrix to diversify public spaces. In addition, the dense and thick housing block, though, looks messy from the outskirt, montage exterior spaces one on the top of the other. You can arrange it to accommodate different occasions and events without shifting the venue.
3. Dome Homes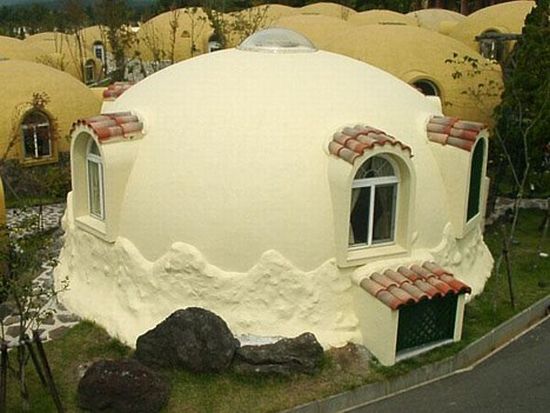 Given the frequency of violent natural calamities hitting the world of late, we guess it's not entire foolhardy for people to look towards unconventional resources as potential building materials. And that's exactly what prefab home manufacturer Japan Dome House Co., Ltd. have done. The company has created an easy-to-assemble modular home building kit. It uses Styrofoam as basic material and creates an igloo-shaped structure.
Consisting purely of polystyrene foam, the Dome House is becoming popular the "habitat for the 21st century". It is because of its numerous advantages over traditional materials like wood and metal. The rot-proof, water-proof and termite-proof structure is also highly resistant to earthquakes and typhoons. Moreover, along with excellent thermal insulation properties it also has higher energy efficiency.
The prefabricated segments weigh in at about 80 kilograms each and can be carried and assembled by 2 to 3 people in just over a few hours time and can offer a 25 ft wide and 13 ft tall structure with 44.2 square meters of floor space inside. The whole structure is entirely expandable so more pieces can always be joined together to make larger buildings.
The best part is that the versatile structures can be used as karaoke rooms, steam rooms, bars, hotel rooms, restaurants, freezer rooms, or even as poultry farms! The Dome House kits retail for 3 million yen which is roughly $30,000 and have been approved by Japan's Land and Transport Ministry for civilian use. Watch the instructional video below just in case you want to build yourself one these handy Dome Homes sometime in the future.
4. Hudson River Valley housing plan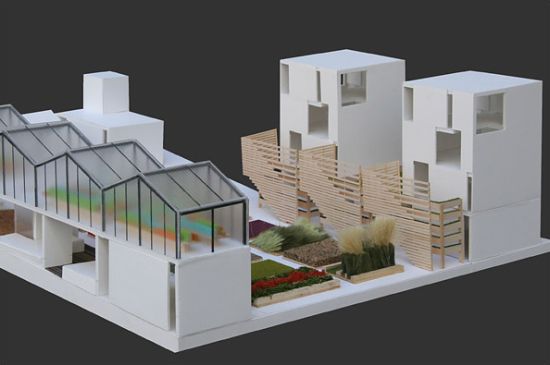 Teddy Cruz, an architect, and professor at the University of California, San Diego teamed up with David Deutsch, an artist who runs a non-profit foundation that sponsors art programs in Hudson, N.Y. to prepare an unconventional redevelopment plan to house the city's poorest and dispossessed citizens. The proposal began by gathering inputs from Bangladeshi and Hispanic immigrants, African-Americans and elderly residents through a series of workshops. The project includes communal gardens, playgrounds, an outdoor amphitheater, a co-op grocery and 'incubator spaces' that could be used for running job-training programs and arts.
Divided into six distinct developments, the project will utilize a series of empty municipal lots between State Street and Warren Street with a narrow park cutting through city blocks and connecting Warren and State Streets. The park's eastern edge would feature a mixed-use housing complex with a community garden proposed at the north end. In the center, daycare and elderly center will be built which will adjoin a small public playground. The proposal is supported by the city's mayor Richard Scalera and is set to appear before the city council in a few weeks. Check out the image gallery after the jump.
5. Club Nautico Poseidon: Seaside housing development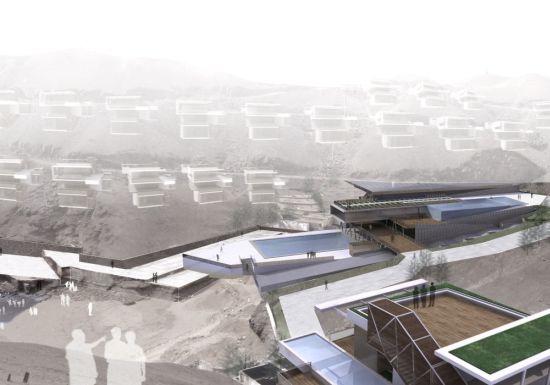 Commissioned by Rodrigo & Partners, the Alcuboarquitectos has come up with the Club Nautico Poseidon that will provide seaside housing in Pucusana, Peru. Winner of an international design competition, the coastal residential project spreads across a 40-acre plot on the sea that will accommodate 215 housing units, together with piers, a clubhouse, bar, swimming pool, sports facilities, and 17 villas, offering a luxuries retreat in the coastal area. Constructing the houses into the rocky cliff faces, the housing project takes the inhabitants closer to the landscape and provides a mesmerizing view of the sea through extensive balconies. While the terraces and the clubhouse integrate micro-greens and provide covered meeting areas to have a leisure time with family and friends.