Earlier, chairs were nothing less than a status symbol. Nowadays, however, they remain as a furniture item that people hardly pay attention to. To counter this, today, numerous furniture brands are coming up with luxurious and comfortable chair designs. So, if you want to make your living room an epitome of class and comfort, here are some classy designer chairs that you can choose from.
The Leaf Chair
Nature lover? Quirky Sense Of Home Decor? Style Addict? Whichever you are, you are bound to like the new "differently" shaped fabric seats! Shaped like a leaf, or even in what looks like an exclamation mark with a seat, these are bound to make heads turn, they DO look pretty cozy for a cuppa and a nice book!
These are made in China, however upon placing of offer, they are delivered to anywhere! And their website does claim that their new leaf shaped seat which is creating ripples on the internet complies with International Quality Standards and that their quality and durability are fully guaranteed.
Some Other Innovative Arm Chair Ideas
Chair is the most important furniture in homes, offices and hospitals. It is required everywhere. However, people have a thinking that chair is only for sitting and take it for granted. There are various ways of designing chairs and innumerable ideas to create new designed chairs.S
1. LC4 Chaise Lounge–
This is very comfortable chair. The idea behind this chair is that of relaxing, henceforth, also known as 'relaxing machine'. This is very modern design although not a very new idea. This is very innovative because it not looks current and modern but also is very soothing and comfortable body for anyone who sits in this chair. This futuristic nature comes with feeling of chair floating.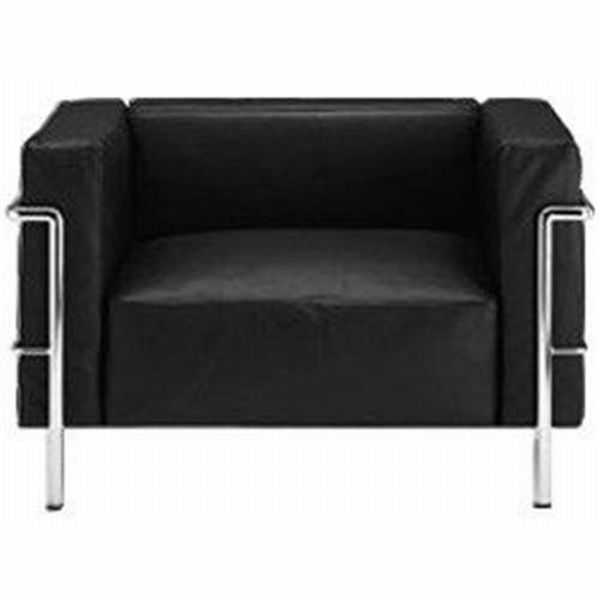 2. LC3 Sofa Armchair
The idea used behind this chair is to hide the body structure of the chair behind soft fabrics and cushions. The material used is sleek tubular chrome. This leads to the structure a design component without overpowering the overall equilibrium of the chair. This innovative chair design gives chair trendy look and provides comfortable sitting arrangement.
3. Barcelona chair
This Barcelona chair is from German Pavilion. The idea behind creating this chair was for kings and queens. The chair has exquisite design. Later on this comfortable chair was build for other people also. The chair is very comfortable as the structure is very elegantly and delicately produced.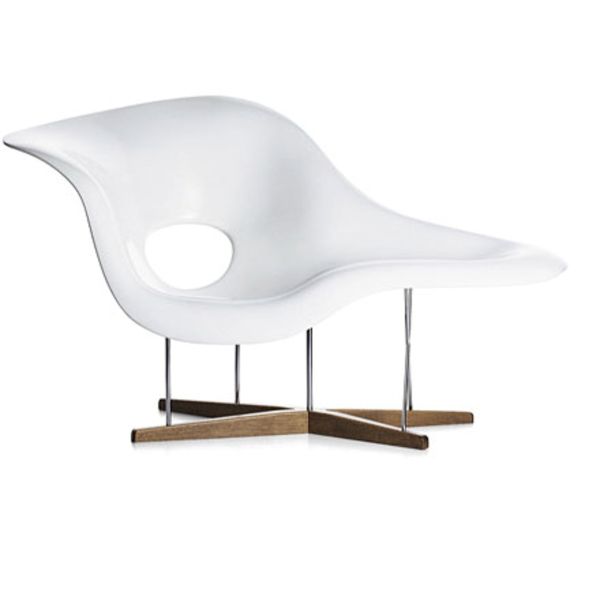 4. La Chaise Lounge
This chair was made through very creative idea. The idea used is by molding fiberglass. This kind of chair is voluptuous. Although the chair is stark in nature, the design is very comfortable to sit in. this idea is a contrast with the original wood base chairs.
5. Plastic Armchair
The plastic armchair is also a very bright idea to use, especially, when a number of guests visit. It can be stacked on top of one another and takes lesser space. Moreover, it is also available in various and numerous inventive designs. This idea is best when used in large events and functions where there are a number of guests and invites present.
6. Lounge Chair
This chair was made with the idea of molding the plywood construction. This chair is masterwork of design, comfort production and material. This idea was developed to culminate the constant innovations and experimentation with plywood molding and construction. The outer structure resembles an exoskeleton. It speaks of strength and comfort. This chair is infinitely relaxing.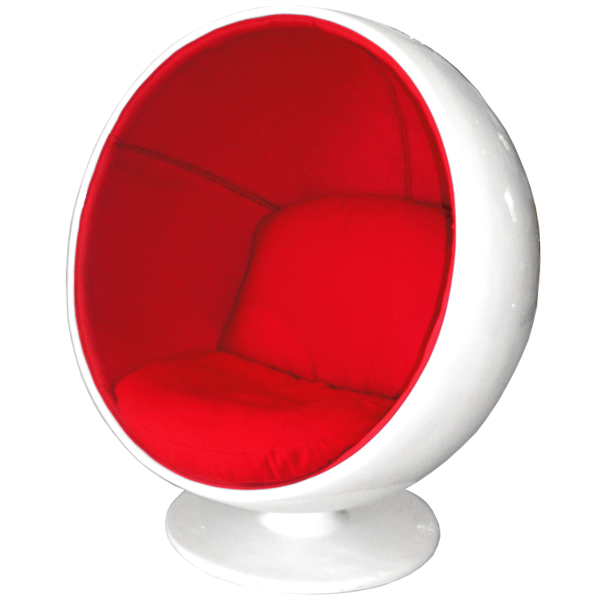 7. Egg Chair
This chair has been made by using classic idea. This chair is well thought built and highly functional. The high wings of the chair prevents from one from seeing side of the other person beside immediately. In this way one gets privacy.  It is best for office purpose where employees will not be distracted by other employees' works beside them.
8. Ball Chair
This ball chair is also known as globe chair. The idea behind this chair was simple design and great comfort. This chair is a real triumph in the market as it exceeds the level of both, the design and comfort. Simply by hollowing the middle part, a sphere is created.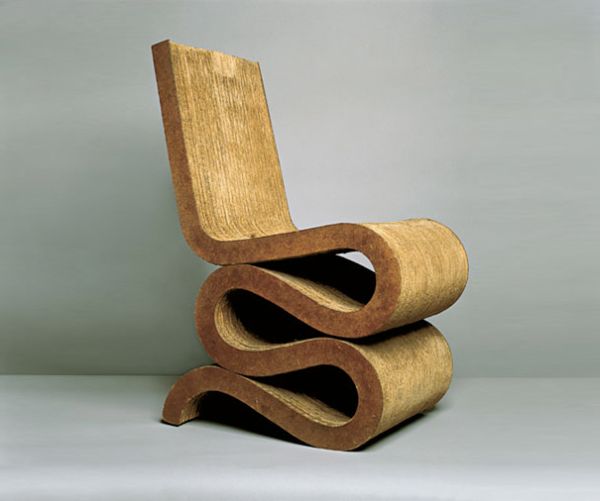 9. Wiggle Chair
The idea behind creating this chair was in two respects- firstly to use cardboards as the material of the structure and secondly to defy the notion of must-have legs in the chair. This chair is without legs and is made out of cardboard material. It is very comfortable chair and is good for using in libraries.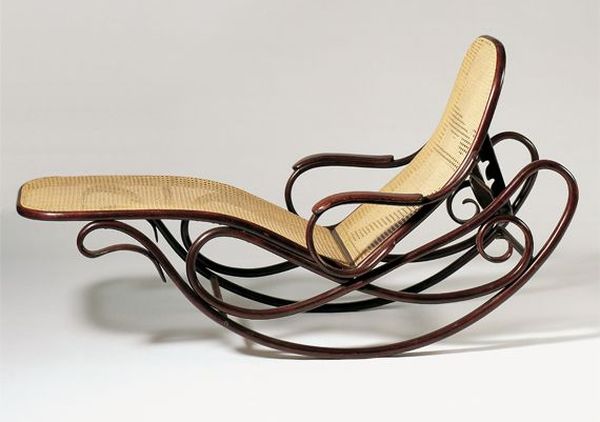 10. Rocking Sofa No.7500
Conceived and created by August Thonet, the Rocking Sofa No. 7500 tends to bring a simple furniture design into the realms of reality. Designer August Thonet, who also happens to be the son of the company's founder, created many furniture models. The Thonet combined the idea of adjustable back with an elegantly bent supporting surface for the legs to give it a more adjustable form. The adjustable chaise longue comes with a twisted (twice) surface and still considered innovative. It is a unique example of how the piece of furniture can be transformed into a decorative form.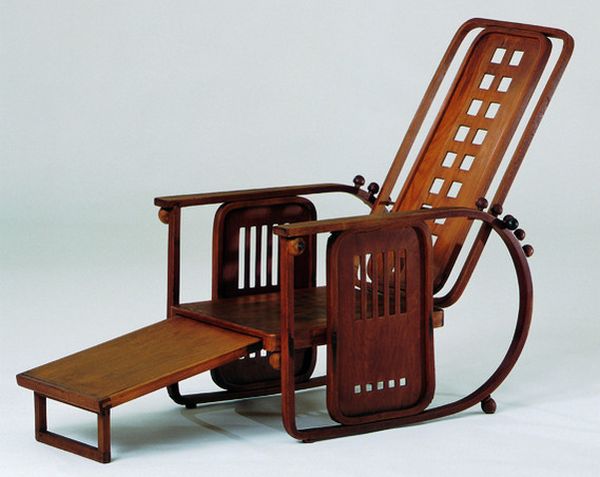 11. No.670 Sitzmaschine
The easy chair with adjustable back was created in the seventeenth century. In this chair, the focus was given to elementary parts. The movement of art and craft inspired Josef Hoffmann and his group to produce bentwood furniture with more appealing designs. Accordingly, they utilized this design inspiration to provide a mechanical looks to this easy reclining chair.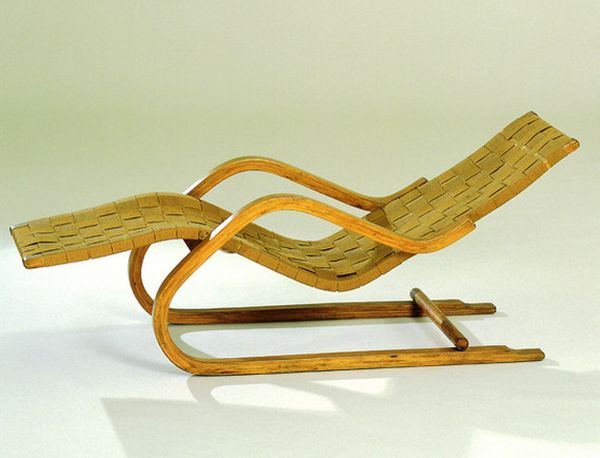 12. Chaise Longue39
Designed by Alvar Aalto, Chaise Longue39 is an easy chair that combines several aspects in a single furniture piece. To provide relaxation, the Chaise Longue employs the "S" feature; its cantilevered form introduces the spring principle of tubular steel furniture in wood construction. Even though the metal used in the furniture may appear cold and uninviting to someone; then again, one would appreciate the woodwork done to make it appealing.
13. Zig-Zag
Zig-Zag is a model of a chair first designed by Mart Stam, which is now known as Gerrit Rietveld's "Zig-Zag". With intent to introduce a variation in the design of chair, the designer developed a chair without back legs. The shape of the chair consisted of a base and a curved surface bent twice to include relaxing support for back. Zig-Zag chairs are today produced by the Cassina Company which has purchased all rights to manufacture the furniture designs of Rietveld's. The Zig-Zag was used together with a table in many interior versions as a Zig-Zag children's chair.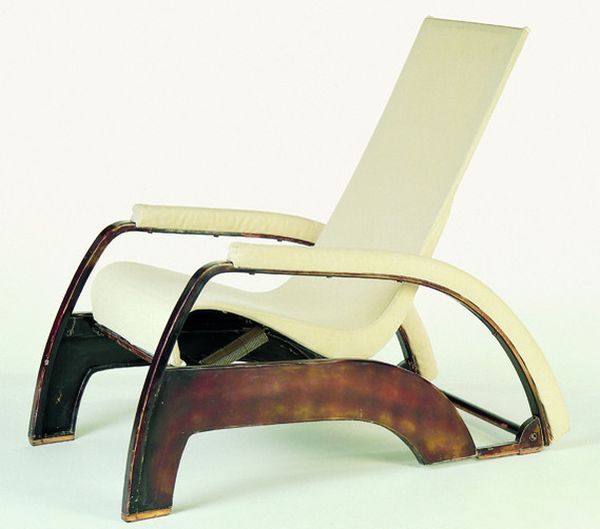 14. Grand Repos
Designed by Jean Prouve, who was an architect and designer, the Grand Repos was one of his earliest designs shown to public in 1930 in Paris at his first exhibition. Traditionally, in chaise longue, the back can be easily adjusted separately from the seat. Welded to the sides sections, the armrests of Grand Repos provide support to push backwards or forward. Further, two steel springs attached under the seat offer the required support.
Read More: