When it comes to clocks, in one form or another, they have been here for thousands of years. The ancient Egyptians had them, the Indians had them and even the Greeks and Romans had them. However, the sole purpose of ancient clocks was that of measuring time, but now it is something very easy. No matter whether you look at your smartwatch, smartphones, laptop or even your popular E-reader, everything tells you the time, so why have clocks then. Well, you can have them for style or for some other purpose which hopefully your smart gadgets can't fulfill. Here is the good afternoon clock and other out-of-the-box clocks designs that make buying one worth it, even in the 21st Century.
Good Afternoon clock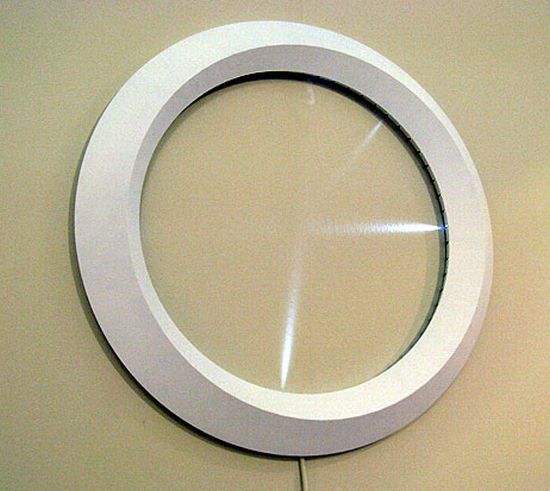 Revealed at SaloneSatellite in Milan, the Good Afternoon clock by Japan's Mile Project is a simple but at the same time revolutionary timepiece that promises food for your thoughts. Employing thin rays of light, sneaking through small slits in the bezel, as the hour, minute and second hands to spreads on the glass surface, the tricky wall clock with its unusual design and functioning is definitely gonna be a topic of conversation for your guests.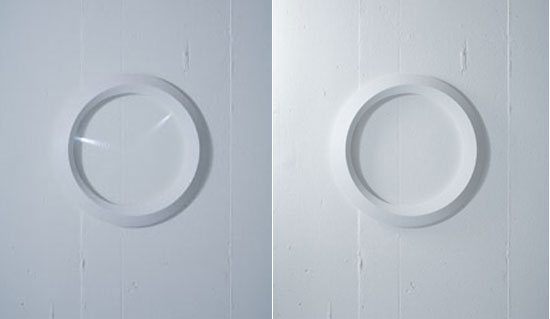 More innovative clock designs like Good Afternoon clock
1. Barcelona Cushion Clock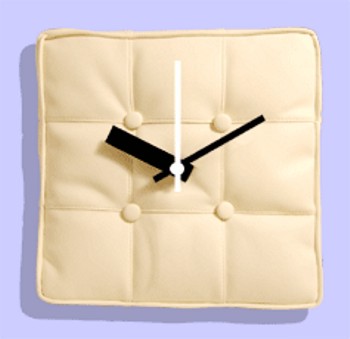 Clocks come in all shapes and sizes, but this one is definitely designed to rewrite the rules.The Barcelona Cushion Clock pays tribute to the famous Barcelona chair which was showcased at the world exhibition in 1929 by designer Mies van Der Rohe.
This artistically designed clock is 10″ x 10″ in size, and carries a cozy leather look which will make your inner most desires come alive. The clock looks so comfy, you will have to fight hard to resist the temptation of turning it into a cozy chair.The classic clock has all the ingredients to add to the beauty of any room.
2. Clock with stationary hand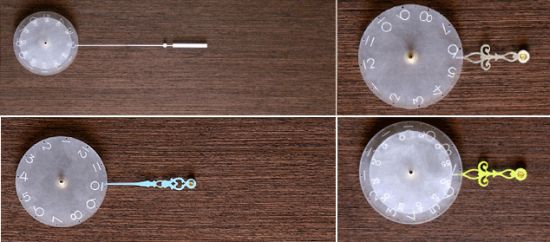 We have seen a variety of clocks in different shapes and styles, but this unique clock by designer Jason Linde proudly stands out as the wackiest of them all. With this unconventional design, Jason has decided to freeze the hands of the clock and put the burden of time-telling on the dial itself. So, while the lone hand remains as a staitonary witness, its the dial that actually moves around and tells the time. The clock comes in 'hour only' or 'hour/minutes' version. Available in a variety of shapes and sizes, these handmade clocks feature a wenge veneer back support. The range starts from $110.00 onwards.
3. Math Equation Clock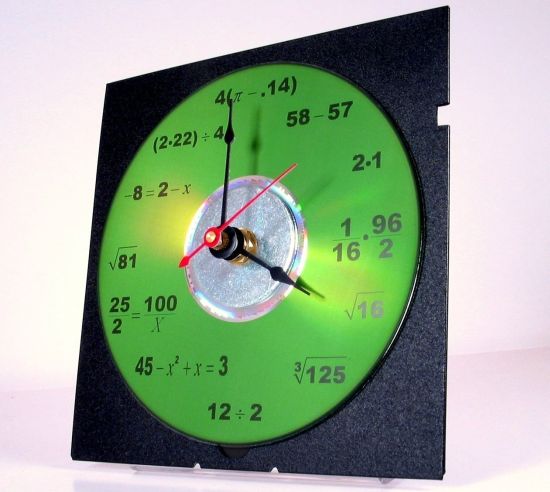 If you are worried about your kid's poor performance in mathematics, you possibly would love to place the "Math Equation Clock" in his or her study room. For the clock presents an equation for each hour of the day, and require the user to solve the variable, which is equal to the current hour, to find out the correct time. Featuring a face finished with a laser etched DVD, mounted on a recycled acrylic stand, the innovative clock integrates a classic 5 1/4 inch floppy disk for the dark background, giving a geeky look to the gadget.
4. Console turntable wall clock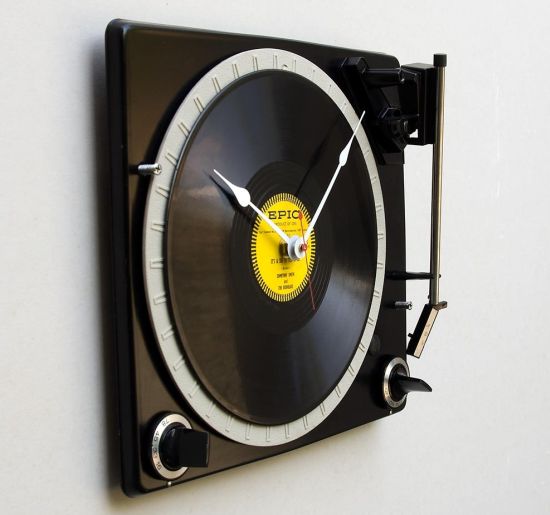 If you are looking for some retro piece of art to decorate your room, here is a unique clock made using a recycled ADS console record player that apart from enhancing your décor also helps in sustaining the environment. The clock comes integrated with an Epic Records 78, the "It's A Sin To Tell A Lie" by Somethin' Smith and the Redheads, which if you wish can be replaced with the track of your choice. Measuring 13″ in width and 12″ in height, the wallclock features the new quartz clock drive and runs on a single AA battery.
5. You & Me Wall Clock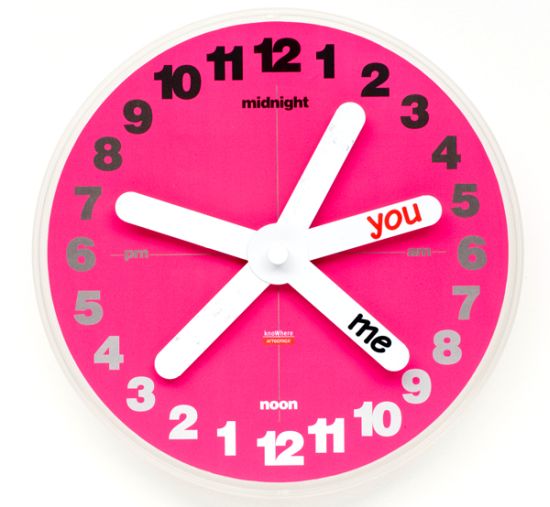 People living or working abroad away from their family and friends hardly get time to keep in touch with near and dear ones due to dissimilar time zones. The "You & Me Wall Clock" is an innovative timepiece that affixing multiple hands to its 24 hour clock face keeps the user updated about the time zones of their interest so they could contact the right person at the right time. Powered by an AA battery, the clock comprises a clear acrylic frame, printed acrylic dial and metal hands for a sleek design. Presenting six blank spare hands and a marker, the wall clock depicts different time zones related to your favorite people and places on its face.
6. 150 clocks or one Clock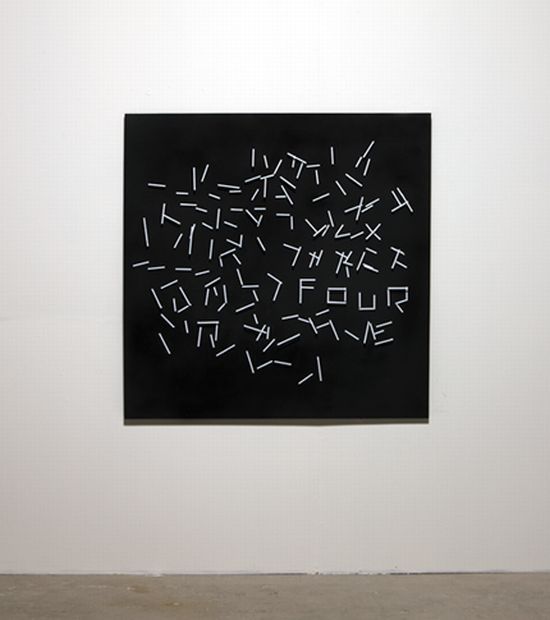 Christiaan Postma is an artist who explores contrast within different fields of design. She seeks to create unexpected harmony via her thoughts. This attribute is explored and exhibited aplenty in her creation: Clock. Studying form and time, she has put together 150 different clockworks that work in a rare blend of harmony to produce one unique clock. As the hands of different clocks move, they combine to spell out the current time. Reading clockwise, the time is readable as the numbers get written in words by clockworks.
Thus, the clockworks move at their own pace and come together precisely at any particular hour to spell it out. So as the time strikes three, the clockworks combine to spell out 'THREE'. And as time passes, this fades away and at precisely 4'o clock again the clockworks combine to spell out 'FOUR'. The creative piece is not quite functional as it only spells the hour and not the minutes and so on, but when it comes to uniqueness, the Clock scores perfect 10. The Clock measures 140 X 140 cm and is a great exhibition of originality and vision.
7. 5-to-9 Clock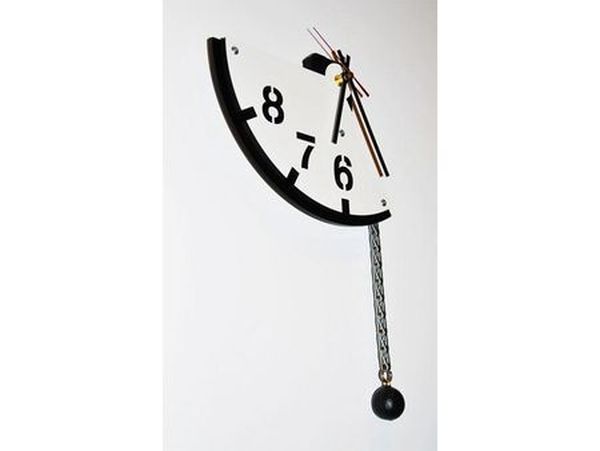 This 5-to-9 clock reminds you of the hours that you are left with after the work time, nine to five. Designer Derek Taylor has given this clock only a quarter of a face, which only shows the hours from five to nine, the time you have after work and before sleep. The wall clock sends out a very important message that says life should be a balanced life, a perfect mix of hard work and leisure.
8. Caffe Espresso Clock
Caffe Espresso wall clock is a superb design with great utility. This wall clock has a coffee theme, and looks like a cup and a saucer. The clock looks extremely artistic wherein you can see coffee spilled over from the cup onto the saucer. Coffee beans are vital in this design, as coffee beans mark the 3, 6, 9, and number 12 on the clock. It comes in two colors – silver and golden. It looks good in any room though, but the best in kitchen or in the dining area.
9. Book Clock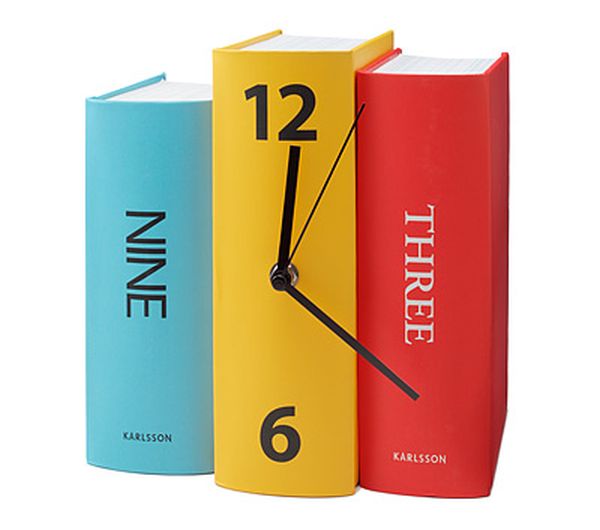 The Book Clock is a perfect clock to keep in your study or on the coffee table if you like. The design is simple though, but very unique. Moreover, the color combination of bright colors adds fun and makes the décor eye pleasing. The clock is a stack of three colorful books with a watch on it, which you can keep on a bookshelf.
10. Domino Clock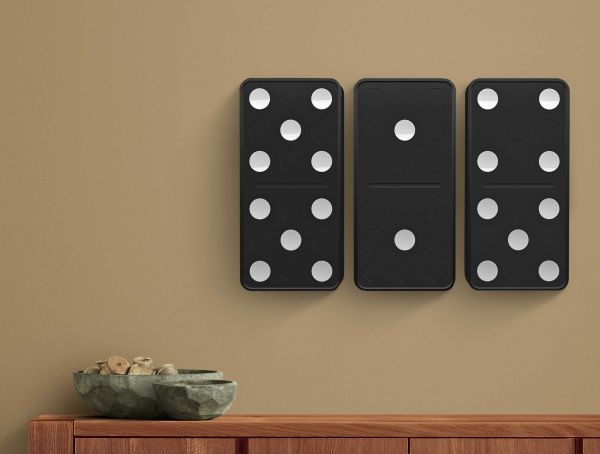 Domino Clock is created by Carbon, and is a timepiece that uses three giant dominoes to tell time. This timepiece is absolutely elegant, and the procedure to read time in it is also very interesting. Domino clock can really amp up interior décor in a big way. Each of the dominoes has articulated dots on them, which tell time. The first domino tells the hour, and the other two dominoes represent minutes. The dots in the clock do not work on LED's, rather the dots are multi-sided, one side black and the other white.
Summary
Wall clocks look stunning on walls only if they get along with and even augment your interior décor. Nowadays, there are ample designs and types of wall clocks to choose from.