If your bike to be out of the mainstream, there's no dearth of innovative bicycles out there. In fact, the best bicycles that you would find in the market are the designer ones. Therefore, if you are a true bike enthusiast and have enough money to spare, here are a few bicycle designs that would take your breath away. Some of these designs, like skeleton bicycle just below, are innovative because of their looks. However, others might be innovative because of their functionality or because of the fact that they are eco-friendly.
Skeleton Bicycle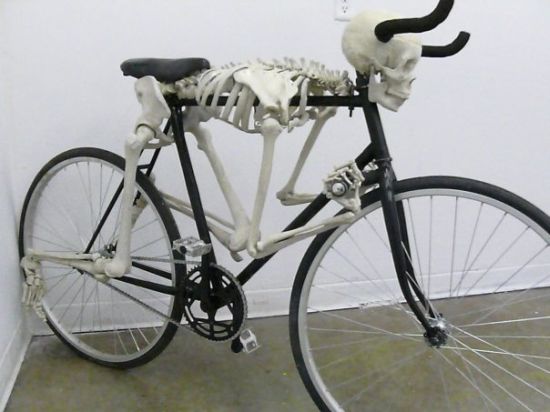 To shed the monotony of boring and lonely rides, artist Eric Tryon has found himself a skeletal companion astride his bicycle. The fully functional design of the bicycle with bare bones spanned across its length allows the head and the arms to move in the same direction as headed. Tyron for sure would enjoy ethereal camaraderie with this demon skeleton but not without giving onlookers goose bumps.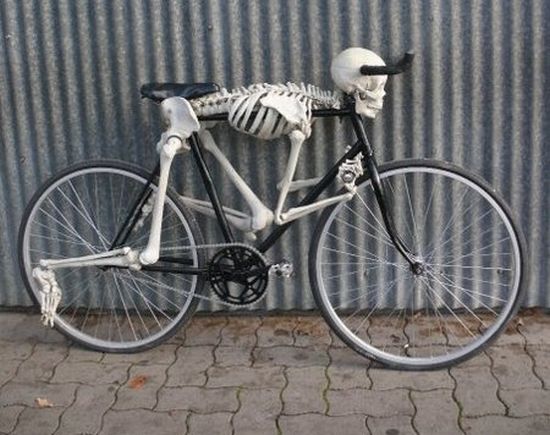 Via: Geekologie
Some More Innovative Bicycle Concepts
1. + Alpha bicycle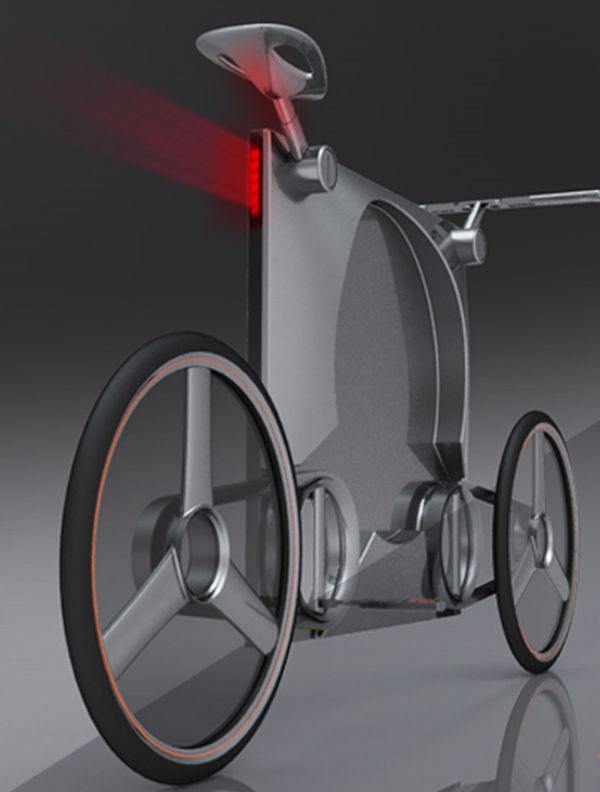 In today's world, with non-renewable natural resources being consumed at an alarming rate, solar energy is proving to be an extremely useful source of energy. Kiseung Lee + lee, Ki Seung + lee, Ho Jun + shin, Doo Youl from Korea have designed the + A (alpha) bicycle, which uses this form of energy. It will prove to be an excellent metropolitan means of transport. Although the bike can be customized to meet the requirements of any city, the present design is aimed to the solve space problems.
The bike's skeleton has two faces. While one face has solar cell panels that convert the sunrays into energy, the other side has a system that uses this energy. It provides a mechanism to mechanically unite the bicycle frame with the rack. The + A bike will use power intelligently on a steep surface. While descending, it will take the help of a generator to generate the additional energy.
So, ride eco-friendly and save fuel as well as your surroundings.
2. SubUrban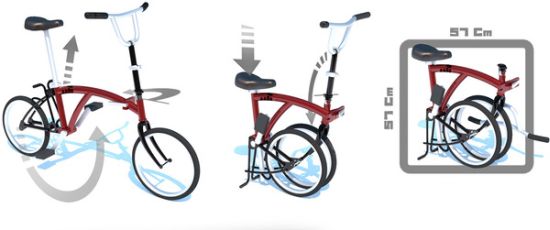 With urban areas fast turning into concrete jungles, people apart from other life pressures have to undergo the pressure to reach the office in time, parking problems and environmental concerns in their day-to-day lives. Addressing these issues, Italian designer Alessandro Palombarini has come up with a portable bicycle named "SubUrban" that smartly fits into the urban lifestyle and helps you take charge of your life. Moving swiftly through maddening traffic jams, the bicycle folds into a compact size, as its tires always stay parallel, so you could drag it as a trolley with minimum fuss on crowded streets, public transportation, sidewalks and even stairs.
3. One person electric bicycle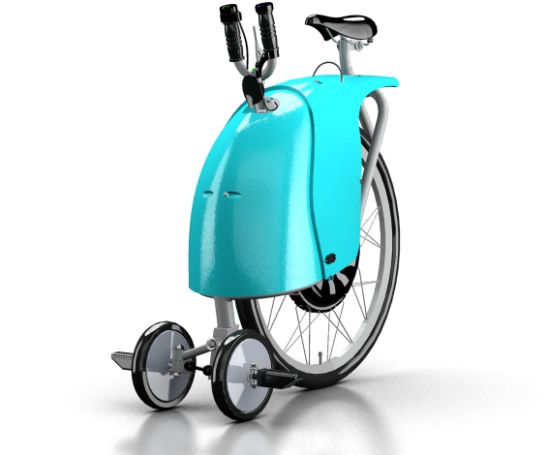 ZigZag is a three wheeled electric vehicle that harkens back memories of first bicycles besides ushering in an era of sustainable ecological product. Perfectly apt for urban mobility the fun to drive bicycle has a light weight frame made from aluminum 6161 which is a very important attribute for electric mobility. The electric features of the bike include two economic and recyclable PB-acid 24V 20AH batteries, velocity indicator, level battery indicator, regenerative brake control and 350W hub motor.
The bicycle can carry up to 100 kg and travel at speeds of 10-15km. The bike can be assembled using only four screws and is made from ABS durable and good impact resistant material. Zig Zag's seat, footrest and handlebar can all be regulated in angle and height according to user requirement.
4. ElliptiGO 3C bicycle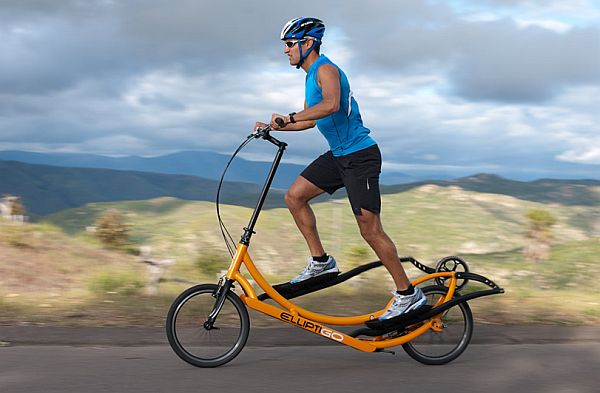 ElliptiGO 3C is a bicycle that you need to run. Sounds strange? Yes, this is a one-of-a-kind bike that let's you ride the bike using a jogging/running motion. This is the world's first elliptical bike. Coming in three speeds, the rider (or should we say the runner) can expect to get different degrees of workouts.
From what we have seen, ElliptiGO seems to have been inspired by a unique need of the times. People are often caught between the best form of exercise. Is it jogging? Is it bicycling? How about doing both? And how about doing both at one time? This is where ElliptiGO rides in. 3C is the new model and is priced slightly lesser than the first model. At $1800, you get a unique bike that let's you jog as well. Wow! It's surely inspiring enough to start exercising.
A bike for all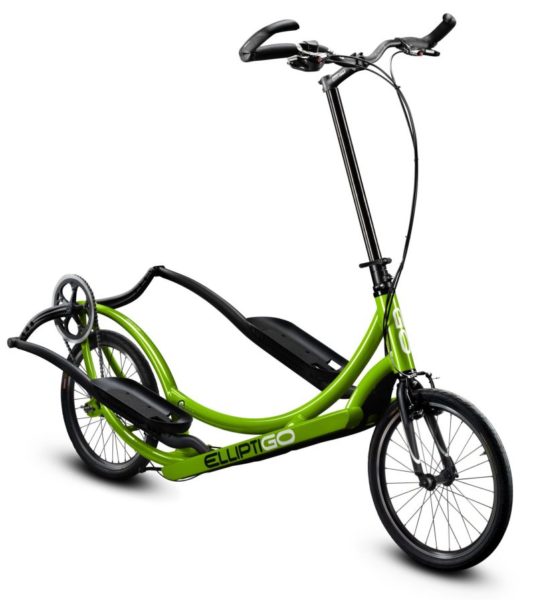 All types of users can hop onto the ElliptiGO. Accommodating short and tall people (up to 6'8″), the bike is for all generations of users. It comes in three colors – vivid green, black and orange.
So how does ElliptiGO help and whom? This bike is great for overweight people. Plagued by knee problems, they would not be able to run. Overweight people are known to have knee and joint problems when they run. They also find it difficult to bicycle since half the time they are avoiding a fall rather than bicycling. Using ElliptiGO, overweight people or anyone for that matter, can protect their knees. Making this possible is the movement required to move ElliptiGO forward. A running motion makes the bicycle move forward. Riders need not jar their knees, or put pressure on them, and yet feel their running motion.
ElliptiGO is made from aluminum alloys, which makes it light. With customized gearing and a Sturmey-Archer three-speed internally-geared hub ElliptiGO is used best on flat surfaces. It can easily attain speeds of 12mph to 25 mph.
5. Lexus hybrid bicycle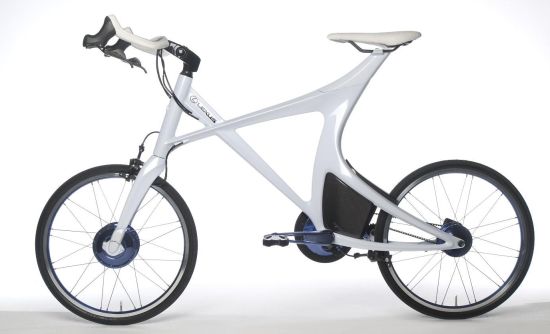 Set to be display as part of its sponsorship of the Great British Bike Ride, Japanese automaker Lexus has come up with a new hybrid bicycle concept that other than pedaling runs on a 240-watt electric motor powered by a 25.9-volt lithium battery pack, allowing a power ride without incorporating the engine. Featuring a frame finished in carbon fiber, the hybrid bike makes use of an automatic eight-speed internal gear system to enhance your riding experience without leaving any carbon footprint.
6. Cycle Sol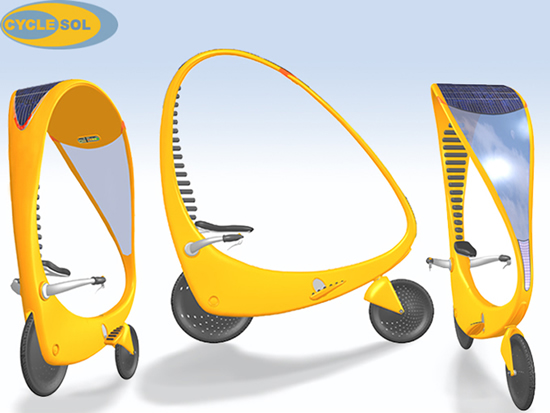 Design Status:
The Cycle Sol is a concept that aims to revolutionize the general derided and strenuous opinion of commuting on cycles.
Insight:
We understand that commuting via a bicycle leaves zero carbon footprint, but pedaling a two-wheeler to longer destinations or all day through can take a toll on your body. As all of us aren't as physically fit nor does our diet include healthy, energizing food like the participants of Tour de France. So for the present day commuters, Miroslav Miljevic has conceptualized a solar powered bicycle. Dubbed as Cycle Sol, this chic and green vehicle will lure all the folks who toy with the idea of cycling but steer clear of implementing it due to sheer absence of stylish user-friendly options. A perfect fusion of electric bike and pedal powered cycle, the Sol come fitted with a roof that not only protects the user from the harshness of the sun but also optimizes the sun's energy to juice up the vehicle.
The solar powered battery renders an effort-free pedal ride while its aerodynamic form adds on to its ability to speed. Even the ergonomic sitting position provides comfortable commuting all through. Though green at heart, it sports a vibrant yellow shade on its exterior.
Usability:
Targeting all the youth travelers, Miroslav aims to highlight the need to stimulate people to opt for eco-friendly vehicles that score high on form as well function. However I am a bit skeptical of the handles on the sides. Wonder if the user will be comfortable to stabilize this two-wheeler in the same way as the typical steering on the front wheel of common cycles. Also we can do with double-seater option too.