Good health is made in the kitchen, not in the gym. If you want to have a change in your life and do not know where to start, start with your kitchen. Discard the unnecessary kitchen trash and buy only useful minimalist kitchen appliances. It is the first that you can take in the direction of good health. Here, let's take a look at a few of the good appliances that you must have.
Oil Press From I2D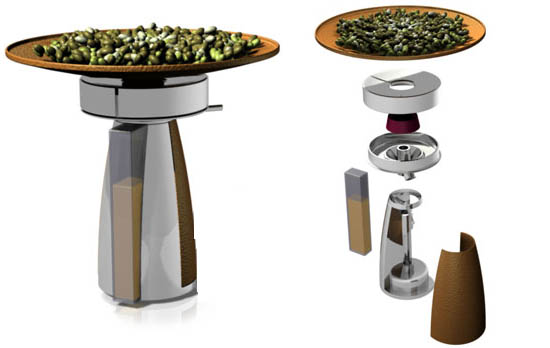 I have often savored olives along with jalapenos in my subway sandwiches, not only because they offer great taste, but also great health benefits. Olives are surely the best finger-foods one can stock up at home. As home makers, women give paramount importance to virgin olive oils in cooking and a do-it-yourself olive oil machine could be a delightful for them.



I2D is a multi-disciplinary design factory has many awards up its sleeves and churned out this kitchen machine that packs daintiness and usability in an innovative contour. The mechanism seems simple – a saucer with a duct below is fitted in the main unit. Olives are placed on the saucer, which then make their way, in suitable quantities, to the grinder. The unit accommodates a glass to neatly fill up the freshly squeezed oil. The bottom unit opens to segregate its parts thereby allowing you to dump the residue and wipe it clean. Wasn't this simple enough for one to go gaga over this household oil mill? For me, it surely was!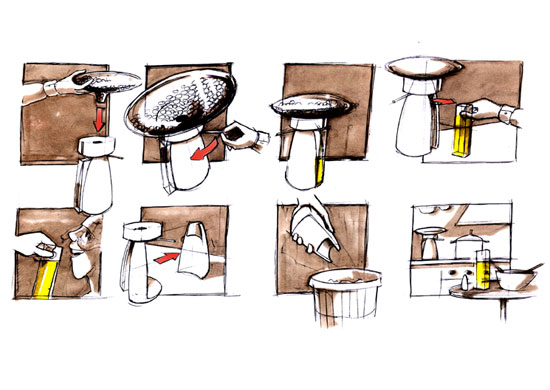 This saucer is a must have in every home. It is a must have for those who are convinced of the benefits of Olive and how want to include it in their day to day life.
There is, however, yet another kitchen that would definitely simplify your eating routine. It is an electric kettle.
Electric kettle designs that would love to make themselves useful
For many of us a warm cup of tea or coffee is the most power boosting and revitalizing drink. Electric kettles are one such boon of the modern technology. They have made it possible for us to enjoy our favorite brew anytime, anywhere. Not only do they make tea and coffee instantly but you can also use them to boil water and eggs. Their attractive colors and sleek design have made them an integral part of the modern day kitchens. Given below are 7 electronic kettle design concepts that would simply leave you jaw drop.
1. The Thermo Kettle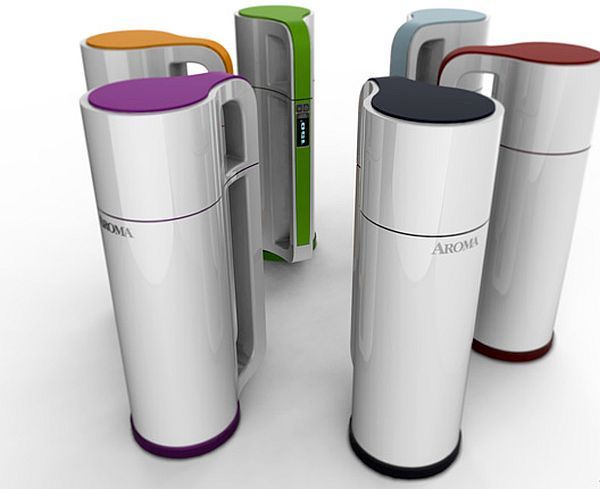 The "Thermo kettle" design by Adam Hiller. It is innovative and multi-purpose. It serves both, as a cordless electric water heater and a thermos to keep your drink warm. The kettle can hold up to one liter of liquid and you can carry it anywhere while travelling. The kettle comes with a cup that allows you to take the exact amount of water required to make a single cup of tea and thus prevents wastage of water. On the other hand, replaceable comfort pads made from rubber or silicon allow you to add style to your kettle in a more personalized way.
2. Novel Folding Kettle
Designer Stainslav Sabo is here to leave you open mouthed with his all new breath taking "foldable" electronic kettle. The kettle is compressible so much so that it can easily be placed inside your pant pockets or your travelling or laptop bag with extreme ease. The high-end flexibility of the kettle is due to its interior silicone body, which allows it to fold horizontally. The kettle body consists of high-grade heat resistant plastic and you can charge it with the help of a Bayonet adapter.
3. Electric Kettle Design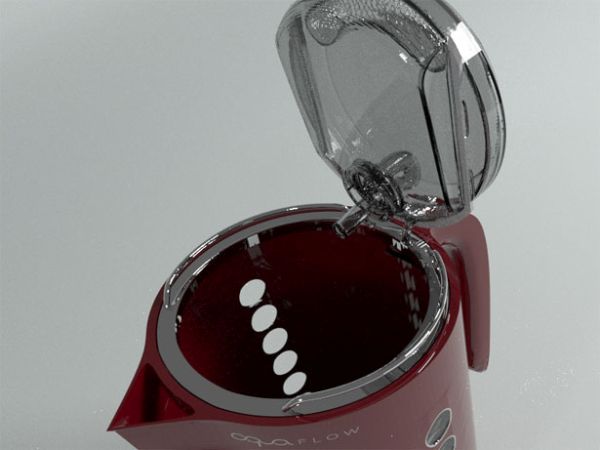 Designed by Iain McLean, this stylish and eye catching appliance is easy to use, highly efficient and extremely affordable too. The kettle consists of a lid where you need to fill water, which you can transoprt to the main vessel with the help of a siphon. The transparent lid and water windows allow you to see through the contents and quantity of water thus reducing wastage.
4. The pH7 Green Thermal Kettle Concept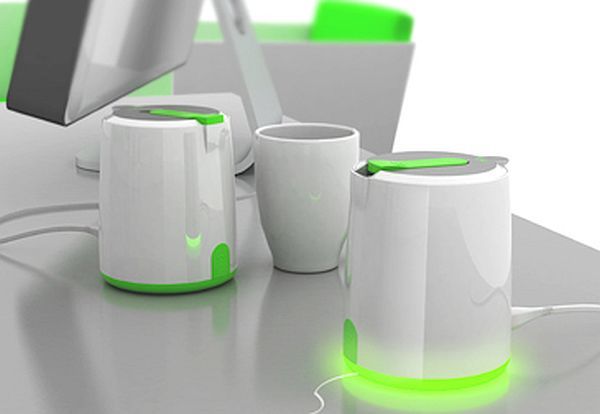 The pH7 Thermal Kettle designed by Gökhan Keman is an ergonomically designed highly efficient and power saving kettle cum thermos that is designed with the green technology to save energy. It's incredible and sustainable body design makes it a perfect pick to enhance the style and function of your kitchen. The bottom part of the kettle illuminates beautifully once water is boiled and then it can be used as a thermos to carry hot water.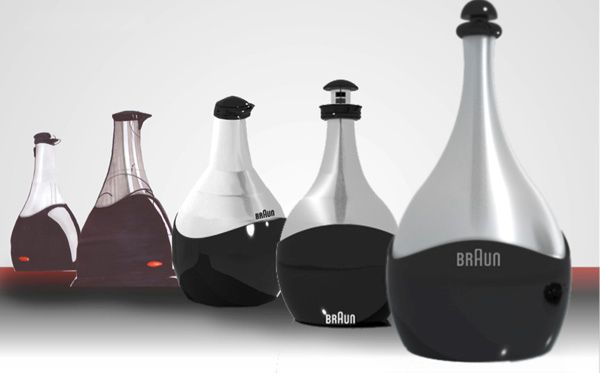 5. Braun Kettle Concept
Designer Felipe Sebastian Rozzi Amador has designed this unusual and far ranging electronic kettle for Braun. The striking features of this unique design include a smart and sleek design that has been created specifically to appeal to the youth, a double layer surface that generates vacuum between the kettle's interior and exterior parts to prevent burning of hands and a stylish mouth.
6. Peugeot-inspired electric KettleA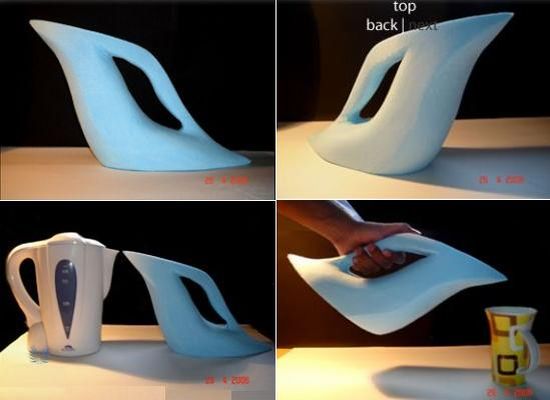 The brainchild of a 1st year Transport and Product Design student at Coventry University, this sleek and unusual electric kettle really redefines the laws of sexiness when it comes to home appliances. The designer, Dmitry Gontarev, describes the product as a Kettle in Style of Peugeot, though frankly I think its spectacular enough to inspire a whole lot of other stuff on its own. By capturing the outline of the Peugeot's floating, elegant and simple shape in two main curves, the design gets a unique silhouette of its own and even though it works just like a regular kettle, it might as well be used as a piece of coveted artwork!

7. ROTO electric kettle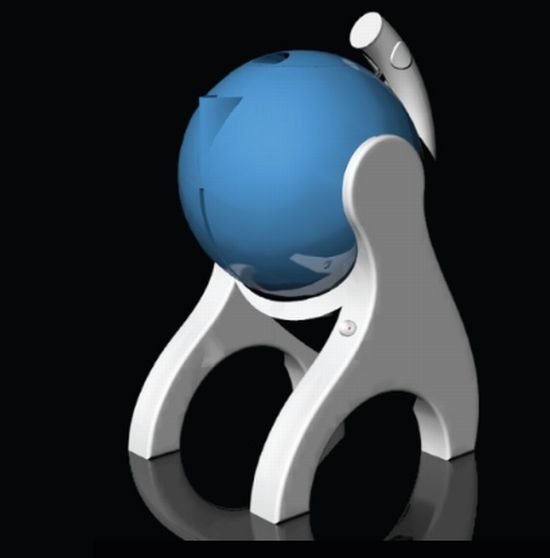 The revolutionary ROTO electric kettle caters to all that you have always longed for in a tea kettle. Jason Astrup's design meets your discontented needs and goes well with all people, including children, who face problems lifting filled kettles. This considerate design eliminates the physical lifting of the kettle from the stand. The appealing round-shaped kettle rests on the stand, which allows it to tilt for pouring out the tea, coffee or water, minimizing the chances of burning.
The ROTO electric kettle comes with a textured rubber handle with a tight grip to hold the stainless steel kettle. At the base of the kettle, a stability groove is housed to control its movement. Electric cord socket is attached to its stand, which further contains the heating element connector and on/off button, bringing the kettle to be a well thought out functional appliance.


These absolutely stunning and remarkably efficient electric kettles are almost ready to make their ways to your kitchen. Have them and have fun!
Read More: