Want to go ultra modern and super innovative with your living room furniture? Well, you have come to the right place. Forget about the popular fads. They just rise at one instant and disappear at the other. We suggest that you opt for furniture that not only looks good but is highly functional and durable as well. In addition, we also do not want you to buy something so bulky that there's no space for it in your modern apartment. Just like Z-tabure cardboard stool, most of the furniture items mentioned in this article are stylish, foldable, durable and sleek. Let us check them out.
Z-tabure cardboard stool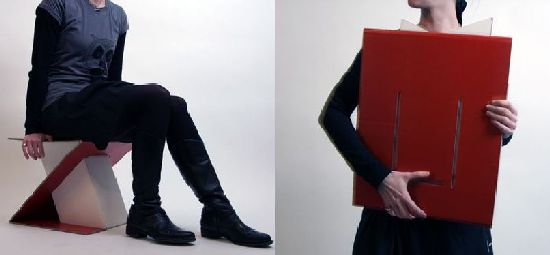 We have covered a variety of portable furniture in the past, but a seating cannot be as minimal and sustainable as this cardboard stool by Turkish designer Erdem Selek. Dubbed "Z-tabure," the foldable stool does not require detail cutting, glues or other chemicals for assembly. Hard enough to seat a person weighing up to 90 kg, the cardboard stool is just ideal for concerts, camps, streets or gardens. Made entirely (about 95%) in cardboard, the Z-tabure folds reverse to invert the colors. The cardboard stool folds flat for easy storage and transportation that you may carry, wherever you like, with minimum fuss.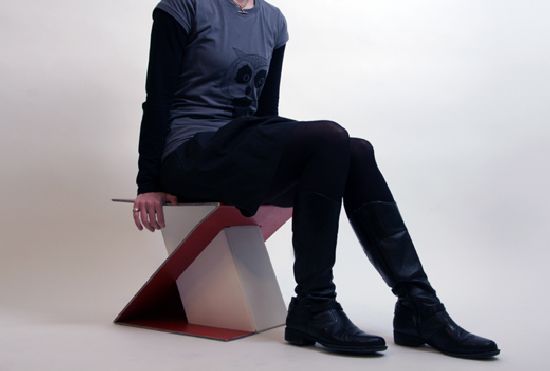 Via: Erdem Selek
Furniture designs similar to Z-tabure cardboard stool
1. The Shoe Chair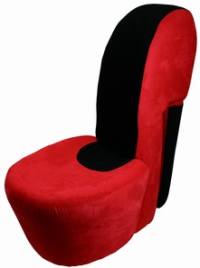 Necessities have been taken care of, today, desire is the mother of all inventions. The desire to have themed furniture has given rise to a new genre, Shoe Chair, as it is called, is the new rage to look out for. Measuring 990mm high by 500mm wide, this chair is sure to make quite a statement in your living room.
The interesting factor does not stop right here, its availibility in Leopord and Tiger prints ought to augment its popularity. Priced at £234.99, the attention it will fetch you will be worth every penny.
If its time to revamp the interiors of your room, it is time to get a shoe chair home!
2. AlphaSphere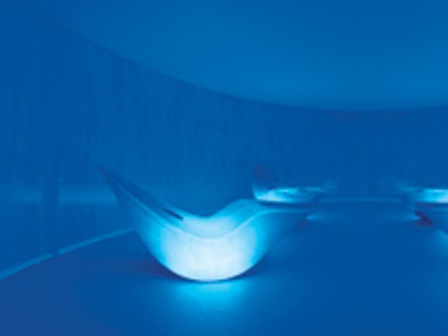 It's not true that you require an expensive bed for a good sleep. A perfect nap though can rejuvenate you and help you complete your daily deeds and other responsibilities efficiently. Sha, a Vienna Artist and perception researcher offers this piece of Siesta furniture that lets you do away with the bed and gives you pure comfort and enjoyment.
Its beautiful design pampers your body, mind and soul. It allows you to experience your senses not as separate sensations, but as a whole. It is perfect culmination of color, shape and light with unique combination of sound, vibrations and warmth that leads to ultimate-deep relaxation.
3. Sosia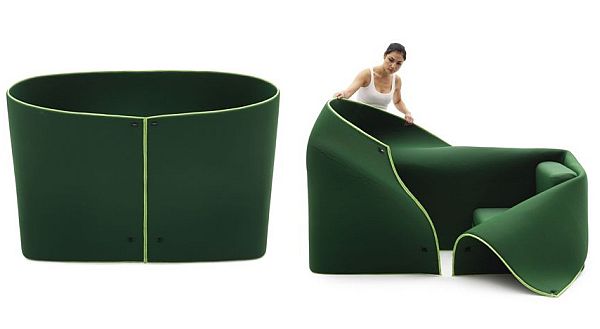 With shrinking living spaces, packing all kinds of furniture in a small apartment can be a little problematic. However, there are some pieces of furniture that cannot be missed, no matter how small the living area is. This is where multifunctional things come handy. Milan-based designer Emanuele Magini has created a sofa, bed and a chair christened as Sosia.
There are certain furniture items available in the market that serve both as a sofa and a bed. Sosia also offers the comfort of a sofa and a daybed but with a twist. Designed for Campeggi, an Italian brand, it comes enveloped in a wall made out of fabric. Sosia consists of two seats that endow you with a flexibility to swap it into different furniture items sans any difficulty.
Feel like catching on your forty winks, simply bring together the two seats and it will give you the comfort of a day bed with a wall wrapped around it for extra privacy. While you were sleeping, the doorbell rings and you see it is your friend standing at the door. Oops! The daybed is still there. Fret no more! Simply convert it into a two-arm chair or a sofa and enjoy the comfort of seating in no time. Sosia can also be used to create a private space in a larger room, thanks to the fabric wall. The wall can either be zipped up or creased down around the seat back.
Sosia is many things clubbed in one that can be altered as per ones whims and fancies. It is full of life, ready to give you all the warmth that too in a sheltered manner and will gracefully gel with everyone's lifestyle.
4. The Portean Chair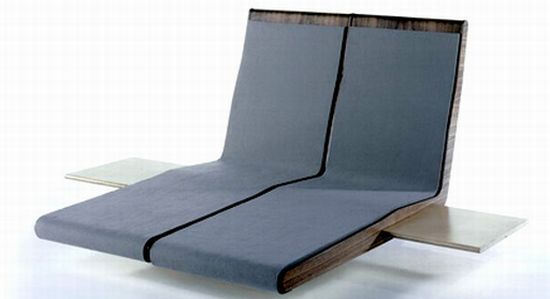 Our mood varies as per the situation. Well, nothing new, however, keeping this in mind, a furniture manufacturer developed a very 'moody chair'. This new chair adjusts according to our mood. Designer Justin Porcano came up with this brilliant idea. The chair is called the Protean chair.
The cool concept banana chair can be rearranged as a love seat for the time when we want to be together. If you get pissed or don't like each other you can obviously split the chair and the center table will come up in that case. Yet another aspect of this chair is that it can be flipped towards each other so that the duo sitting on it can converse.
I think this is a great design concept! Justin has created a unique chair that fits the bill of a newly married couple. I am pretty sure single people can also afford this chair. Justin has done a great job with this chair.
Overall, it's an awesome piece of furniture that adds to the decor of your home. Unfortunately, we haven't got the pricing information, however, it's not the price always, but comfort and style also matters.
5. Pump it up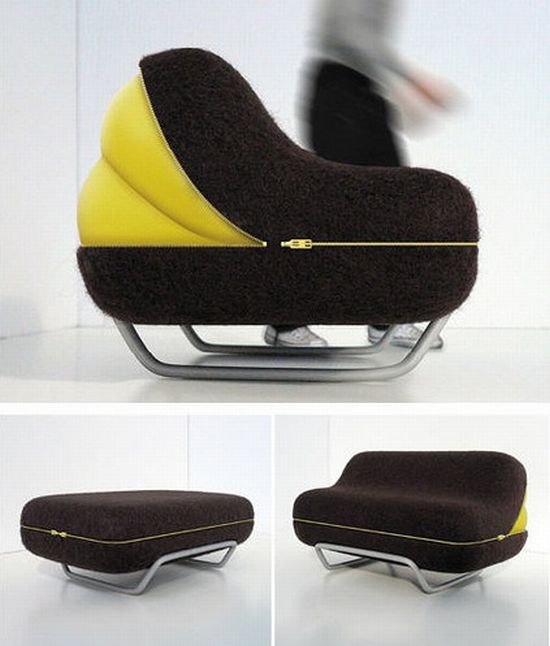 Versatility is the watchword today. A woman wants a caring husband who can be a disciplinarian, a man wants a good cook for a woman who has a career and together they want a chair for their home that can become a biplane sofa when you feel like it! Tell you what? You work on the first two issues and let Olivier Gregoire take care of the last one, or should I say that he has already taken care of that with this Pump It Up chair.
This French by birth and currently New York based designer has looked out for your home decor and given you these two options in one furniture, and the yellow-grey color tone is no less interesting. Make it a sofa when you wish to supine and watch soccer and zip it up to make it flat when you wish to get right your Yoga posture. The benefits are many, so get this one home today and highlight the versatile style like never before!
6. Custom Lounge Chair and Ottoman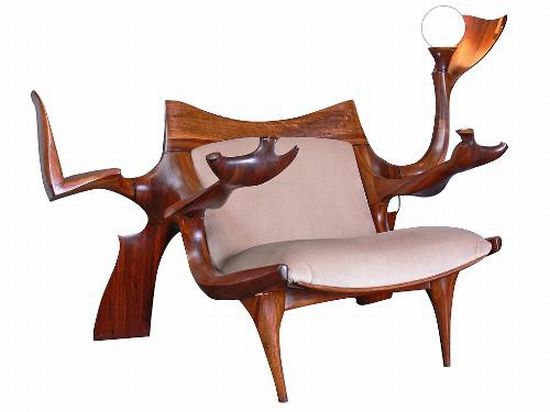 What would have been my throne, had I been a villain in the 70's? (Which by the way I never was; much to my chagrin!) The Custom Lounge Chair & Ottoman by Jack Rogers Hopkins would doubtlessly have been a great choice. This assortment is quite unique and that's to say the very least. The item belongs to the 70's and stands out because of artist's novel expression. Jack is known for combining several items into a single form and the Custom Lounge Chair is great illustration of his proclivity for this. The laminated wooden chair is not only a real magnet because of its inimitable looks, but is also quite convenient, having incorporated a lamp and a book shelf. Quite a sculpture in its own right, the chair has a little bookshelf on the right and a lamp on the left side. The dimensions are – Chair: 43″H x 66″L x 39″D, Ottoman: 13″H x 23″L x 22″D. The comfort and ease that these enduring creations have in store can only be imagined. Check out more images in picture gallery after jump.